Meghalaya swearing-in ceremony: Conrad Sangma takes oath as CM
Meghalaya swearing-in ceremony: Conrad Sangma takes oath as CM
Mar 06, 2018, 12:35 pm
2 min read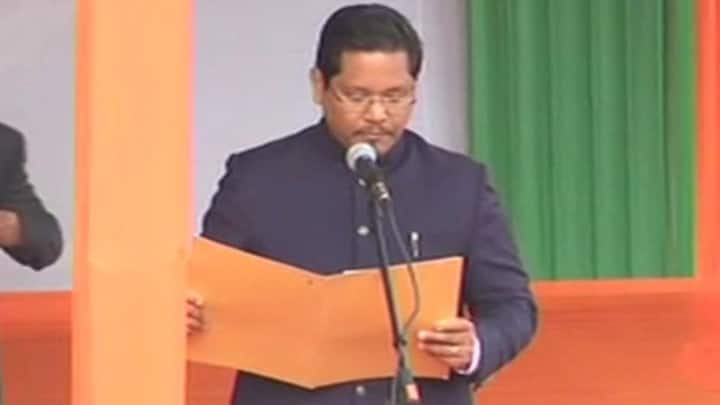 National People's Party (NPP) chief Conrad Sangma has emerged as the winner in the battles of the Sangmas. He took oath as the CM today. Meghalaya Governor Ganga Prasad invited him to form the government after he stitched a rare alliance with four regional parties and BJP. Similar to Manipur and Goa, despite emerging as the largest party, Congress has been outsmarted again.
Conrad Sangma, former Lok Sabha (LS) speaker PA Sangma's youngest son, took over NPP's reins in 2016. He is currently an LS MP from Meghalaya's Tura. Though he began his political career in 1990s with his father's former-party NCP, he was elected to the state assembly only in 2008. Since then he has been Power, Tourism and Finance minister and opposition leader during 2009-2013.
How did Conrad stitch together an alliance?
After a fractured mandate, the NPP, which won 19 seats, wooed regional parties - United Democratic Party (6), People's Democratic Front (4) and Hill State People's Democratic Party (2). BJP also contributed its 2 seats to the emerging alliance, after skillful negotiations by leader Himanta Biswa Sarma. However, HSPDP's president objected to Conrad being made CM, accusing NPP of taking the decision unilaterally.
Meanwhile, what's wrong with the Congress?
Despite winning 21 seats, Congress was unable to forge a well-timed post-poll alliance with any regional party. It approached UDP, which rejected former CM Mukul Sangma's offer of becoming CM for two-and-a half years. UDP said it was committed about its stand of a non-Congress government for Meghalaya. Meanwhile, chief Rahul Gandhi slammed BJP for "usurping power through proxy" and "demonetization of democracy."
Now, what is the main challenge before Conrad?
The main challenge before Conrad is ensuring political stability. More number of parties in the coalition imply a smaller share for each party. But, considering the coalition's instability, irrespective of their strength, everyone will have equal bargaining power. For instance, HSPDP is already angry about BJP's inclusion. They wanted a "non-Congress non-BJP government" which could've been formed by cobbling up numbers of regional parties.