Deoband clerics issue fatwa against MP Nusrat Jahan over sindoor
Deoband clerics issue fatwa against MP Nusrat Jahan over sindoor
Written by
Siddhant Pandey
Jun 29, 2019, 07:47 pm
2 min read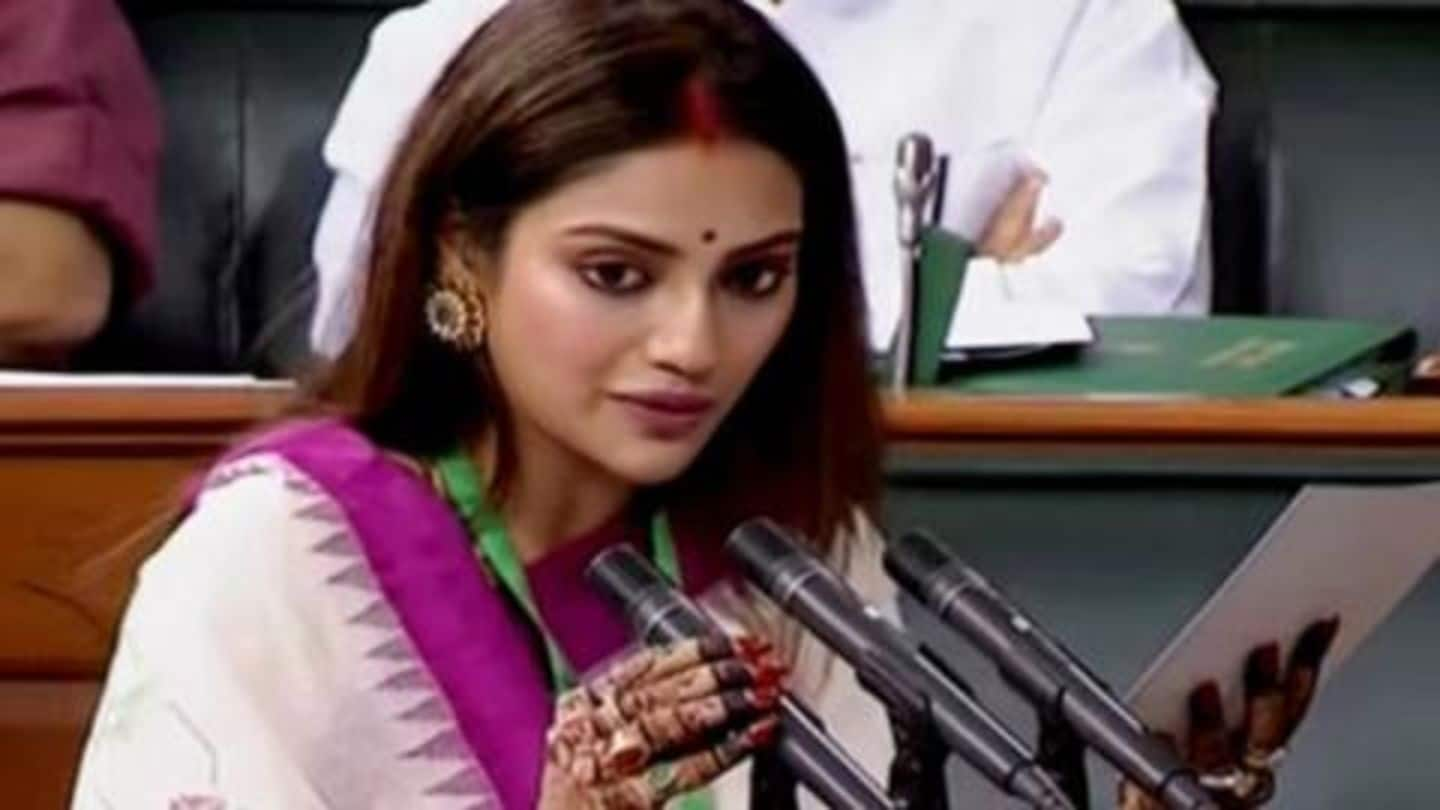 Actor-turned-politician Nusrat Jahan Ruhi Jain, a newly-elected Trinamool Congress Member of Parliament (MP) who faced sharp criticism for her outfits in the Lok Sabha, seems to have offended Deoband clerics. Reportedly, the clerics took issue with Jahan's sindoor and mangalsutra, and the fact that she married outside of her Muslim faith. So, they issued a fatwa against her. Here's more.
'Nusrat Jahan is an actor; actors don't care about religion'
Darul Uloom Deoband Ulema cleric Mufti Asad Wasmi told Times Now, "Islam says that a Muslim can only marry a Muslim. Second, Nusrat Jahan is an actor and these actors don't care about religion." "She came to Parliament with sindoor and mangalsutra," Wasmi said before adding that he can't interfere in Jahan's life but wished to highlight what Shariat says.
Notably, Jahan recently got married to a Hindu
To note, first-time parliamentarian Jahan, representing Bashirhat in West Bengal, made her maiden speech in the Lok Sabha on Wednesday, wearing a saree, along with sindoor, mangalsutra, bindi, chooda, and henna motifs on her hands. She recently married businessman Nikhil Jain on June 19.
Meanwhile, BJP leader Sadhvi Prachi came to Jahan's defense
Responding to the fatwa, BJP leader Sadhvi Prachi said, "If a Muslim woman marries a Hindu and wears bindi, bicchwe, mangalsutra, the Muslim clerics call it haraam." She further raised an objection to love-jihad. To this, another cleric, Maulana Qari, responded, "Sadhvi Prachi does not know anything about Ulema. Such women are not in control, they try to set the country on fire."
Jahan earlier said she 'stands by rituals of all religions'
Speaking to The Hindu recently on being trolled for her outfits and interfaith marriage, Jahan had said, "People forget that religion doesn't come before nationality. I'm an Indian and I'm a very secular person. We all have the right to choose our spouse." She maintained that marrying a Hindu doesn't change her Muslim identity, and she "stands by the rituals of all religions."
Jahan was previously trolled for her western outfit in Parliament
Recently, Jahan was also trolled for wearing a western outfit on her first visit to the Parliament. She wore a plum-colored business suit. Jahan, along with actor and Trinamool MP Mimi Chakraborty, were mobbed by photographers outside the Parliament and later trolled for their outfits.