Urmila Matondkar gets police protection after Congress, BJP workers clash
Urmila Matondkar gets police protection after Congress, BJP workers clash
Apr 16, 2019, 11:25 am
2 min read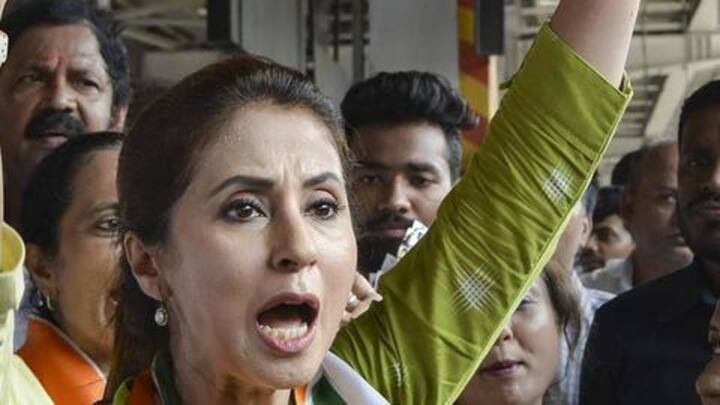 Urmila Matondkar, who is contesting polls from North Mumbai constituency, was given police protection on Monday after Congress and BJP workers allegedly clashed outside Borivali station, where she was campaigning. The actor-turned-politician is fighting on a Congress ticket and said her life was under threat. Deputy Commissioner of Police (Zone XI) Sangramsinh Nishandar confirmed that Urmila would be given protection till general elections get over.
Urmila said her gathering was disrupted by BJP workers
Urmila alleged that when she was holding a gathering at Borivali station, BJP supporters came there and chanted "Modi, Modi!" She maintained she didn't react initially and asked them to leave. According to her, the workers also tried to do something obscene to enter the gathering. She alleged women at the meeting were also manhandled. Soon, members of both the groups clashed.
Urmila claimed women were assaulted
"They all started vulgar dancing and using abusive language. Then a fight broke out and they even assaulted the women. From the first day, I am saying their politics is of hatred... I won't let this happen in Mumbai," said Urmila.
Was forced to file a police complaint: Urmila
Meanwhile, BJP leader claimed Congress workers beat people
However, BJP painted a different picture of what happened. BJP's Vinod Tawde said Urmila claimed she joined politics because freedom of expression was under threat, but she ignored actions of her own supporters. "Train passengers were shouting Modi-Modi. Congress workers assaulted them. A woman too was beaten by them. BJP will complain to the Election Commission regarding it," Tawde said on Monday.
Urmila's opponent said people who raised slogans were commuters
Gopal Shetty, who is BJP's candidate from North Mumbai, concurred. He claimed the people who raised pro-BJP slogans weren't party workers, but commuters. "What can we do if people who admire Modi raise slogans in his name," he asked. "I am from the pristine land of Shivaji where women are respected," he added and said the incident won't scare them.