CES 2020: Acer unveils new pro-grade Predator gaming monitors
CES 2020: Acer unveils new pro-grade Predator gaming monitors
Jan 06, 2020, 08:31 pm
2 min read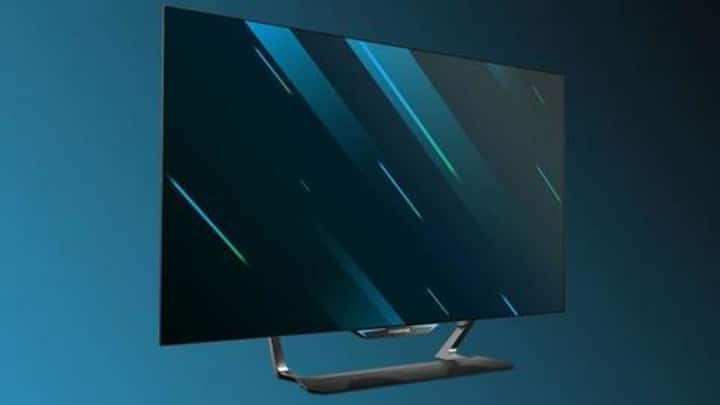 Acer has made a bunch of announcements at Consumer Electronics Show 2020. The product which stood out is a trio of new Predator gaming monitors. The pro-grade range comprises a new 32-inch pro-grade Predator X32 display, a curved 37.5-inch Predator X38 screen, and a massive 55-inch Predator CG552K OLED gaming display. Here are more details.
The Predator X32 offers a 32-inch non-curved IPS mini-LED powered panel that offers a maximum resolution of 3,840 x 2,160 pixel i.e. UHD or 4K. It also gets NVIDIA G-Sync Ultimate certification for lag-free and tear-free refresh rates of up to 144Hz. Further, the display packs Vesa's highest DisplayHDR accreditation which allows it to display HDR content at up to 1,400 nits of brightness.
Acer Predator X38: For ultra-wide viewing
The Acer X38 sports a 37.5-inch curved IPS display that offers 4K resolution at 400 nits of brightness. Moreover, with over-clocking, the display can offer a refresh rate of 175Hz, thanks to the NVIDIA G-Sync processor and 1ms response time.
Acer Predator CG552K 55-inch OLED display
And, if you are looking for a big gaming display, then the Acer Predator CG552K might suit your needs. It boasts a 55-inch 4K OLED display with ultra-slim bezels on all sides. The screen is Adaptive-Sync compatible and offers a lightning-fast response time of 0.5ms and a high refresh rate of 120Hz for smoother scrolling and fluid animations.
The Predator X32 will release in North America in Q2 2020 at $3,599 (around Rs. 2,59,000). The Predator X38 is set to launch in April at $2,399 (approximately Rs. 1,72,700), and the 55-inch Predator CG552K will arrive in Q3 2020 at $2,999 (roughly Rs. 2,16,000).