Now, robots deliver pizza and coffee to students: Details here
Now, robots deliver pizza and coffee to students: Details here
Written by
Shubham Sharma
Jan 23, 2019, 11:41 am
2 min read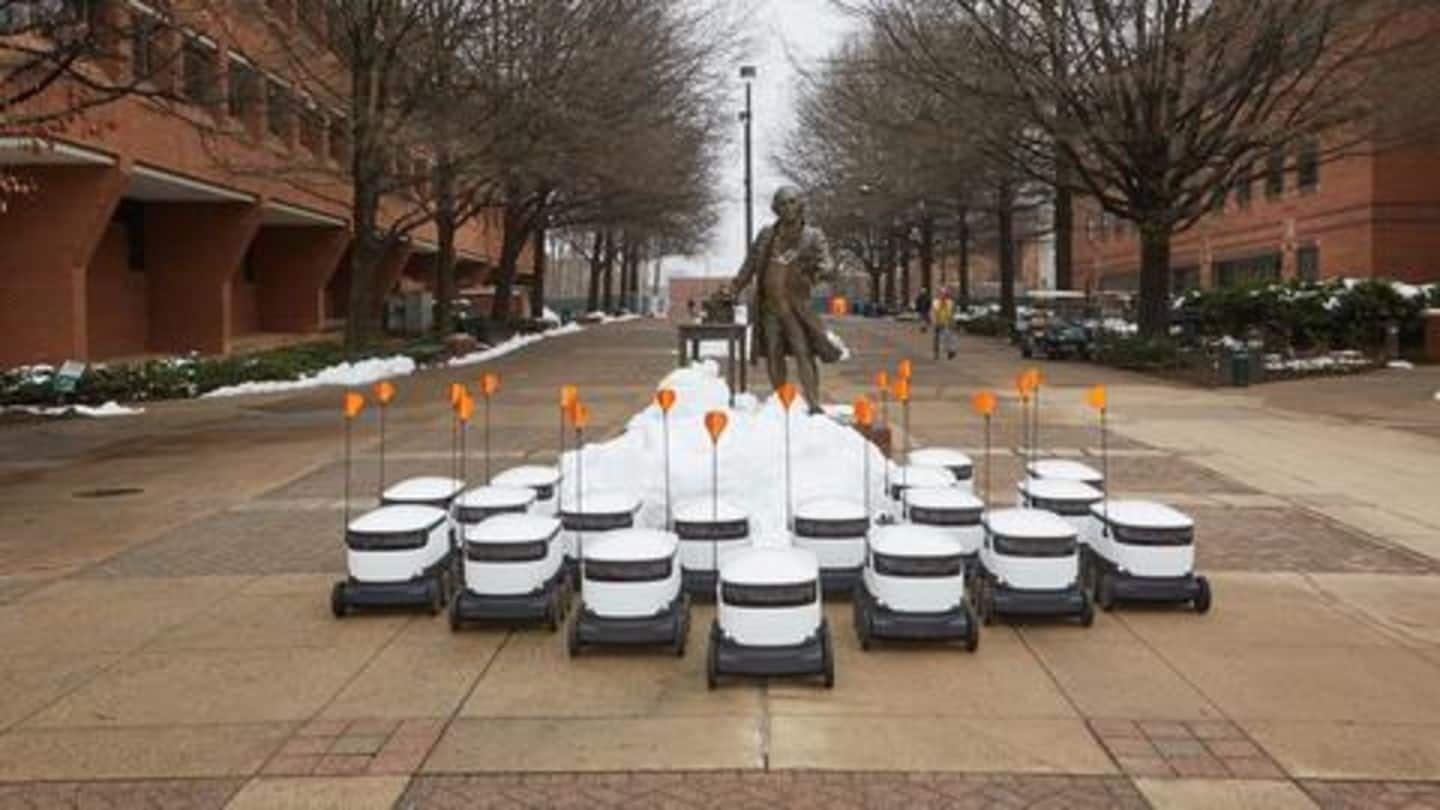 Robotics is the future, and Starship Technologies is leveraging it for the benefit of students. The company, which works on small self-driving robots, has launched a fleet of bots for food delivery at Virginia's George Mason University. These cute little machines navigate through the campus on their own and deliver pizza, coffee and other snacks in a matter of minutes. Here's how.
Orders placed on app, delivery within minutes
Starship Technologies has partnered with Sodexo to launch over 25 six-wheeled delivery bots at the campus. The company takes orders from students and faculty members through its app and directs a bot to deliver the order anywhere on the campus within 15 minutes or less (mostly). After this, it navigates throughout the place to reach the delivery point chosen by the customer.
The bots developed by Starship Technologies have traveled more than 150,000 miles to complete over 25,000 deliveries. They combine machine learning and artificial intelligence with an array of sensors to move on the sidewalks and avoid obstacles or incoming people. And, they don't just stroll around but can also cross streets, climb curbs, and travel at night or during rains.
Starship robots deliver meals from Dunkin' and Starbucks
As of now, Starship charges $2 for each order and delivers from multiple places, including Blaze Pizza, Starbucks, and Dunkin' and Sodexo's 2nd Stop. It even delivers according to the students' meal plans at the school, and plans to add more outlets in the coming weeks. Notably, each robot carries a maximum load of 9kg, which is more than enough for food orders.
Here's what one student said of the new service
"Being able to get food delivered to me within minutes is going to be fun and convenient," Jenna Dayton, a university student, said. "Not only will this make my life easier as a student, but I'm going to get a visit from a robot!"