Ashes: Jofra Archer confident of England's win- Here's why
Ashes: Jofra Archer confident of England's win- Here's why
Aug 29, 2019, 05:55 pm
2 min read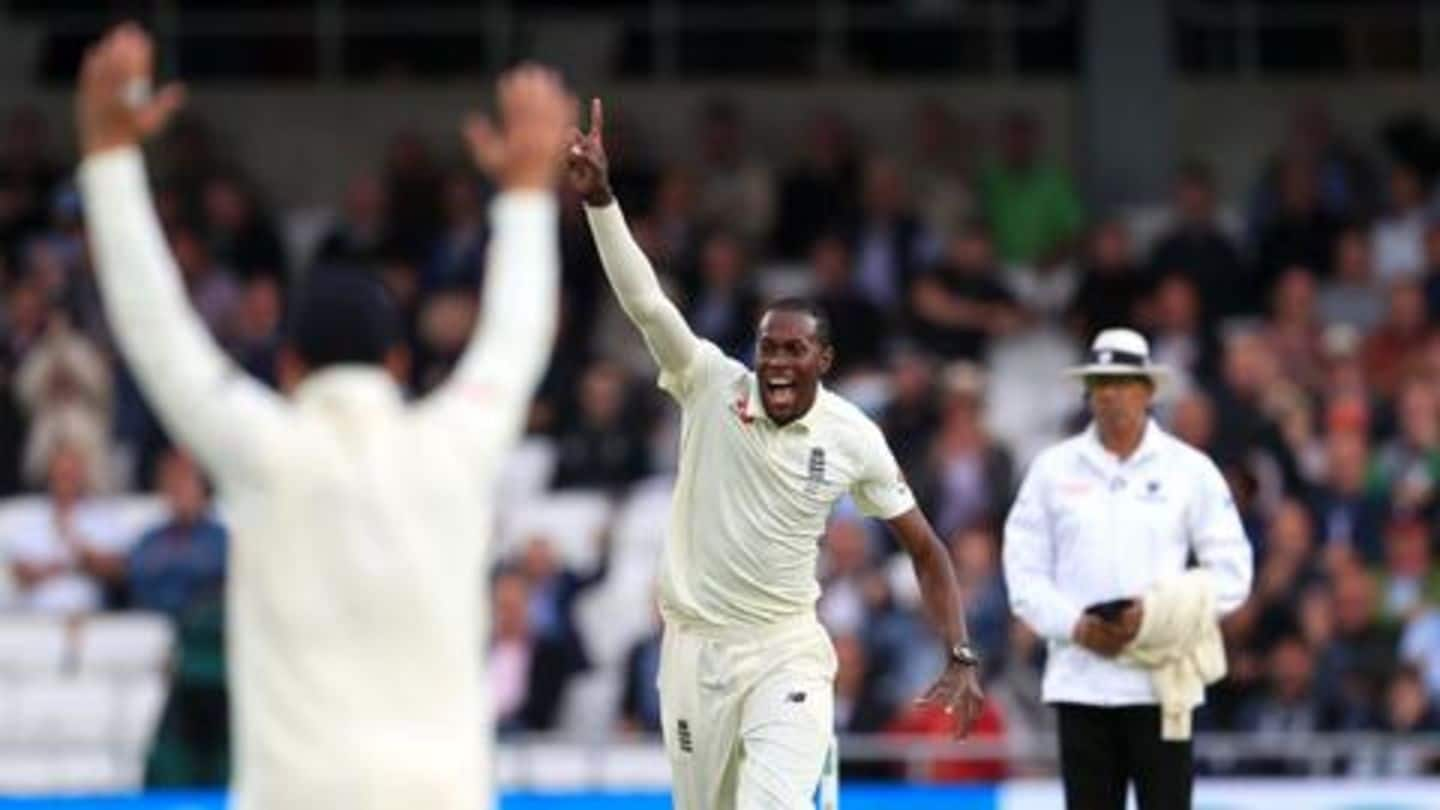 Three Tests have gone, but the ongoing Ashes 2019 sees the deadlock still intact with one apiece between England and Australia. While a series draw would see Australia retaining the urn, England will have to win the series to reclaim the coveted prize. Meanwhile, English pacer Jofra Archer, who has been grabbing headlines in the series, is confident of an English win. Here's why.
Archer warns England not to get complacent
Archer referred to the events during Headingley Test, where England did not get complacent, despite chasing a tough target. He also credited the English crowd, who got onto the backs of the Aussies, followed by the resistance from English batsmen. "I'm glad we showed some resistance because the series isn't over and in the upcoming games, I don't think they'll declare now," said Archer.
Archer reckons Australia won't push the attack mode
Speaking on Australia's chances, Archer opined that although they do have a chance, they won't attack much. He also feels several mental facts will sit with them in the third Test. "They got to the second new ball and still couldn't bowl us out. All of those mental facts should sit with them next game," added Archer.
'I can't get him out if he (Smith) wasn't there'
Archer rued the fact that he couldn't dismiss Smith in the last Test owing to his unavailability. However, he recalled that in case he is unable to get him out, he would target the other 10 batsmen. "If he's stranded on 40, that's not helping his team too much. He can't do it all himself. We want to win the game," reckoned Archer.
Archer recalls tense, but emotional, dressing room atmosphere
After Nathan Lyon had fumbled a run-out chance, Archer recalled that although the scores were level, it was a tense atmosphere in the dressing room, with emotions flying all around. "Everyone would like to win the World Cup and the Ashes as well, so there's no reason why we shouldn't go and do it now," concluded Archer.