Ballon d'Or: Analyzing why Luka Modric deserved the top award
Ballon d'Or: Analyzing why Luka Modric deserved the top award
Dec 04, 2018, 12:38 pm
2 min read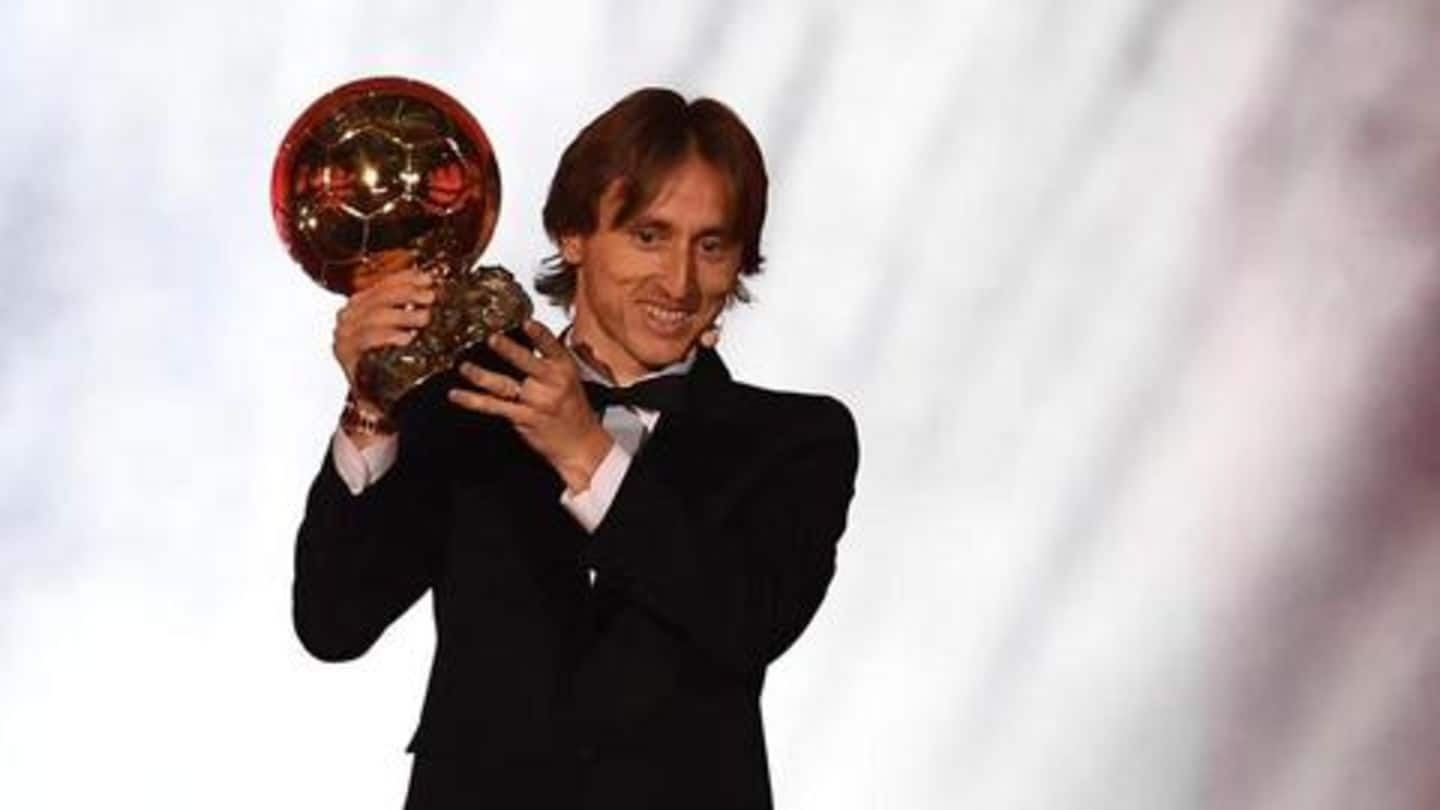 The Ballon d'Or was awarded last night to Croatian captain Luka Modric amidst a lot of media leaks and speculations. Previous two winners, Cristiano Ronaldo and Lionel Messi were placed second and fifth respectively. Modric, instrumental in Croatia reaching the World Cup final and Real Madrid winning the Champions League, is the second central midfielder after Zidane to win the award. Here's more.
Modric winning is a positive sign for football
Luka Modric is just a central-midfielder out there doing his job, and that itself has brought him such adulation and love from all over the world. The midfield sees the ball most in the game, but the midfielder's role has always been under-appreciated. However, after Modric's win, we can dare to imagine that the public perception is finally changing. Or is it too soon?
Why Luka Modric was the key to Real Madrid's successes
When Real lined up in the 4-3-3 formation, Modric was the central player in the team, around whom the tactical gameplay rotated. Among the three midfielders, one takes a defensive approach while one goes forward, but Modric performed both the roles with an almost-perfect finesse. Modric has a great vision which helps Real develop attacks, take control of the game's rhythm, and keep possession.
Croatia wouldn't have reached the final without Modric
The Croatian team usually played in a 4-2-3-1 formation, and for his national side, Modric either holds the midfield or goes forward for creating chances. While most central midfielders have the technical ability to play both offensively and defensively according to the situation they are in, some like Modric do it seamlessly, reading the game and anticipating movements before they even happen.
Modric, the master of small spaces
Modric is usually deployed to use the half-spaces which the average player will not even see. He uses such spaces to great effect, unlocking the blocks created by the opponents, and makes use of the inability to defend such small spaces to take control of the match. For someone who has such brilliant technical mastery and control, the Ballon d'Or is more than deserving.