Ronaldo does what he wants: Sergio Ramos
Ronaldo does what he wants: Sergio Ramos
Sep 03, 2018, 12:20 am
2 min read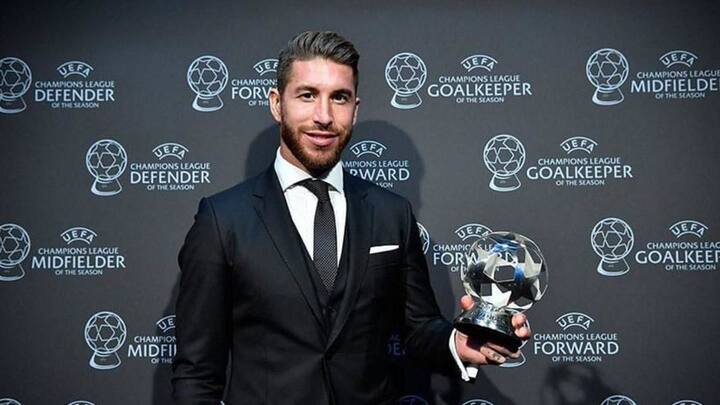 Sergio Ramos, after UEFA Awards, met with the press and shared his candid thoughts about former team-mate, Cristiano Ronaldo, not attending the event. Ramos stated that he didn't know that CR7 would not be appearing at the ceremony, where the 2018-19 Champions League draw was also declared. Apparently, Ronaldo is unhappy that he lost the Best Player award. More details follow.
Ronaldo not angry with Modric: Ramos
Ramos has also stated that he does not believe Cristiano Ronaldo is angry with Luka Modric for winning the UEFA Player of The Year award. Ramos said that Ronaldo might be disappointed that he did not win it. "We found out about Ronaldo's absence practically when the microphones were being set up and we were surprised. But he does what he wants", added Ramos.
It was a clean sweep for Madrid at the ceremony
UEFA awards the best forward, mid-fielder, defender, goal-keeper and player of the season. This time, all of the prizes went to Los Blancos. Cristiano Ronaldo was voted the best forward, Sergio Ramos the best defender, and Keylor Navas the best goal-keeper. Modric was voted the best mid-fielder as well as the best player of the 2017-18 season.
Ramos had his share of controversy during the ceremony
A gesture by Sergio Ramos at the UEFA Awards has gone viral on social media. Ramos, after receiving his best defender's award was going to sit in the audience when he lightly tapped the shoulder of Mo Salah. Ironically, the Liverpool forward had to leave the field after Ramos tackled him at the Champions League final. Interestingly, Salah didn't acknowledge this gesture by Ramos.
Ronaldo's agent Jorge Mendes had also expressed his wrath
Cristiano Ronaldo's agent Jorge Mendes has also fired out at UEFA for not giving Ronaldo the Player of the Year award. Ronaldo had scored 15 goals in 15 appearances which he made during the 2017-18 edition of the Champions League. Mendes said that it was ridiculous and shameful on UEFA's part to rob Ronaldo of the award.