Roger Federer clinches 10th Basel title: Report, stats and more!
Roger Federer clinches 10th Basel title: Report, stats and more!
Oct 28, 2019, 01:29 pm
3 min read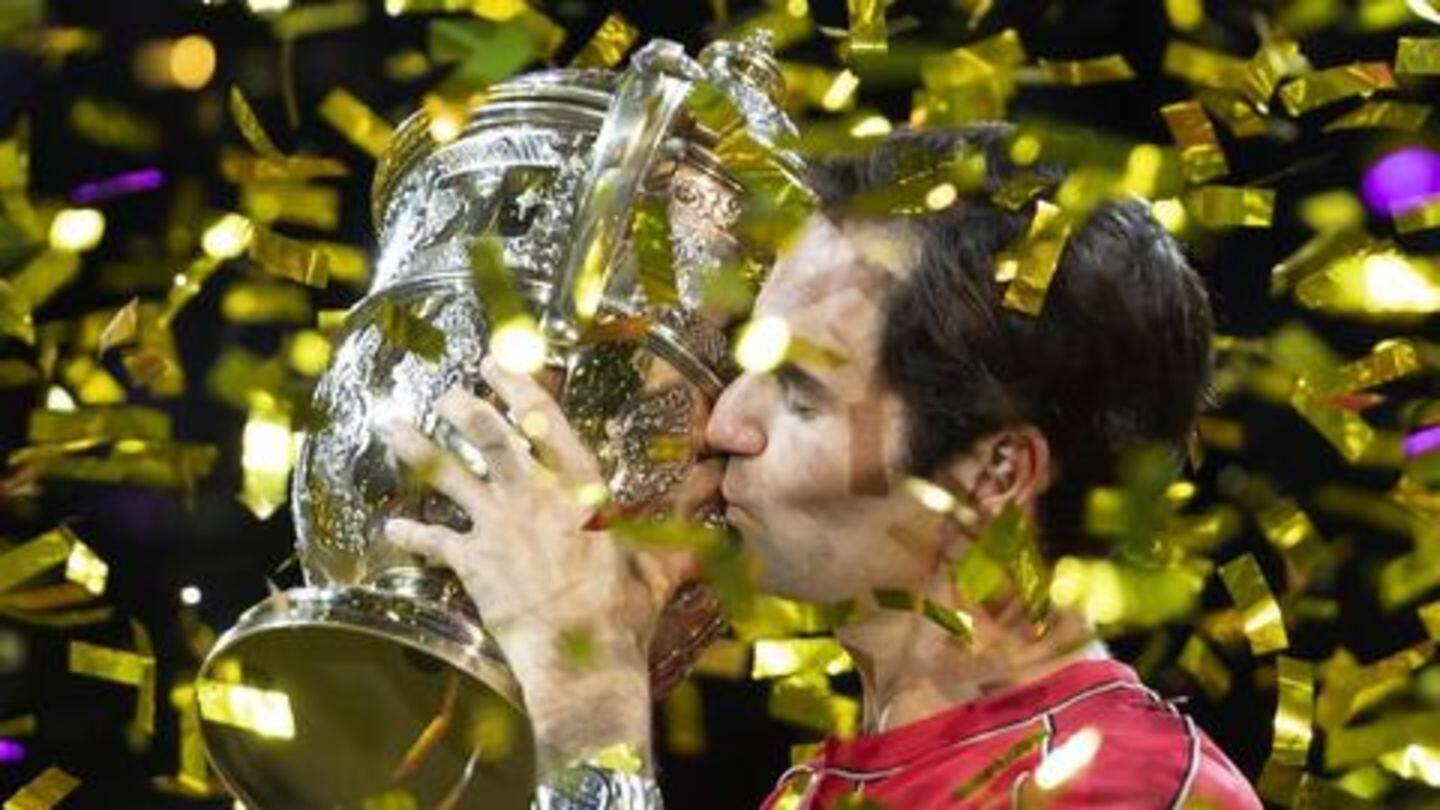 Record Grand Slam champion Roger Federer put up an exquisite performance to tame Alex de Minaur of Australia to win his record 10th ATP Swiss Indoors Championship title, in Basel on Sunday. With this win, he now has 103 ATP titles to his name. Further, he also has won two tournaments 10 times. He had earlier clinched his 10th title in Halle.
How did the match pan out?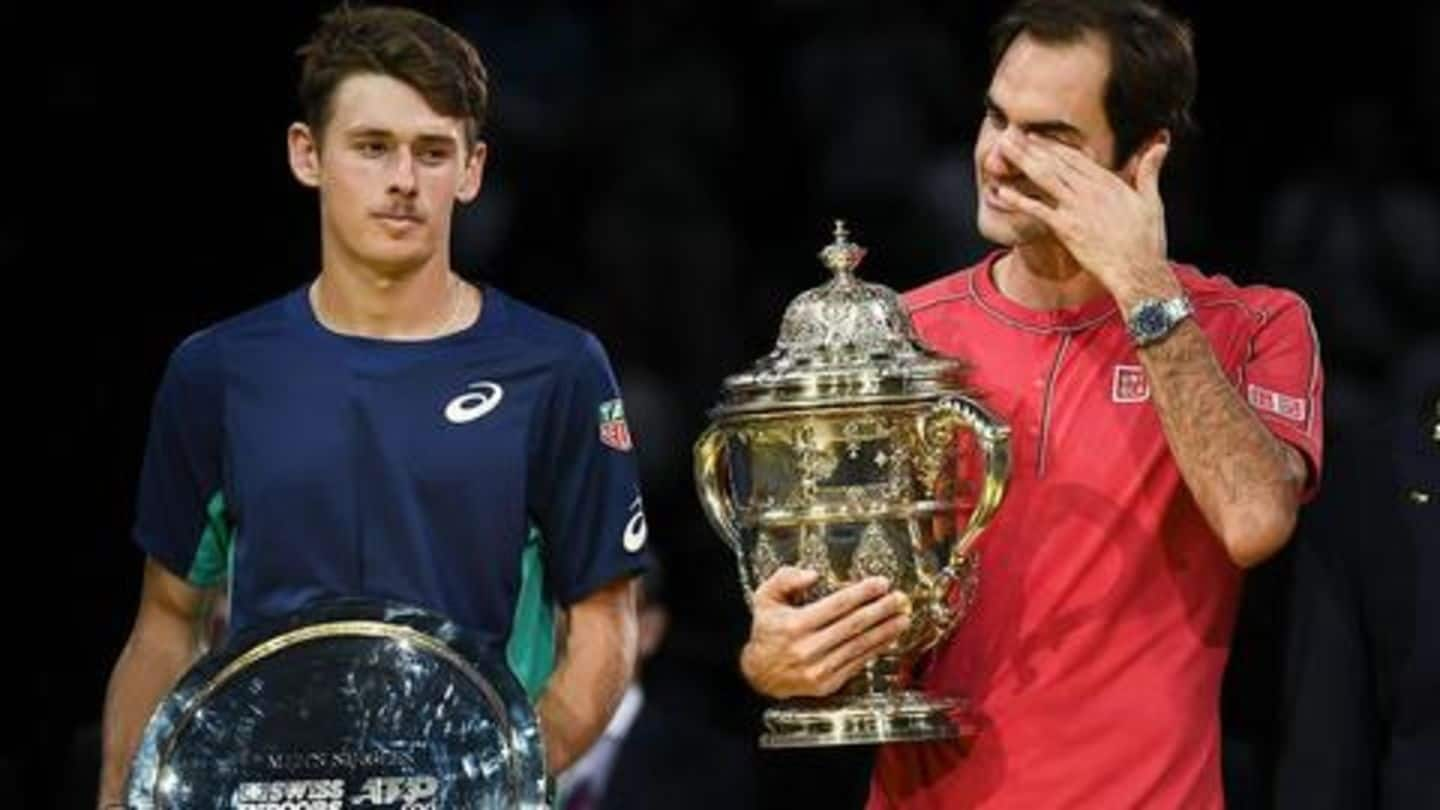 It was relatively an easy, straight-set, win over an un-seeded de Minaur, who played extremely well over the week. As for the final, Federer converted four of the ten break points in the match and did not drop his serve, as he wrapped up the game in 68 minutes, to win 6-2, 6-2. This was his fourth ATP title of the year.
Both involved in great rally as Federer ups his ante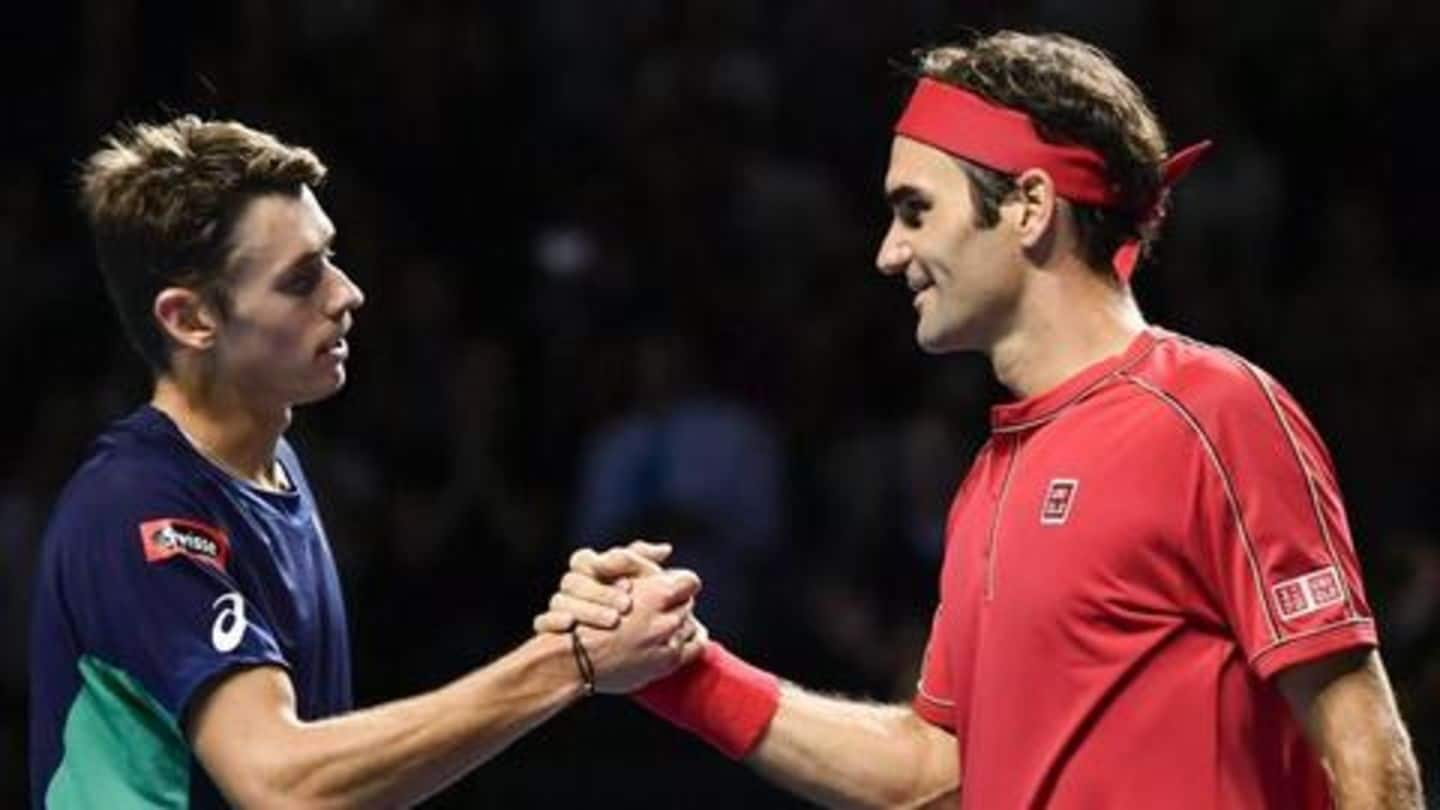 Considering their overall gameplay, both men were involved in an extreme exchange of shots, especially on the baseline, during the early stage of the match. There was an intense 39-shot rally before Federer pulled up his ante. With merciless serve, followed by an improved intensity in the second set, Federer started to pile pressure on de Minaur, who could not overcome the legend.
I think I played a great match: Federer
"It was fast but very nice, I think I played a great match. I thought Alex played a great tournament as well. But, what a moment for me to win my 10th here in my hometown of Basel," said Federer following the win.
Federer content with his gameplay in the final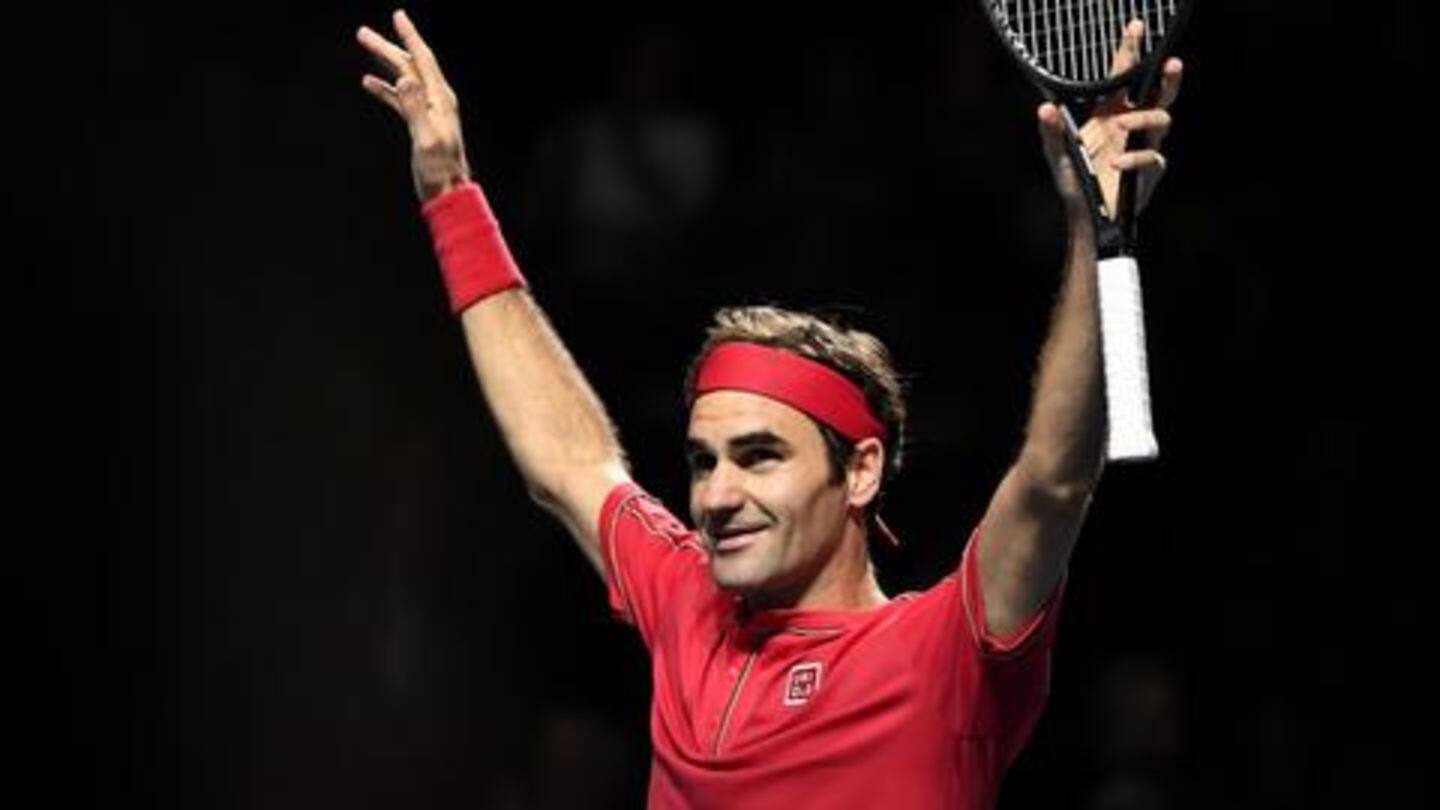 Speaking on his gameplay, Federer said that despite winning in straight sets, it was tough in the opening five games where both played great rallies. However, he was overall satisfied with the show he put up. "I was great on the offense, made very few unforced errors and came up with the big shots and served well when I had to," he further said.
Federer wishes to be back next year
He just puts you under pressure: de Minaur
"He just puts you under pressure. Any ball that isn't a meter from baseline for him is a short ball. That's something I learned the hard way today. But, I can't wait until I'm able to step out and play him again," said de Minaur.
Some relevant stats post Federer's win
Most titles won by Federer in a particular tournament: Halle- 10, Basel- 10, Wimbledon- 8, Dubai- 8, Cincinnati- 7. Most tour-level titles in 2019: Dominic Thiem- 5, Novak Djokovic- 4, Roger Federer- 4, Daniil Medvedev- 4, Rafael Nadal- 4, Alex de Minaur- 3.
Federer eyes success in final Masters of the year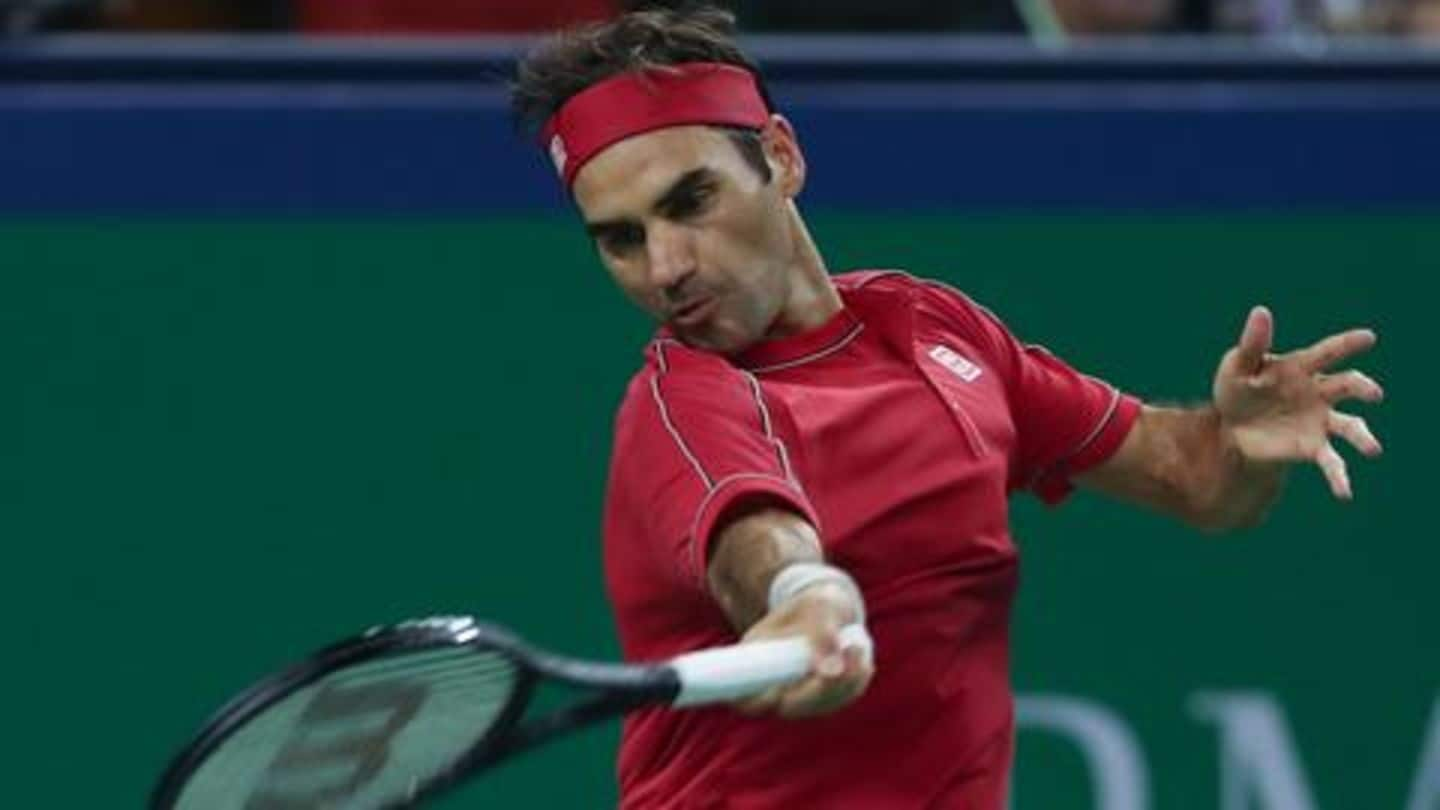 As for Federer's next venture, he would be participating in the final ATP Masters event of the year, in Paris, starting this week. He would certainly aim to finish by winning the title, before moving to the ATP Finals next month. Winning both these tournaments would help him give confidence to start the new year with a bang.