Kohli following in Tendulkar's footsteps: Here are the similarities
Kohli following in Tendulkar's footsteps: Here are the similarities
Aug 27, 2018, 12:34 am
2 min read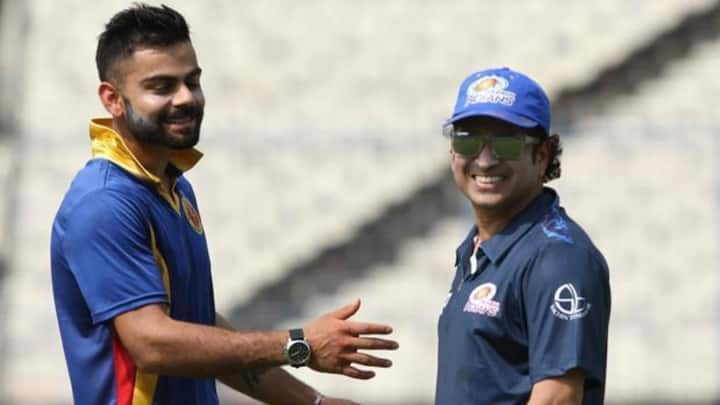 We, as Indians, are lucky to have been gifted with the batting icons, Sachin Tendulkar and Virat Kohli. They have carried the expectations of a billion people on their shoulders and still performed every time. Tendulkar is widely considered the greatest batsman ever, and Kohli is on his way to carving history. Here we look at the similarities between these two batting icons.
As captain, both have twice got out in the 90s
Tendulkar didn't captain the Indian ODI cricket team for long, but during his short tenure, he lost his wicket twice, while he was in his 90s. The exact same fate has also befallen upon the current captain Virat Kohli. An uncanny similarity. Both of these men are already under huge pressure to perform, and captaining the squad just adds on to the strain.
They have broken numerous cricket records over the years
Sachin has the highest Test and ODI runs to his name, along with the most number of centuries in both formats. Further, Tendulkar played the maximum number of Tests (200). Like his idol, Virat is also a serial record-breaker. Kohli is the fastest to get to 9,000 ODI runs. He, recently, eclipsed Ponting's record of most ODI runs in a calendar year as captain.
58th international ton with a 103 against England
This is an interesting coincidence between the two batting greats. Both Tendulkar and Kohli reached their 58th international ton, scoring the exact same runs (103) against the same opponent, England. Tendulkar's 58th ton came in 2001, while Kohli achieved his milestone recently during India's victory over England at Trent Bridge. However, India had drawn the 2001 Test at Ahmedabad against England.
Both batsmen have been successful across all formats
Both Tendulkar and Kohli have been quite successful across all the formats of cricket, even though Tendulkar didn't play many T20s in his career. Sachin has 100 international tons, combining Tests and ODIs, to his name. Virat, on the other hand, is the only player, who is ranked amongst top 10 batsmen in all formats. Kohli has already raked in 58 tons.