Five most politically incorrect moments in the history of WWE
Five most politically incorrect moments in the history of WWE
Nov 14, 2018, 02:27 pm
3 min read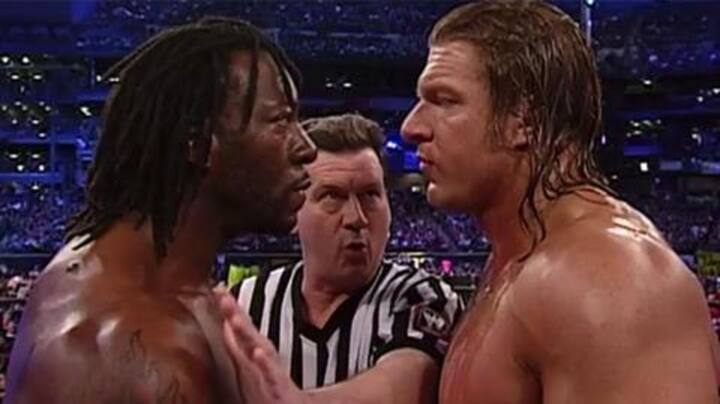 The WWE storylines did not always follow all the sensitivity and correctness that we see today in the PG-13 era. There was a time when the stories went over-the-top. Sometimes, they were even politically incorrect and insensitive. Even though, WWE has changed its stance radically to suit the modern-day audience, here is a look at five politically incorrect WWE moments.
Roddy Piper pulls an insensitive 'blackface'
In movies and theatre during the early 20th century, white actors would paint their faces black to portray a black character until the insensitivity in the action was finally understood. However, Roddy Piper had surely not understood why this was an incorrect thing to do. He decided to paint half of his face and body black for a WrestleMania match against Bad News Brown.
WWE did not even hesitate to incorporate necrophilia
This has to be one of the weirdest storylines WWE writers ever portrayed on screen, and it involved Triple H and Kane. It began with Triple H accusing Kane of engaging in necrophilia with a corpse. As video evidence, Triple H showed a video of himself dressed as Kane simulating necrophilia with a mannequin inside a casket.
Jerry Lawler uses homophobic slurs against Goldust
Jerry Lawler has been one of the most iconic voices in WWE history, commentating on numerous iconic moments. As the two commentators usually take sides during bouts, Lawler would always play the devil's advocate efficiently. However, his homophobia became apparent once during a backstage promo when he went on a slur against Goldust, who was pulling off a homosexual character.
Vince McMahon uses the 'n word' in Booker T's presence
Vince McMahon has never been known to be a sensitive man, having always grown up in wealth and never seeing the real struggles of the world. This is probably what has triggered his insensitive nature. During a backstage promo with John Cena, he did not hesitate in using the 'n word' in front of Booker T and his wife.
McMahon humiliates Trish Stratus, another of his insane moments
Vince McMahon can go to any extent just for some extra TV ratings. He proved his insensitivity once again when he humiliated Trish Stratus by bringing her to the ring, making her strip down to her underwear, and then adding the extra bit of making her bark like a dog. This was done in front of a big audience. It was extremely derogatory.