Analyzing Manchester United's problems post defeat to Wolves
Analyzing Manchester United's problems post defeat to Wolves
Apr 03, 2019, 06:41 pm
3 min read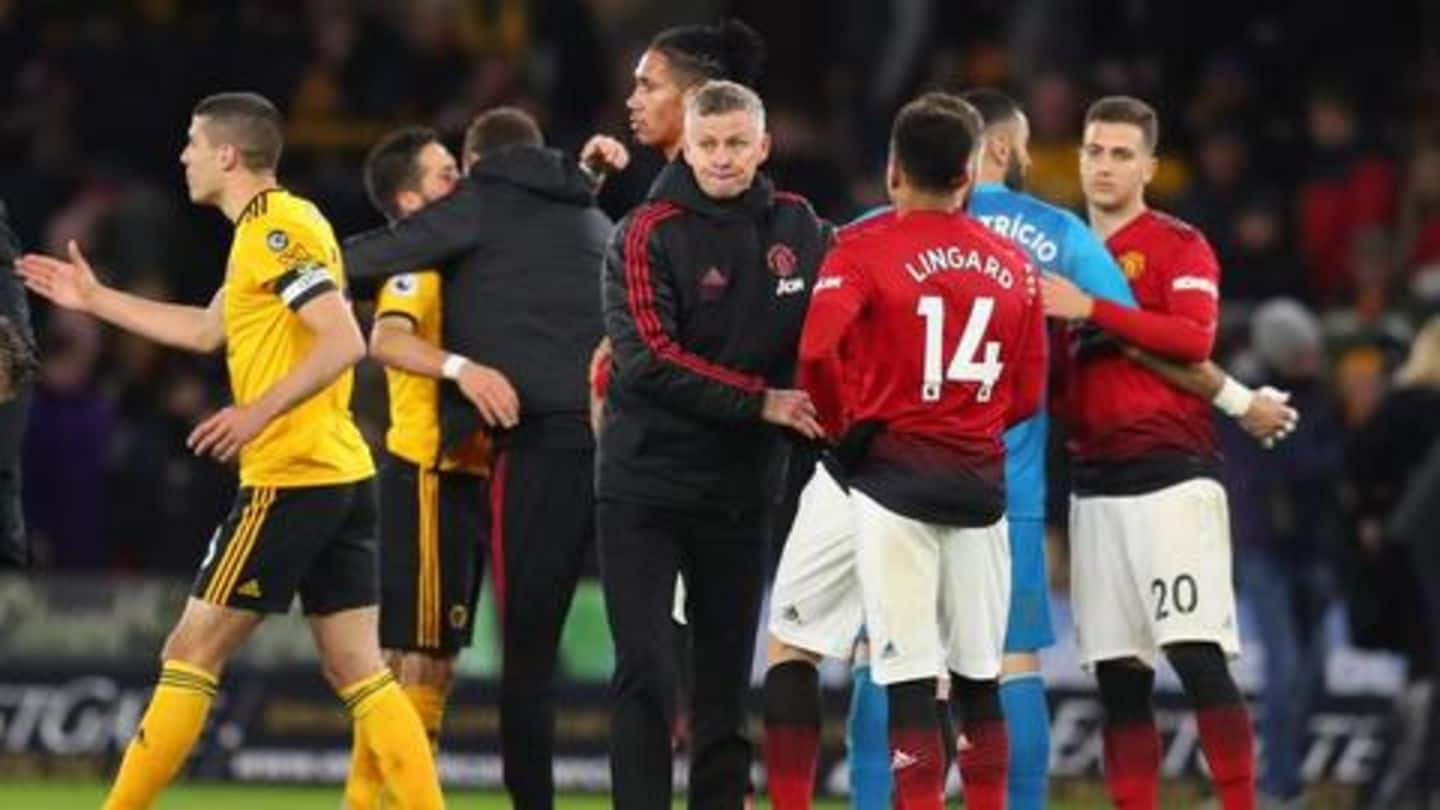 It was just last week when Manchester United had announced that Ole Gunnar Solskjaer has been roped in as the permanent manager. However, in charge of his first game after this announcement, he succumbed to a hard-fought 1-2 loss at the hands of Wolverhampton Wanderers. The loss has further dampened United's hopes of a top-four finish. Let us analyze what went wrong.
United surrender early lead as they suffer a 1-2 defeat
United put themselves ahead in the 13th minute, following a classic goal by Scott McTominay, who was assisted by Fred. Nonetheless, it was just 12 minutes later, when Diogo Jota broke United's defense to put one past their goal-keeper. After Ashley Young was sent off, it was in the 77th minute when Chris Smalling scored an own goal to hand Wolves the winner.
An attempt to accommodate McTominay could have cost United
United's mid-field has been in a groove since the past few matches. However, Solskjaer attempted to accommodate McTominay into the attack, along with Paul Pogba, whom United can't afford to drop. While McTominay did score a goal, it didn't give enough game time to Pogba. With five mid-fielders, it became a bit chaotic for United, along with a weak defense that made things worse.
Three defenders always present a risk
The defense is the most important aspect of football. A weak defense always makes the team vulnerable. United's decision to go with three defenders was highly questionable, even against a weak side like Wolves. Normally, teams have at least four defenders. As a result, it did put extra pressure on Young, resulting in his red card.
United lack proper defenders
Apart from the decision to have three defenders, United have always had problems in this area, as they lack a quality defender. While Young has been promoted as a defender, it is not his natural position. Having spent millions over the past five years, United still don't have a solution. It would be interesting to see how does Solskjaer go about building this line-up.
Pogba might be under pressure to perform
Pogba is undoubtedly one of United's top strikers currently. While he is getting enough game time under Solskjaer, there is also pressure on him. Moreover, with the rumors linking him to a possible move to Real Madrid, this could have taken a toll on him. Although he is tied to United, he could be under pressure to perform and draw attention of Zinedine Zidane.
Are United over-reliant on Pogba?
United do have a star-studded attacking front, with the likes of Romelu Lukaku, Jesse Lingard and Pogba. However, it seems like they do over-rely on the French mid-fielder. In most cases, Pogba hardly gets assists and takes the shot on his own. Moreover, United always expect more from him, alongside Lingard, who fortunately has been in good touch.
Do United still have chance to for a top-four finish?
While it may look theoretically possible for United to manage a top-four finish, practically they don't stand a chance. Also, if Chelsea manage to win tonight, United would be down to the sixth spot. This would make them heavily reliant on other teams. If United finish outside top-four, the only way would be to win the UCL to qualify for the tournament next season.