Larry Nassar gets 175 years in prison for sexual abuse
Larry Nassar gets 175 years in prison for sexual abuse
Jan 25, 2018, 10:58 am
2 min read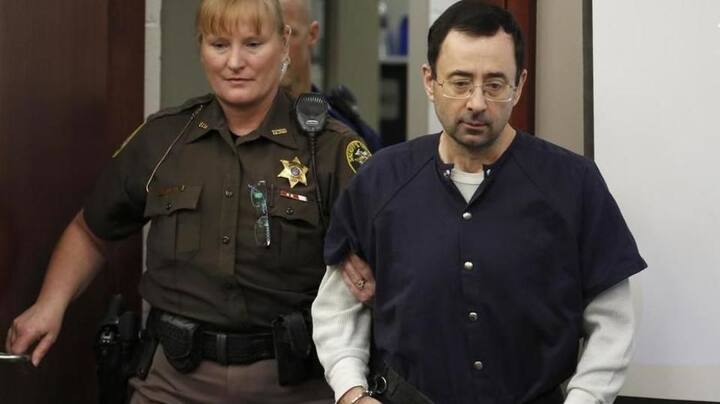 Former USA Gymnastics team doctor Larry Nassar has been sentenced to 175 years in prison for sexually abusing about 160 young gymnasts. "I've just signed your death warrant," Judge Rosemarie Aquilina told Nassar. Survivors cried and applauded as the judge delivered the verdict. This follows weeks of an intense courtroom hearing where several victims delivered hard-hitting impact statements.
The first charges against Nassar emerged in 2016
In 2016, Rachael Denhollander accused the former team doctor of sexual abuse. Till now, at least 156 victims including champion gymnasts Gabby Douglas, Aly Raisman and McKayla Maroney had made similar allegations. "I didn't publicly share my experiences (before)...because for years we were conditioned to stay silent," Raisman wrote on Instagram. Maroney tweeted: "People should know this is not just happening in Hollywood."
Three high-profile organizations accused of turning a blind eye
In a watershed moment, 156 women came forward during the hearing to narrate their experiences. Many accused USA Gymnastics, Michigan State University (MSU) and the US Olympic Committee, which employed Nassar for 20 years, of turning a blind eye to his crimes. Amid pressure, three of US Gymnastics' board members stepped down. After the sentencing, MSU President Lou Anna Simon resigned.
Nassar claimed hearing victims' statements affected his "mental health"
As intense victim impact statements kept coming, Nassar expressed "concern" about his "ability to face witnesses mentally." He alleged the hearing had turned into a "media circus" and Judge Rosemarie Aquilina was trying to gain attention. In November, Nassar pleaded guilty to seven counts of first-degree sexual assault; in December, he was sentenced to 60 years in prison for child pornography.
Nassar's 'apology' mixed with victim-blaming
Before sentencing, Nassar apologized: "I will carry your (survivors') words with me for the rest of my days." However, Aquilina dismissed his statement, reading from a letter where he wrote he was "manipulated" into pleading guilty. "Hell hath no fury like a woman scorned," he said, alleging they were looking for money and fame. "I wouldn't send my dogs to you, sir," Aquilina said.