Prince Harry fought brother, Kate Middleton over Meghan Markle: Sources
Prince Harry fought brother, Kate Middleton over Meghan Markle: Sources
Written by
Siddhant Pandey
Aug 19, 2019, 04:49 pm
2 min read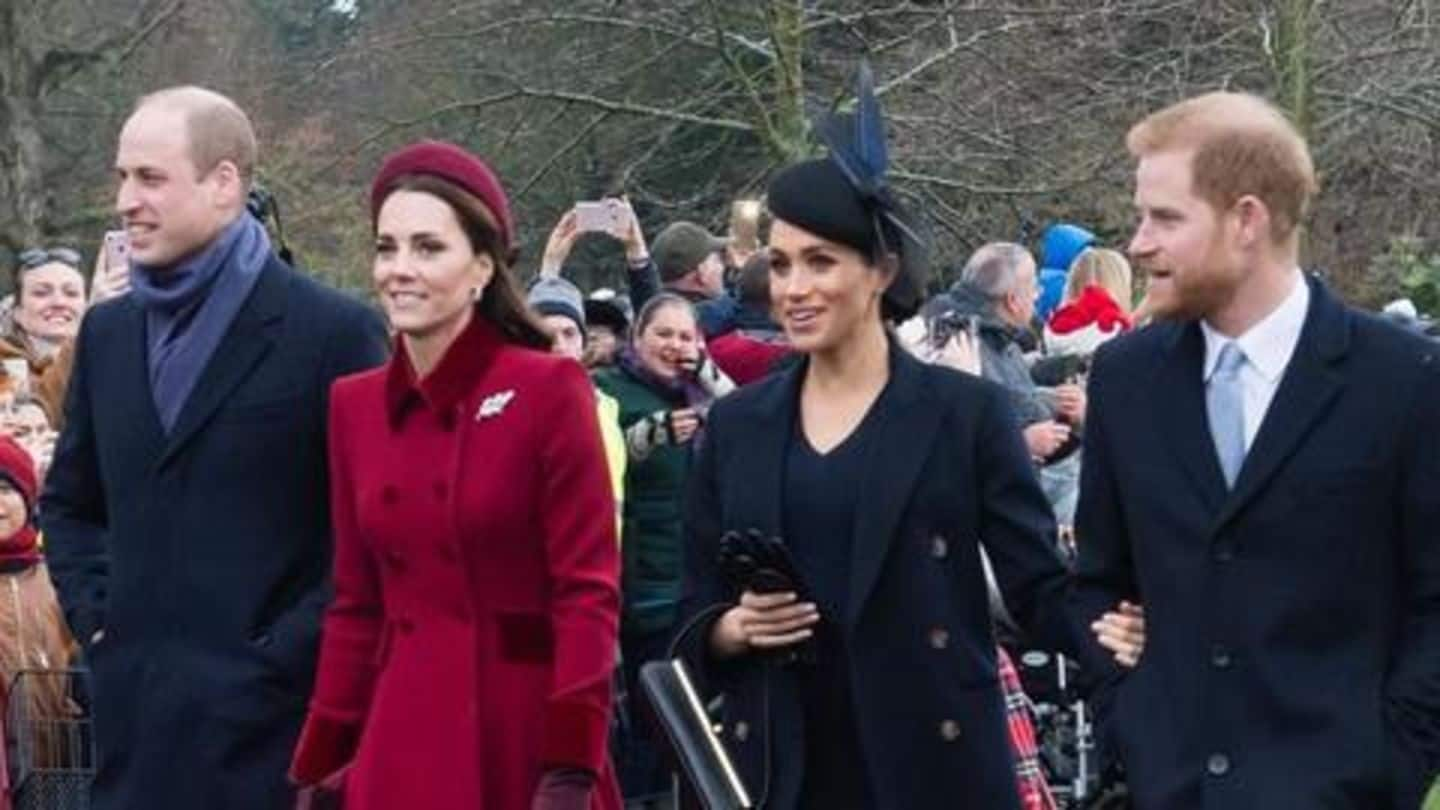 A new documentary aims to shed light on the rumored spat between the Royal Family's Prince William and Prince Harry, news of which has been making headlines for months now. According to the Channel 5 documentary William & Harry: Princes At War?, the feud started with Prince William and Duchess Kate Middleton's disapproval of Prince Harry's relationship with Duchess Meghan Markle. Here's more.
William-Kate shocked by Harry-Meghan's whirlwind romance
The documentary revealed that the Duke and Duchess of Cambridge were shocked by the fact that Prince Harry announced his engagement to Meghan in November 2017, after a blind date just 16 months before. They got married in May 2018. Apparently, their quick wedding didn't sit well with Prince William and Kate Middleton, who dated for eight years before getting married in 2011.
Meghan being older than Harry was William-Kate's primary concern
Royal expert and Majesty Magazine editor, Ingrid Seward said in the documentary, "William and Kate didn't have a moment to get to know Meghan because Harry hardly knew Meghan." Seward added, "And of course William and Kate would've quite naturally thought, 'Oh she's been married before, she's older than Harry, I hope she's going to make him happy.' Anyone would think that."
Prince Harry went 'ballistic' on Prince William, Duchess Kate
Before his wedding, Prince Harry reportedly admonished his brother and sister-in-law for not supporting his relationship with Meghan, who was present and maintained a "stony silence." Royal reporter for The Sun, Emily Andrews told Fox News, "I was told by a number of sources that he (Prince Harry) went ballistic." Andrews added, "He said, 'You're trying to wreck this relationship before it's even started."
Harry felt let-down without William's 100% support: Royal expert
Saying that Harry "resented" William, Royal expert Kate Nicholl told Fox News, "Harry supported William from the outset of his relationship with Kate, and he felt let down that he wasn't getting his brother's full 100 percent support with his relationship with Meghan."
Eventually, Prince Harry-Duchess Meghan moved away from Prince William-Duchess Kate
At the time of Harry's fight with his brother and sister-in-law, both couples were reportedly living at Kensington Palace as neighbors. However, the Duke and Duchess of Sussex later set up a home in Windsor Castle. They currently reside in the ten-bedroom Frogmore Cottage—gifted to them by Queen Elizabeth II herself. Meanwhile, the Buckingham Palace and Kensington Palace have repeatedly denied the feud allegations.