Indian-American youths offer to fund Trump's wall for green cards
Indian-American youths offer to fund Trump's wall for green cards
Written by
Shiladitya Ray
Jun 15, 2018, 02:22 pm
3 min read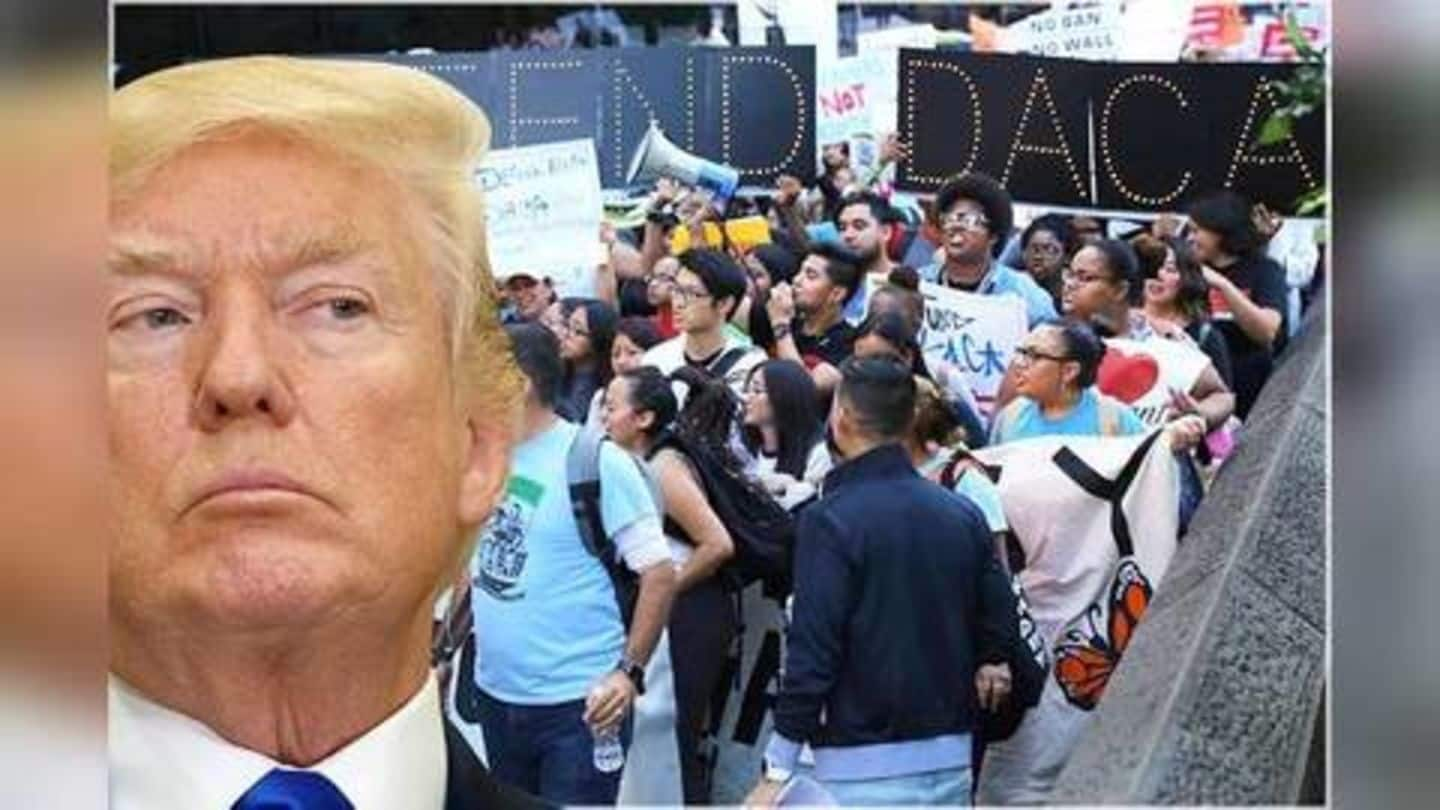 Hundreds of Indian-origin teenagers and young adults rallied in front of Capitol Hill to protest against more attention being given to illegal immigrants. The protesters, whose parents are legal H-1B workers, were demonstrating against having to 'self-deport' themselves at the age of 21, despite having arrived in the US legally. Additionally, they offered to fund Trump's Mexico wall to fast-track green card approvals.
Earlier, H-1B workers had offered to build Trump's wall
Earlier, in February, Indian H-1B workers, in line for the green card, offered to pay at least $4bn to fund the US' border security and help President Trump build his wall, in return for fast-tracking their green card applications.
What's the issue of 'self-deportation' these kids are protesting against?
The issue stems from the fact that these kids, who arrived in the US legally with their parents, are eligible to stay in the US till the age of 21 when their H-4 dependent visa expires. However, owing to 70+ years of backlogs in green card allotments, particularly for Indians, these kids are unable to get theirs, and thus have to 'self-deport' at 21.
The DALCA kids want more priority than the DACA kids
Another major point of contention for these 'DALCA' kids, named after the Deferred Action for Legal Childhood Arrivals (DALCA) policy, is that their other, illegal counterparts, under the Deferred Action for Childhood Arrivals, policy are getting more priority for citizenship. This, understandably, irks the DALCA kids who feel that they should be prioritized, given the fact that they're on the legal track to citizenship.
The US is facing a potential reverse brain-drain problem
There's an estimated 200,000 DALCA kids in the US now, and most of them have been educated as per the world-class STEM (Science, Technology, Engineering, Math) education system. They're slowly moving out, to Canada and other places, thereby posing a brain-drain problem for the US.
DALCA kids offer a whopping $25bn to build Mexico wall
Such is the sense of desperation among the DALCA kids, that they've offered a whopping $25bn to the Trump administration to help build the proposed Mexico border wall. What is unclear, however, is how they hope to raise such an amount. Given no clear sources of funding, it would seem that the offer is a bait to attract more attention to the DALCA issue.
There's a deadline for the legal fate of the 'Dreamers'
As it stands, the legal immigration status of the DALCA kids and the DACA kids, colloquially called the 'Dreamers', will have to be decided before the 25th June deadline set by the House GOP.
There seems to be some hope for the DALCA kids
However, there's a glimmer of hope for the DALCA kids. Firstly, some US lawmakers are sympathetic to their issue. Secondly, as of Thursday, draft proposals were being circulated in Capitol Hill showing citizenship eligibility for candidates, both under a new iteration of the DACA permit, as well as for those under DALCA. Only time will tell what fate awaits them.