Sudan, the world's last male northern white rhino, is dead
Sudan, the world's last male northern white rhino, is dead
Mar 20, 2018, 04:46 pm
2 min read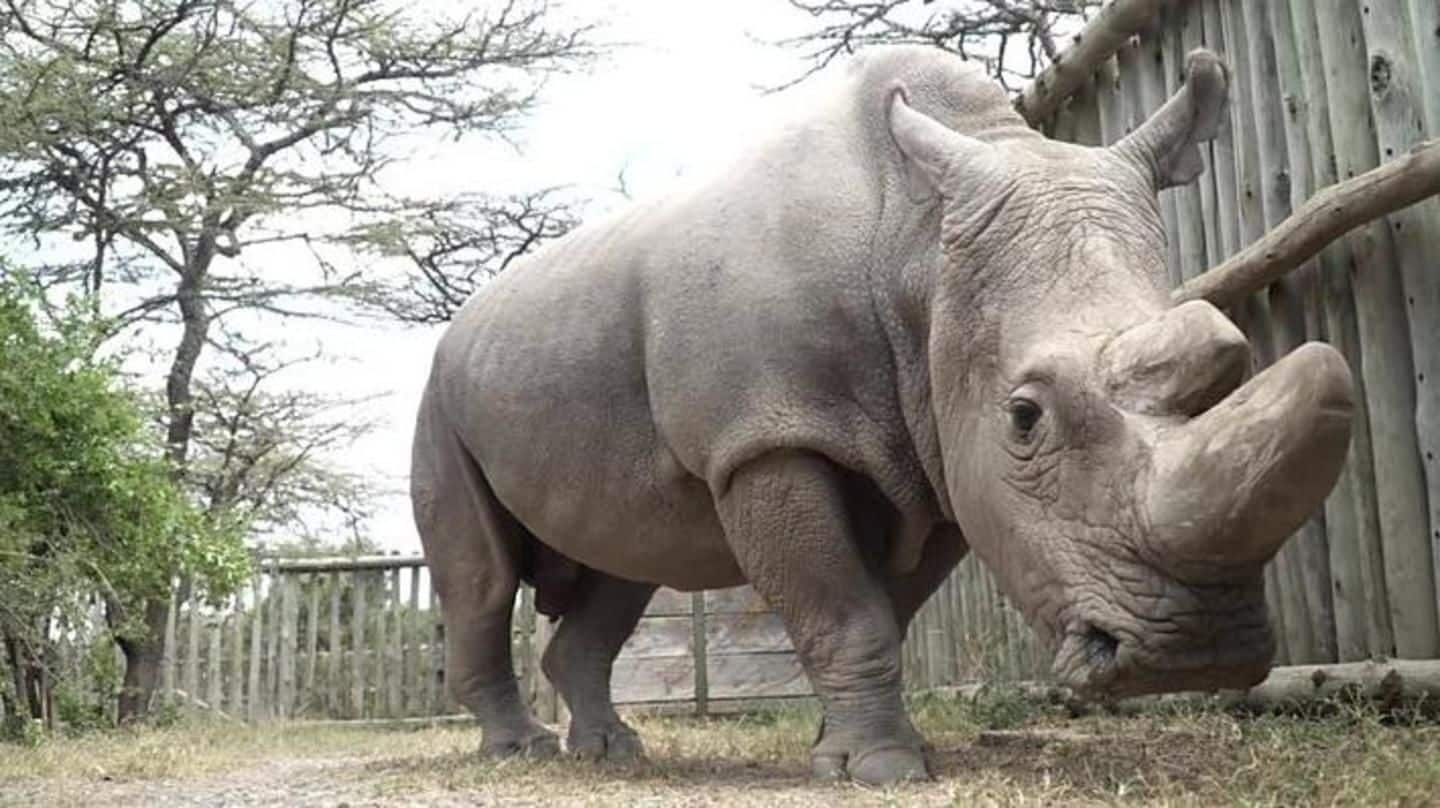 In a major loss, the world's last male northern white rhino, who had been staying at Kenya's Ol Pejeta Conservancy, has died. 45-year-old Sudan had been suffering from ill health since months. Vets took the decision to euthanize him yesterday after his condition deteriorated drastically in the last 24 hours. This leaves only two more of his subspecies alive, his daughter and granddaughter.
Ol Pejeta tweets about the death
Here's why the news should shock you
Rhinoceroses have five species, and the white rhinoceroses have two sub-species, the southern and the northern. There are about 20,000 southern white rhinos surviving today. But the northern white rhinos in Uganda, Sudan, Chad and Central African Republic died out during a poaching crisis in the 1970s-80s. More in Congo were killed in fighting by the 2000s. The second last male died in 2014.
White rhinos were poached alarmingly for their horns
Rhinos are a lucrative target for poachers because of their horns, which are believed to cure various ailments, especially in Asia. Experts say that though its price is falling in China and Vietnam, it is still becoming a more expensive market than drugs.
Sudan, the last northern white rhino born in the wild
Sudan was captured in his namesake country. In 1975, he was shifted to the Dvůr Králové Zoo in the Czech Republic, but moved back to Ol Pejeta in 2009. In his last years, Sudan suffered from degenerative changes in his bones and muscles. Breeding was difficult as he had low sperm count, and his female companions were too weak to support a mounted male.
When Sudan joined Tinder to find a mate
As options ran out, Sudan joined Tinder last April, not to find a potential mate, but to raise $9mn for his fertility treatment through the crowdfunding project called "The Most Eligible Bachelor in the World." His profile was seen in 190 countries across 40 languages.
Is there any hope of the species' survival?
The last hope for survival of the species now lies with 28-year-old Najin and 17-year-old Fatu, Sudan's daughter and granddaughter. They live under armed protection in Ol Pejeta to prevent poaching. Right before his death, conservationists collected Sudan's genetic material. Experts hope to use it and the two females' eggs to make rhinos babies through in-vitro fertilization.
#WeDidThis: 'On behalf of all mankind, I'm sorry'
The last Male has fallen #WeDidThis the last Northern White African male rhino marks the certain extinction of this incredible species. Rest in peace Sudan, you deserved so much better. On behalf of all mankind, I'm sorry #WeDidThis 💔 @OlPejeta

— Rohit Sharma (@ImRo45) March 20, 2018