Overcoming stigma, US woman becomes world's first living HIV+ donor
Overcoming stigma, US woman becomes world's first living HIV+ donor
Written by
Ayushi Chamoli
Mar 31, 2019, 12:15 am
3 min read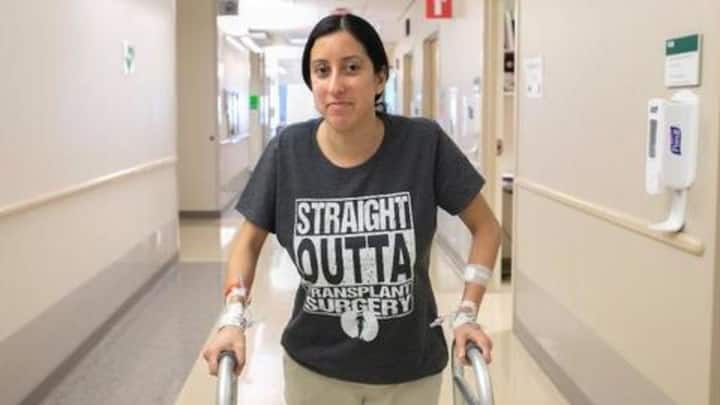 The world's first HIV+ organ donation was completed successfully by the surgeons at the John Hopkins Hospital in Baltimore, US, this Monday. 35-year-old Nina Martinez has become the first living HIV+ kidney donor to an HIV+ recipient, who wished to remain anonymous. Martinez acquired HIV when she was just six-week-old in 1983. Here is the story of her life that was filled with struggles.
Martinez acquired virus when she was just 6-week-old
In 1983, blood banks did not do a routine check to look for HIV. After being born 12-weeks prematurely, Martinez and her twin sister developed anemia. Later, Martinez, born to a naval father in San Francisco, was taken to a military hospital for a blood transfusion and there she got the virus. However, her family did not come to know about it.
Stigma: 'Why educate her, if she is going to die?'
Martinez and her family came to know about the virus when the then 8-year-old girl was checked before going through an eye surgery. This brought a lot of problems to her in school, where she was treated like a health hazard to other students. Back then, her principal had said, "Why are we educating her with public dollars if she's going to die?"
HIV damaged Martinez's immune system but not her strength, power
Later in life, her flatmate came to know about her condition, and decided to move out. He even left all his belongings behind. A person with HIV has a damaged immune system. The virus interferes with the body's ability to fight against foreign organisms. Although Martinez was suffering from both physical and mental trauma since childhood, she was not willing to give up.
'Grey's Anatomy', HIV+ friend inspired Martinez to join donor trial
In 2013, the US passed the HIV Organ Policy Equity (HOPE) Act, which allowed organ transplantation between HIV+ patients. Next year, Martinez, who lives in Atlanta, saw an episode of Grey's Anatomy, a medical drama series, where a transplant surgery was performed between two living HIV+ patients. Later, her HIV+ friend was waiting for a kidney, which inspired her further.
People like me can bring life, says Martinez
She then reached out to the doctors in Hopkins for a trial, which enabled her to become the first donor. However, her friend died before she could donate a kidney to him. "Society perceives me, and people like me, as people who bring death. And I can't figure out any better way to show that people like me can bring life," said Martinez.
HIV is no longer a death sentence, says surgeon
Dr. Dorry Segev, a surgeon at Hopkins who removed Martinez's left kidney said, "Here's a disease that in the past was a death sentence and now has been so well controlled that it offers people with that disease an opportunity to save somebody else."
Martinez is in excellent health post-surgery, said doctors
On Monday, Martinez donated a kidney and is on antiretroviral medication, along with the recipient, to control her HIV as they both can have different strains of the virus. According to doctors, Martinez is in almost perfect health and her viral load is undetectable. "Her health is excellent. Her HIV is well controlled. Her immune system is essentially normal," said a doctor at Hopkins.
Those people need a mental reboot, says Martinez
"It gives me great joy to know that I'm putting a story like this out there. Because those people need a mental reboot," she said. Martinez is now a public health consultant and also runs marathon for an NGO, which teaches young people about HIV.