Jio GigaFiber: How to register for this broadband service
Jio GigaFiber: How to register for this broadband service
Written by
Shiladitya Ray
Aug 26, 2018, 06:39 pm
2 min read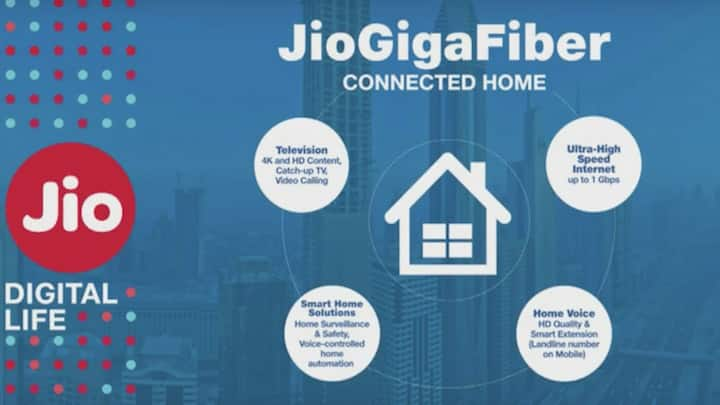 Reliance Jio's GigaFiber broadband service started accepting registrations from August 15. Shortly afterwards, Jio announced the launch of a 90-day free preview for interested customers, with the caveat that the service would be preferentially rolled out to regions with the highest demand. If you're interested in registering for a connection and trying your luck, read on to know the steps.
Caveats pertaining to availability of the service
First, it's important to note that even if you register for Jio GigaFiber, you might not get a connection just yet, owing to Reliance's demand-based roll-out policy. That said, registrations can be made on Jio's website or on the MyJio app for free. Then, as and when your locality gets the service, Jio will provide you with its fixed-line fiber-to-the-home (FTTH) broadband service.
How to register for Jio GigaFiber
To register, head to the Jio GigaFiber website. Then enter your address manually, or use the auto-location tool. Once done, proceed to enter personal details like full name, email address, and mobile number, and check the box to accept terms and conditions. Select the type of address, e.g. a township, society etc., enter the OTP sent, and you're done. Multiple addresses can be registered.
The preview is free, except for a refundable deposit
The best part about Jio GigaFiber's three-month-long preview is that it's absolutely free. However, customers will have to pay a refundable security deposit of Rs. 4,500 for the broadband router. Since Jio's router, dubbed GigaHub Home Gateway, is an optical line terminal (OLT) device, your regular broadband router is unlikely to be compatible with Jio GigaFiber's connection.
Jio says users will get unparalleled download speeds
If Jio is to be believed, downloads will happen in mere "milli-seconds" owing to GigaFiber's 100Mbps speed. Notably, Jio is offering 100GB high-speed data per month for the preview. Jio says that unlike traditional cables that see speeds get reduced owing to patches in between, its fiber cable will go directly to your home, thereby enabling extremely high speeds.