Akshay-Twinkle complete 18 years of marriage: Here's their secret mantra
Akshay-Twinkle complete 18 years of marriage: Here's their secret mantra
Jan 17, 2019, 04:02 pm
3 min read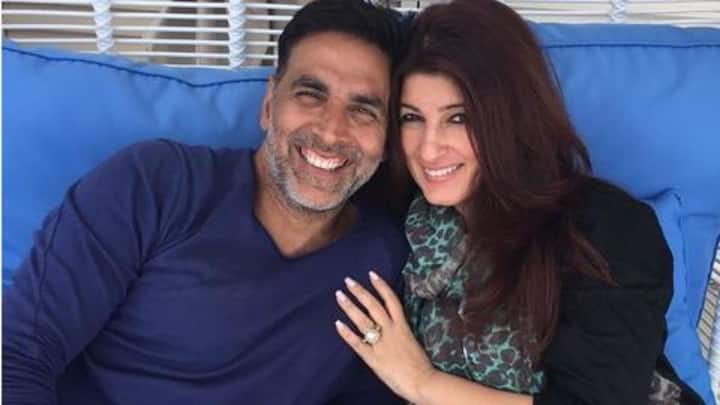 At a time when marriages and relationships are becoming volatile, Akshay Kumar and Twinkle Khanna have restored our faith in love and commitment. From being lovers to soulmates to uber cool parents, Akshay and Twinkle's relationship certainly evolved with time. The star couple is celebrating their 18th wedding anniversary today, and here are the reasons why their marriage is so successful.
For Akshay, discipline is paramount
Akshay is known for his discipline, on both personal and professional fronts. While his discipline made him a star, it also worked for his marriage. "Stay happy, keep the other one happy, bachche paida karo (have children). And be a disciplined husband, and reach home on time after work," he had once said. Well, every married man must swear by Akshay's mantra.
Akshay can't imagine a day without Twinkle
Akshay is certainly a doting husband who leaves no stone unturned to give his wife all the happiness she deserves. During one of his interviews, Akshay revealed that while his wife is crazy about diamonds, he is crazy about her and can't imagine a day without Twinkle. "It drives me nuts how I rely on my wife for everything," Akshay had said.
We are a perfect team: Twinkle
Notably, Twinkle stated that perfect coordination is what makes their marriage successful as they make a great team. "I think it's a great team. We are playing tennis doubles, and I think that's a pretty good foundation for a marriage to last," Twinkle had asserted. She also revealed that she admires Akshay for his calm and composed mind and would like to emulate it.
Akshay is Twinkle's biggest support
Twinkle aka Mrs. Funnybones also emphasized that her endearing husband has been her greatest support during all walks of life. She also mentioned that Akshay always encouraged her to be a better version of herself. "He is a man who takes more pride in my work than anyone ever has. So, I am very fortunate to have this man with me," Twinkle added.
Akshay gives Twinkle the most precious gift
As the couple completed 18 years of their blissful marriage, Twinkle revealed that the PadMan actor gave her the most precious gift. She shared an overwhelming post on Instagram and wrote that Akshay gave her 18 years of strong friendship and enough space for her to grow. "Somehow managed to hold my hand for a large part of the way," the happy wife wrote.
Looks like Twinkle got the best anniversary gift ever
Akshay and Twinkle have special anniversary plans
Akshay and Twinkle celebrated their 18th wedding anniversary with close friends, including Bobby Deol, his wife Tania, Sunny and Anu Dewan, last evening. Besides, there are reports that they will be jetting off for a short vacation to celebrate the anniversary. Although the destination isn't revealed, reports claim that it will be a welcome break for the couple before their super busy year begins.