#MeToo: Karishma Tanna supports Rajkumar Hirani, slams 'immature' accuser
#MeToo: Karishma Tanna supports Rajkumar Hirani, slams 'immature' accuser
Jan 17, 2019, 01:58 pm
3 min read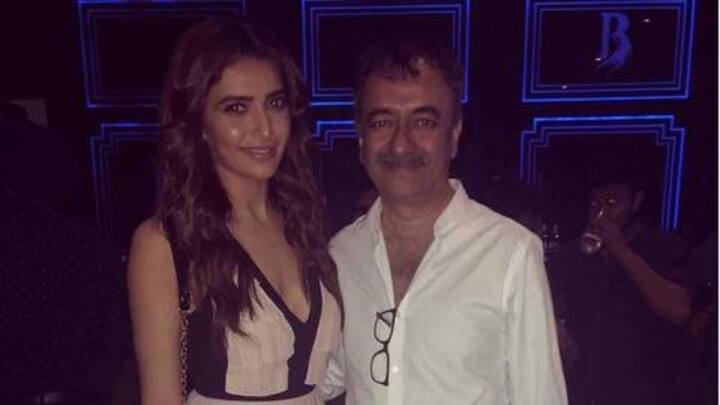 In Bollywood's #MeToo movement, the recent one to bite the dust is director Rajkumar Hirani. The sexual harassment allegations against Hirani have left the industry appalled. While Hirani is being criticized by many, several B-town celebrities have also supported the Sanju director. And now, actress Karishma Tanna has extended her support and slammed the accuser for her "false allegations". Here's what she said.
Karishma calls the accuser immature
During her interview with Bollywoodlife, Karishma admitted being shocked. She claimed 'Hirani was targeted' in #MeToo. Karishma, who worked with Hirani in Sanju, not only defended the director but also called the accuser immature. "Whoever is trying to put allegations they shouldn't forget that there is an option called NO. You can't just put any false allegations, that is very immature," she said.
Backstory: Hirani assaulted me for six months, victim had said
To recall, Hirani was accused of sexual harassment by an assistant director of Sanju. She narrated her harrowing ordeal in a detailed e-mail which she had sent to Vidhu Vinod Chopra, Anupama Chopra, Shelly Chopra and Sanju scriptwriter Abhijat Joshi. The woman alleged that Hirani, who was a father figure to her, violated her "heart, mind and body" for six months last year.
However, Hirani had rubbished the allegations
However, Hirani has vehemently rubbished the allegations leveled against him and called them unjustified. The director stated that he was shocked by the allegations and claimed it was a 'malicious attempt' to tarnish his image. "I want to very strongly state that this is a false malicious and mischievous story being spread with an intention of destroying my reputation," Hirani added.
Meanwhile, Sharman Joshi, Javed Akhtar, and Boney Kapoor defended Hirani
Interestingly, Karishma isn't the first one to defend Hirani against the allegations. Earlier, Sharman Joshi, Javed Akhtar, and Boney Kapoor had also extended their support to the filmmaker. Javed called Hirani as the "most decent man in Bollywood", while Boney was confident that the director can't do anything like this. Sharman voiced a similar opinion and called Hirani a man of honor and truthfulness.
Separately, Dia Mirza, Arshad Warsi, and Mahesh Bhatt were "shocked"
The allegations against Hirani have divided the industry into two. While some are openly supporting Hirani, there is a section which is deeply shocked by the allegations. Celebrities like Dia Mirza, Arshad Warsi, and Mahesh Bhatt stated that the allegations were distressing and hard to believe. However, they also demanded a thorough legal inquiry in the matter to unveil the truth.