Aged 103, legendary Hollywood actor Kirk Douglas dies
Aged 103, legendary Hollywood actor Kirk Douglas dies
Written by
Siddhant Pandey
Feb 06, 2020, 02:39 pm
3 min read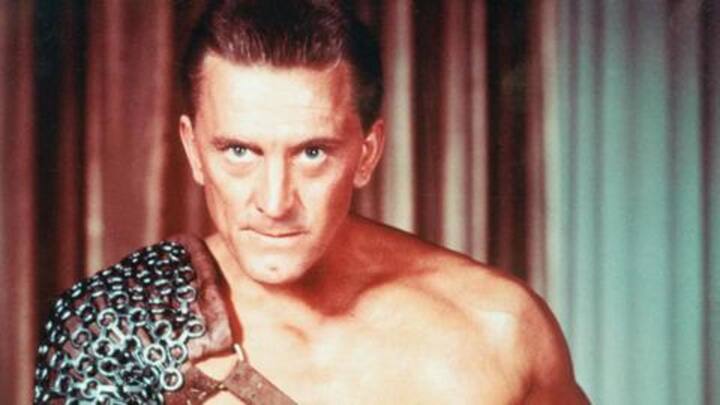 Kirk Douglas, one of the most celebrated stars of Hollywood's Golden Age, has died, his family announced on Wednesday. The legendary actor was 103 years old. Douglas is now survived by his second wife, Anne Buydens, and three actor sons: Michael, Joel, and Peter. Douglas, who also produced and directed movies, was best known for playing the titular role in the 1960 epic Spartacus.
Kirk's life was well lived, says son Michael Douglas
Michael Douglas on Wednesday stated, "It is with tremendous sadness that my brothers and I announce that Kirk Douglas left us today at the age of 103." The statement added, "Kirk's life was well lived, and he leaves a legacy in film that will endure for generations to come, and a history as a renowned philanthropist who worked to aid the public and bring peace to the planet."
You can read Michael Douglas' full statement here
Douglas was born to poor Russian-Jewish immigrants
Douglas was born as Issur Danielovitch Demsky in New York in 1916 to poor Russian-Jewish immigrants. Then known as 'Izzy', Douglas worked some 40 jobs, including a newsboy, before he starred in high school plays. He made his film debut in The Strange Love of Martha Ivers (1946). Douglas once said that he wanted to be an actor since the second grade.
Douglas dreamt of being an actor since a second-grade play
"I wanted to be an actor ever since I was a kid in the second grade. I did a play, and my mother made a black apron, and I played a shoemaker. After the performance, [my father] gave me my first Oscar: an ice cream cone." -Kirk Douglas

Goodbye to a Hollywood legend. pic.twitter.com/vnu1Hkb2FA

— The Academy (@TheAcademy) February 5, 2020
Douglas' career spanned six decades
In a career spanning six decades, Douglas featured in several classics including Ace in the Hole (1951), 20,000 Leagues Under the Sea (1954), Lust for Life (1956), Paths of Glory (1957), Lonely Are the Brave (1962), and Spartacus (1960). He was also a noted philanthropist and in 1988, Douglas penned an autobiography titled The Ragman's Son. In total, he wrote 10 novels and memoirs.
Douglas earned many honors, including Presidential Medal of Freedom
Throughout his career, Douglas was nominated for the coveted Academy Award three times. In 1996, he was awarded an Honorary Oscar. He had also been conferred with the Presidential Medal of Freedom, an AFI Lifetime Achievement Award, a Kennedy Center Honoree, a Screen Actors Guild Lifetime Achievement Award, a National Medal of Arts, and a Cecil B. DeMille Award.
Controversially, Douglas was also rumored to have raped another actor
After the 2018 Golden Globes honored Douglas, netizens pointed out that the actor was once accused of repeatedly raping actor Natalie Wood when she was 16. An anonymous blogger—rumored to be actor Robert Downey Jr.—revealed the accusations in 2012.
Douglas married twice; had two sons from each marriage
Douglas' first marriage was with Diana Dill, which ended in divorce in 1951. Douglas had two sons from the marriage: Michael (b. 1944) and Joel (b. 1947). In 1954, he married television and film producer Anne Buydens. The couple had two sons: Peter (b. 1955) and Eric (b. 1958). Eric died in 2004 at the age of 46.