Dhoni's retirement is unfair to him, his fans: Lata Mangeshkar
Dhoni's retirement is unfair to him, his fans: Lata Mangeshkar
Aug 17, 2019, 07:57 pm
3 min read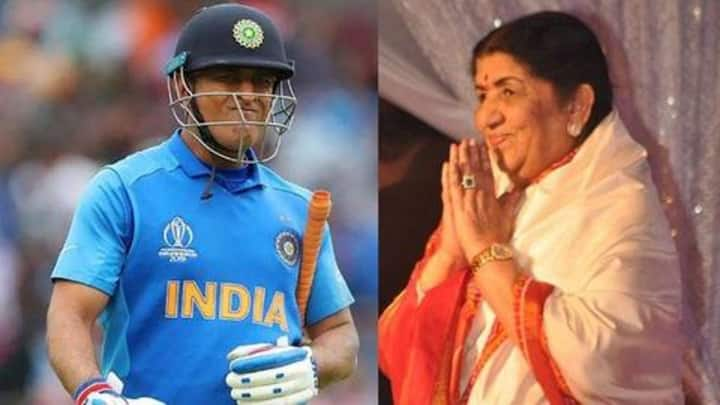 As speculations over MS Dhoni's retirement from international cricket continue to hit headlines, legendary singer Lata Mangeshkar urged him not to think about it. She argued that his retirement would be "unfair not just to him, but to his fans and admirers." Requesting him not to hang his boots, the 89-year-old pointed out, "He has so much more to give to cricket."
Dhoni has already retired from Tests, captaincy from three formats
Notably, reports of Dhoni's retirement surfaced during this year's World Cup that was being held in England. The former skipper, who has already retired from Tests and captaincy from the three formats, was rumored to quit international cricket after the tournament. This speculation probably arose after he was criticized for not showing his capabilities as a finisher during the India vs New Zealand match.
"Dhoni has so much more to give to cricket"
Speaking in this light, the crooner advised Dhoni to seek inspiration from actor Amitabh Bachchan, who remains indefatigable even at the age of 75. "At 75, he continues to be one of the busiest actors in the country," she added. She also equated Dhoni to an artiste, and highlighted, "There is no retirement for an artiste until he/she lives."
Talent is your gift from God, nurture it, says Lata
Pointing out talent "is your gift from God," which should be nurtured and preserved, Lata said, "It (one's talent) is not something one switches on or off. If you are a dancer or a singer, you are one for all your life." "It consumes every breath of your life, gives you a sense of identity. What am I today, if not a singer?"
Earlier too Lata requested Dhoni not to think of retirement
To jog your memory, this isn't the first time that Lata has requested Dhoni to rethink about his retirement plans. Earlier, she took to micro-blogging site Twitter, and stated that the "country still needs his game." "I am hearing that you want to retire. Please don't think like that. The country needs you. I request you to not entertain thoughts of retirement," she tweeted.
"Never had to face hardships, discomforts working girls face"
Narrating her own struggle, Lata said, "It was a necessity. My father left us when he was very young. I had a mother and four siblings to look after." Having started at 12, she has been singing professionally for over seven decades now. She however points out that she "never had to face hardships and discomforts that working girls face. I consider myself fortunate."