Eight of Quentin Tarantino's films, ranked worst to best
Eight of Quentin Tarantino's films, ranked worst to best
Written by
Pallabi C Samal
Aug 07, 2019, 07:07 pm
4 min read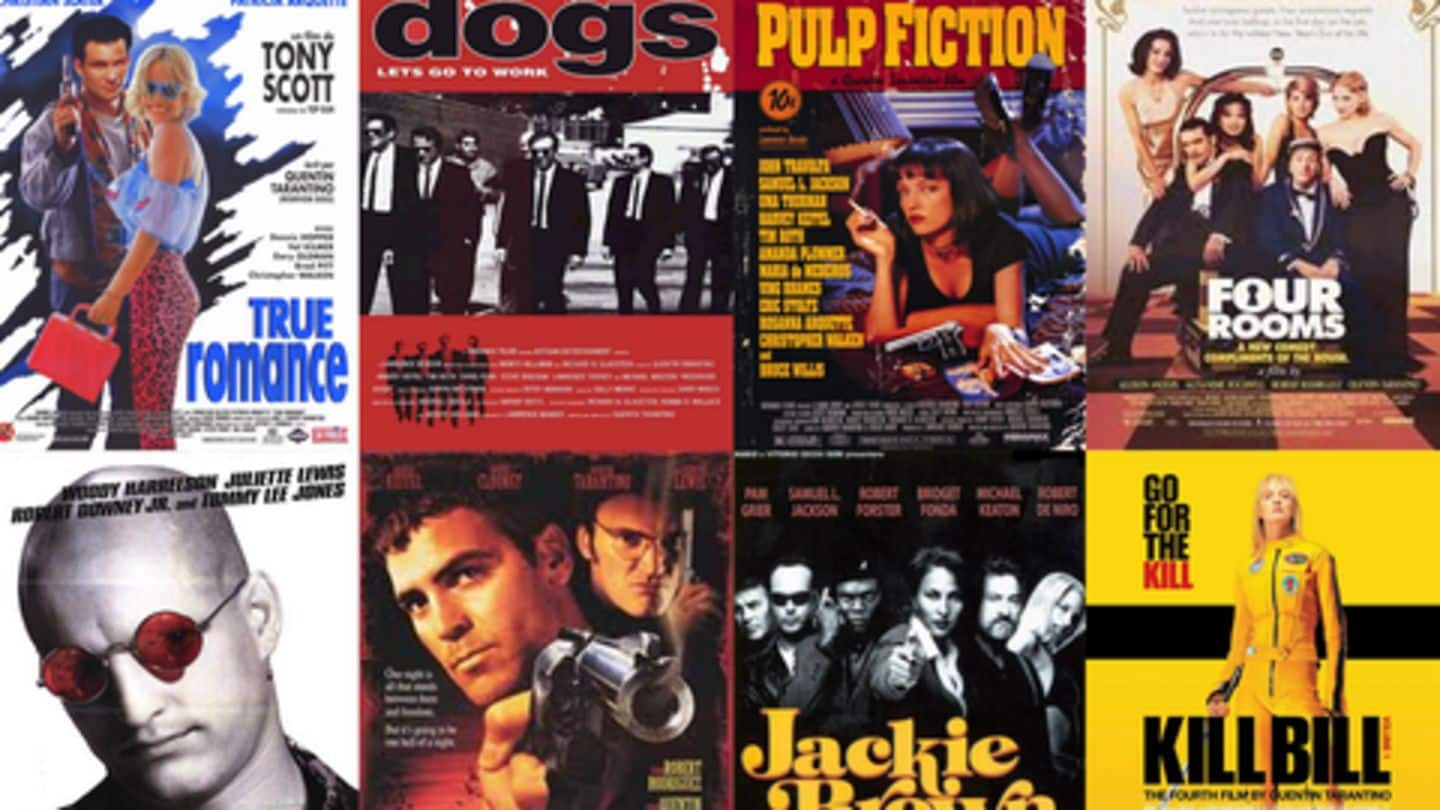 Quentin Tarantino's ninth offering, Once Upon a Time in Hollywood is yet to hit theaters in India, but is already creating quite a buzz. That's because Tarantino's style of presenting a story on screen has its own cult following. His films mostly have an ensemble cast, use 1960-80s soundtracks, and depict violence graphically. In this light, let's rank his films, from worst to best.
Reviews were mixed for 'The Hateful Eight,' as were collections
Tarantino's eighth film initially saw a limited roadshow release in 70mm film, but was expanded to other theaters 15 days later. Reviews were mixed, as were box office collections, and like every product of the legendary director, this one also had a truly bloody climax. Stretching for a boring three hours, this film didn't really live up to standards set by Tarantino himself.
"Death Proof the worst movie I ever make"
This exploitation horror film received moderate views, with a 65% rating on Rotten Tomatoes, with many applauding the cinematic presentation of the car crash scene. However, Peter Bradshaw, chief movie critic of The Guardian, observed, "The film was padded with long, long, long stretches of bizarrely inconsequential conversation." Even Tarantino admitted, "Death Proof has got to be the worst movie I ever make."
'Django Unchained' remains Tarantino's most commercially successful film
Django Unchained, the most commercially successful film of Tarantino, is a violent revenge fantasy. It looks a little comic book-type, but has some of best performances from lead actors: Jamie Foxx, Christoph Waltz, Leonardo DiCaprio, and Samuel L. Jackson. Owen Gleiberman, film critic for the Entertainment Weekly, opined, "Django is less clever and doesn't have enough major characters to earn its two-hour-and-45-minute running time."
Tarantino's debut film 'Reservoir Dogs' is important for independent filmmaking
Tarantino began his career as an independent director with Reservoir Dogs, which also brought forth many of his trademarks for the first time for viewers. Named the "Greatest Independent Film of all Time," it's considered an important milestone in independent filmmaking. However, it looked like a beta test for Tarantino's upcoming projects, as it somehow showed just a slice of his talent. Brilliant nonetheless.
'Jackie Brown': A slight departure from Tarantino's usual filmmaking style
This crime thriller, and the only film Tarantino adapted from a previous work, marks a slight departure from his usual style. Like all of his films, this one also received favorable reviews, but was said to be "typically overstuffed." The movie also attracted controversy for the 38 times use of the word nigger. "Quentin is infatuated with that word," highlighted noted director Spike Lee.
'Inglourious Basterds': Memorable performances, but not thoroughly engaging
Grossed around $321.5mn worldwide, Inglourious Basterds is fun, but not thoroughly engaging. David Denby, of The New Yorker, said, "The film is skillfully made, but it's too silly to be enjoyed, even as a joke." Bradshaw opined, "How exasperatingly awful and transcendentally disappointing it is." It has some memorable performances though; Christoph Waltz, who plays the sinister Col. Hans Landa, needs special mention here.
Uma Thurman at her best in 'Kill Bill' series
Uma Thurman plays the Bride and headlines this powerful martial arts film, probably her best performance till date. The part 1 of the film pays epic homage to the samurai genre, in which Thurman battles the yakuza. The second part slows down a bit, and here we learn The Bride's real name: Beatrix Kiddo. Both the films were a crowning moment for Tarantino.
'Pulp Fiction,' undoubtedly, remains Tarantino's best work till date
Tarantino's breakthrough hit, and his career-defining movie, Pulp Fiction is still a pop culture phenomenon. Not just him, the film also made Samuel L. Jackson a household name, and revived John Travolta's career. The chemistry between Vincent Vega (Travolta) and Jules Winnfield (Jackson) is charismatic. Tarantino was at his best in this, which of course changed the very language of how films were made.