Seven survival films that will make you value life again
Seven survival films that will make you value life again
Written by
Pallabi C Samal
Sep 18, 2019, 04:17 pm
3 min read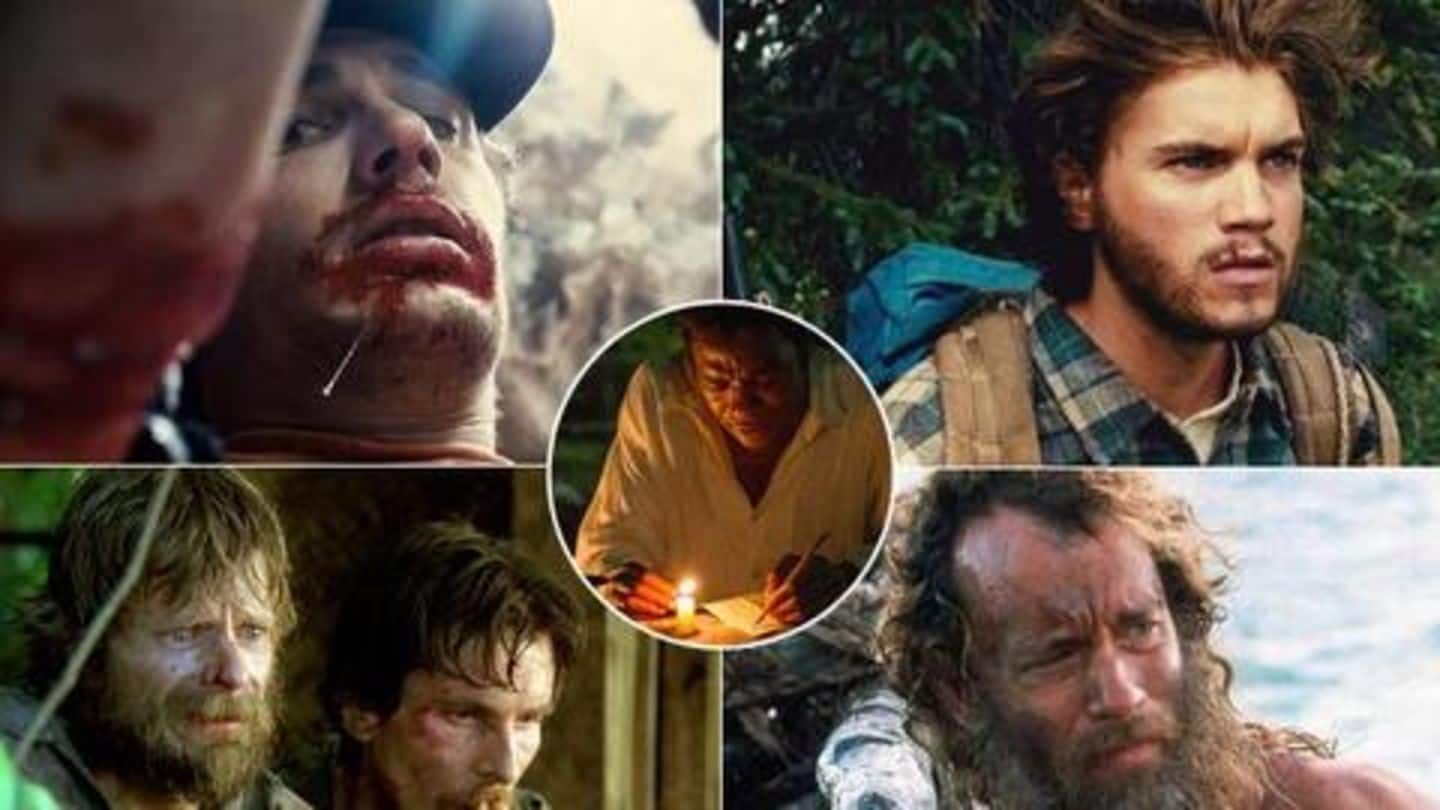 Our protagonist is stuck in an unfriendly terrain, with no help in sight. Suddenly, something happens, and he/she fights his/her way through, and comes out of that place, alive but bloodily injured. This is the usual premise of survival films, though basic backdrop of some movies can differ. Here are seven survival films that underline the proverb: If there's a will, there's a way.
'The Revenant' got Leonardo DiCaprio his first-ever Academy Award
The 2015 semi-biographical film that broke Leonardo DiCaprio's jinx of not winning an Oscar despite six nominations, has a mixture of survival and revenge elements. The Revenant starred Leo as Hugh Glass, and Tom Hardy in the negative role as John Fitzgerald. The film shows a lot of gore and blood, and puts Glass through extremely brutal circumstances, but is a beautiful watch nonetheless.
'Cast Away' shows how a man survives on plane-crash debris
Unarguably one of Tom Hanks' best performances, Cast Away shows us how after his plane crashes, his character Chuck Noland gets through on an uninhabited island for almost five years. His only mode of survival: The crash debris, and a Wilson volleyball. Did you know, to get an authentic feel, screenwriter William Broyles Jr. spent days together alone in Mexico's Sea of Cortez. Genius!
Matt Damon gets stranded on Mars in 'The Martian'
A space drama and a survival tale, The Martian details the life of an astronaut-botanist Mark Watney (Matt Damon), who's left stranded on Mars, after a violent storm attacks the planet. Making things worse, he's presumed to be dead, thus there were no efforts made to bring him back. To somehow live, Watney uses his wits and ingenuity, until NASA establishes contact with him.
'Life of Pi': Find spirituality by surviving the worst
Life of Pi is a marvelous piece of art. At first it would seem like just another film about a man named "Pi" Patel, and few animals, but once you ponder upon, you realize that each animal has its symbolism. The film also highlights how one can find spirituality by surviving the worst, and all that can go wrong in one's life.
'127 Hours' is based on real-life climber Aron Ralston
127 Hours is based on real-life climber Aron Ralston, who got stuck in an isolated slot canyon in Utah. A boulder had trapped him, and to free himself, Ralston had to use a blunt small knife to amputate his arm, which he could do after solid five days. Since he had no food or water left, to keep himself alive, he drank his urine.
'12 Years a Slave': Sold as slave, underwent brutal torture
Based on the memoir of Solomon Northup Twelve Years a Slave, this 2013 drama is a heart-wrenching one. Solomon was conned by two men in the 1840s, and sold into slavery, from which he was freed after 12 years. 12 Years a Slave details how cruelly Solomon and other slaves were treated, and how female slaves were exploited sexually and otherwise by their masters.
Keep tissues ready to watch 'The Pursuit of Happyness'
The Pursuit of Happyness is a beautiful tale of a man who is desperately trying to give his son a good future amid battling financial crisis and absence of a home. An autobiographical film, it is based on entrepreneur Chris Gardner's almost a year's struggle of being homeless. If you are indeed willing to watch this 2006 Will Smith flick, keep the tissues ready.