#ComicBytes: Lesser known facts about the Devil of Hell's Kitchen
#ComicBytes: Lesser known facts about the Devil of Hell's Kitchen
Written by
Siddharth Tyagi
Dec 17, 2019, 02:00 am
3 min read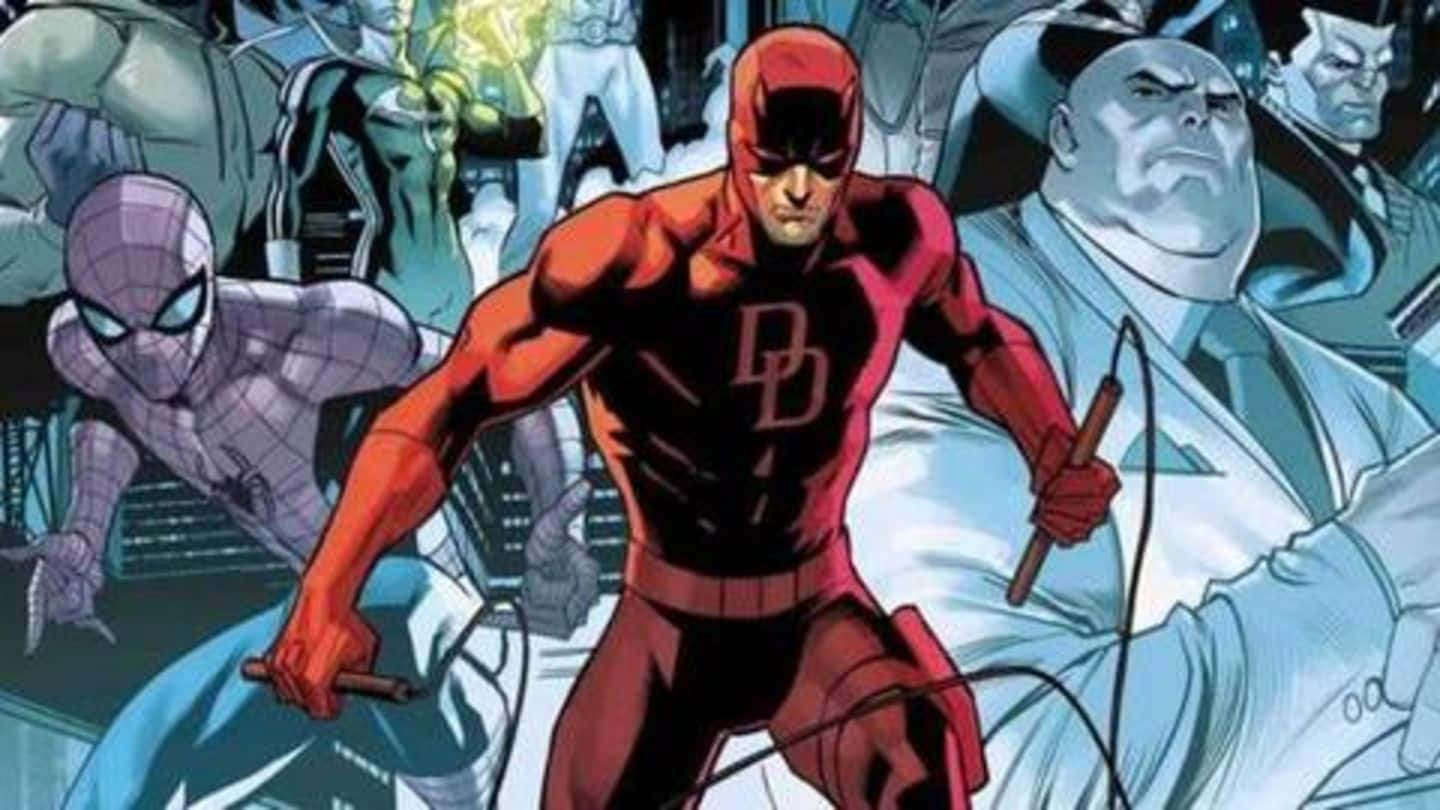 Daredevil is a unique superhero. He was created with inputs from not one but four legendary comic book artists- Stan Lee, Bill Everett, Jack Kirby, and Frank Miller. What started off as a campy superhero turned into one of the grittiest stories ever told in Marvel comics. Here are some relatively unknown facts about Daredevil, the blind protector of Hell's Kitchen.
He is friends with most superheroes including Spider-Man, Black Panther
Spider-Man and Daredevil live in the same city and share a common nemesis, The Kingpin. Both have often come to each other's rescue and share a great camaraderie. Matt Murdock (Daredevil's alter-ego) is a lawyer and is friends with another lawyer named Jennifer Walters AKA She-Hulk. He has also teamed up with Black Widow multiple times and shares a great bond with Black Panther.
Daredevil is a great hero... and a serial womanizer!
Daredevil's name has been associated with multiple women over the years. Besides dating most of his secretaries, he has been linked with Black Widow, Elektra Natchios, Moondragon, Dakota North, and more. He has been in the longest relationship with Karen Page and once married Milla Donovan. His girlfriends don't have it easy though! Most of them have died gruesome deaths because of his enemies.
He joined the Avengers. Got fired by the Fantastic Four!
Daredevil once refused to join the Avengers but on Captain America's behest, joined the 'New Avengers' for some time. In another incident, he once took a case for The Fantastic Four (as Matt Murdock) and spent the whole day trying to thwart the plans of the supervillain Electro (as Daredevil). Since he couldn't do any work on the case, he was promptly fired.
He had his sight restored on multiple occasions
Being blind is Daredevil's defining trait. He's one of the few people who converted their weaknesses into their biggest strengths. Once, the powerful character Moon Dragon gave him his eyesight back. As a result, he lost his sonar-like powers and fighting skills and soon reverted to being blind. On different occasions, he has been given his eyes back by The Beyonder and The Uni-Power.
Daredevil was the inspiration for Teenage Mutant Ninja Turtles
Everyone loves the cool and humorous Teenage Mutant Ninja Turtles. They parody a lot of other comic characters but their entire origin is based on Daredevil (it even features a version of Matt Murdock). Just like Daredevil trained under a strict but learned mentor, Stick, the Turtles trained under Splinter. Daredevil and Turtles fight evil clans known as The Hand and The Foot respectively!