2008 Malegaon blasts: MCOCA charges dropped against Sadhvi Pragya, Purohit
2008 Malegaon blasts: MCOCA charges dropped against Sadhvi Pragya, Purohit
Written by
Ramya Patelkhana
Dec 27, 2017, 10:14 pm
3 min read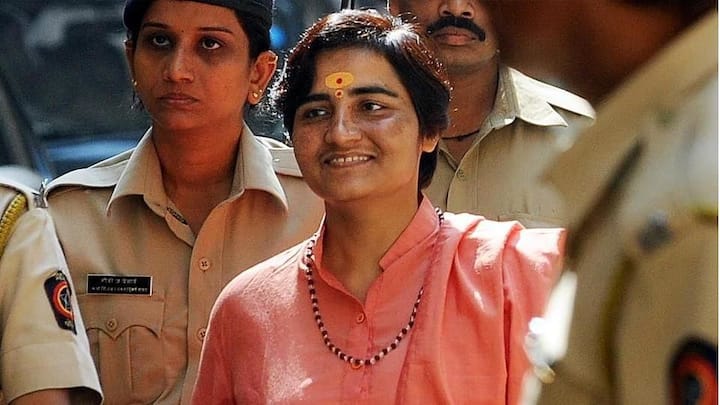 A special NIA (National Investigation Agency) court in Mumbai has dropped charges under MCOCA (Maharashtra Control of Organized Crime Act), some sections of Unlawful Activities (Prevention) Act (UAPA), and Arms Act against four accused -Sadhvi Pragya, Lt Col Prasad Purohit, Major (retd.) Ramesh Upadhyay, Ajay Rahikar- in the 2008 Malegaon blasts case. However, it's a partial relief; they still face conspiracy charges. Here's more!
Accused face trial under some UAPA sections: NIA court
The four accused have been discharged only under MCOCA, Sections 13, 17, 20 of UAPA, and Arms Act in the 2008 Malegaon blasts case. However, the court said Sadhvi Pragya and Lt Col Purohit will still be tried under Section 18 (punishment for conspiracy) of the UAPA along with IPC Sections 120 B, 302, 307, 304, 326, 427, and 153 A.
Three other accused discharged from case
Meanwhile, the court has discharged three other accused - Shiv Narayan Kalsangra, Shyam Sahu, and Praveen Takkalki -from the case; the NIA has not objected to this. The next hearing of the case has been scheduled for 15 January.
Sadhvi cannot be exonerated of conspiracy charges: NIA court
In its order, the special NIA court observed that Sadhvi Pragya was "well aware" of the involvement of her motorcycle that was used for carrying out the blast in Malegaon; hence she cannot be acquitted of the conspiracy charges. The court stated, "It is difficult to accept submission on behalf of Sadhvi that she had no concern with the present crime."
Sadhvi's brother-in-law Bhagwan Jha expresses unhappiness
Bhagwan Jha stated: "ATS Maharashtra is a corrupt agency which framed Sadhviji. When NIA has given her a clean chit...we believed she would get discharge(d). This is unfortunate." Her lawyer Prashant Maggu said, "We will plan the next step after going through the detailed order."
About the Malegaon blast case
On 29 Sep'08, two low-intensity bombs fitted on a motorcycle exploded in Maharashtra's Muslim-majority town Malegaon, killing at least seven people and injuring over 100. Initial investigations by Hemant Karkare-led Mumbai Anti-Terror Squad (ATS) had attributed the attack to Pune-based Hindu outfit Abhinav Bharat. Several people were arrested, including Sadhvi Pragya and Lt Col Shrikant Purohit for their alleged involvement in plotting the attack.
MCOCA charges dropped and restored later
In January 2009, ATS filed charge-sheet in the Malegaon case before the Maharashtra Control of Organized Crime Act (MCOCA) court in Mumbai. It named 11 accused, including Purohit, Sadhvi Pragya, Sudhakar Dwivedi, Sameer Kulkarni, Rakesh Dhavade, among others. In July 2009, a special court trying the case dropped the MCOCA charges against the accused, which were later restored by the Bombay HC in 2010.
NIA takes over case from ATS
In a report, the Anti Terrorist Squad (ATS) accused Sadhvi Pragya Thakur of giving her motorcycle to Ramji Kalsangra (now discharged) to be used to store RDX. NIA later took over the probe from the ATS on the Home Ministry's direction in 2011.