After IndiGo and Air India, SpiceJet bans comedian Kunal Kamra
After IndiGo and Air India, SpiceJet bans comedian Kunal Kamra
Written by
Siddhant Pandey
Jan 29, 2020, 02:36 pm
3 min read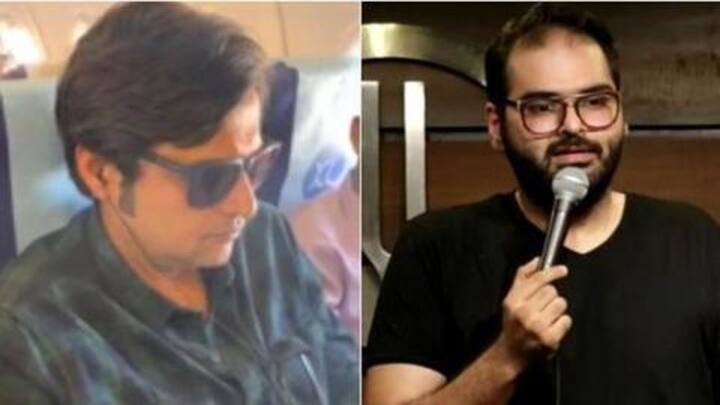 Since heckling journalist Arnab Goswami on a flight on Tuesday, stand-up comedian Kunal Kamra has been banned by three airlines. These airlines include IndiGo (the airline on which Kamra heckled Goswami), state-run Air India, and SpiceJet. On Tuesday, Kamra posted a video of himself where he is seen berating and abusing Goswami on a flight. Here are more details.
Kamra encountered Goswami on IndiGo flight from Mumbai to Lucknow
On Tuesday, Kamra confronted Goswami aboard the IndiGo 6E 5317 Mumbai-Lucknow flight. Kamra said he first "politely" approached Goswami for a conversation before take-off, however, the latter "pretended to be on a phone call." Goswami, who runs the Republic TV network, allegedly called Kamra "mentally unstable" and refused to answer his questions. After take-off, Kamra said, he approached Goswami again.
'Are you a coward or a journalist or a nationalist?'
In a video posted by Kamra himself, he can be heard asking Goswami whether the journalist is a "coward or a nationalist." Goswami, meanwhile, stayed quiet and ignored the comedian. "Arnab, I'm part of the tukde-tukde narrative. You should deflate me," said Kamra, adding, "Are you a coward or a journalist or a nationalist? Who are you, Arnab?"
'This is for Rohith Vemula's mother,' said Kamra on video
Kamra went on to say, "This is for Rohith Vemula's mother, whose caste you were discussing on your f***ing show." He then urged Goswami to read Vemula's suicide note so that he "becomes human." Vemula—a Dalit PhD scholar at Hyderabad University—killed himself in 2016.
You can watch the video here
Kamra also released his statement on the entire incident
IndiGo suspended Kamra for six months
As Kamra's video went viral, IndiGo suspended him for six months since "his conduct onboard was unacceptable behavior." The airline also said, "Hereby, we wish to advise our passengers to refrain from indulging in personal slander whilst onboard, as this can potentially compromise the safety of fellow passengers." His supporters have since called to boycott IndiGo, however, other airlines also suspended Kamra from flying.
Air India, SpiceJet suspended Kamra 'until further notice'
Air India also deemed Kamra's behavior "unacceptable." It said, "With a view to discourage such behavior onboard flights, Mr. Kunal Kamra is suspended from flying on any Air India flight until further notice." SpiceJet too suspended Kamra "until further notice." Civil Aviation Minister Hardeep Singh Puri also said that the ministry has "no option but to advise other airlines to impose similar restrictions."
'Can I walk or is that banned too?' asked Kamra
Reacting to being suspended from multiple airlines, Kamra tweeted, "Modi ji, can I walk or is that banned too?" In an Instagram post on Wednesday, Kamra said the Air India ban was "rubbish," claiming to have flown to Mumbai with the airline. On Twitter, he said he encountered Goswami again on his flight to Mumbai, however, the latter allegedly gestured him to move away.