In UP, 82-year-old stopped from boarding train over 'Gandhian' dhoti
In UP, 82-year-old stopped from boarding train over 'Gandhian' dhoti
Written by
Siddhant Pandey
Jul 06, 2019, 07:44 pm
3 min read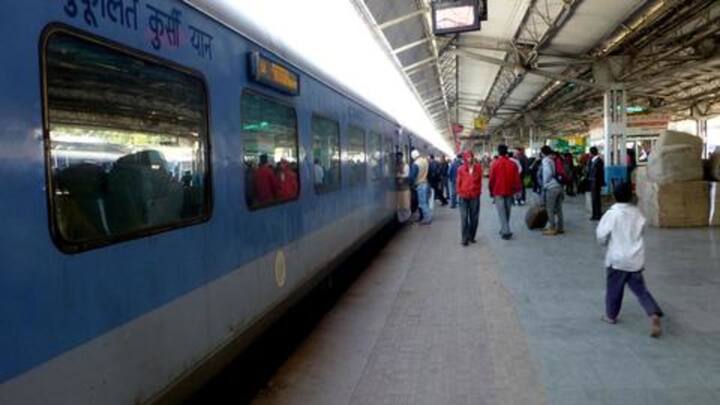 In a shocking incident, an 82-year-old man was asked to deboard the Shatabdi Express, despite possessing a reserved ticket due to his attire. Baba Ram Awadh Das said the incident reminded him of when Mahatma Gandhi was thrown out of a train in South Africa. Das, a seer, was dressed in a Gandhi-style dhoti and a drape. Here are more details.
Das claims GRP, coach attending mocked him; denied him entry
A Barabanki resident, Das had a confirmed ticket for seat number 72 in coach C-2 on the 12033 Kanpur-New Delhi Shatabdi Express and was to board the train from Etawah on Thursday. He was headed to Ghaziabad to meet his disciple. However, Das said, the Government Railway Police (GRP) and the coach attendant made jokes and didn't let him board the train.
They told me I have boarded the wrong train: Das
Speaking to The Times of India, Das said, "They told me, 'Baba you have boarded a wrong train. Tumhari train Kanpur mein hai. Wo iske peeche aa rahi hai.' (Your train is in Kanpur and it is behind this train and will reach Etawah shortly)."
Das said incident 'reminds him of British-era'
"Act of GRP and coach attendant reminds me of British-era," Das told TOI. He said the officials denied him entry since he was "wearing a Gandhi-style 'dhoti' and carrying an umbrella," adding he was "deeply pained." Das complained to the station master, Prince Raj Yadav, who offered him a seat on Magadh Express, but Das refused as he'd been insulted.
Das filed complaint to North Central Railways (NCR)
According to Hindustan Times, Das also filed a written complaint to North Central Railways (NCR), however, he doesn't mention his attire being the reason behind the officials removing him from the train. "I will also lodge a complaint with Railway ministry soon," he said.
Meanwhile, Etawah station superintendent says there was miscommunication
However, Etawah railway station superintendent Puranmal Meena says the unfortunate incident was because of miscommunication. Meena is quoted as saying by The Pioneer, "I'm told that he accidentally reached the generator coach, where a cop probably asked him to go, which Das took otherwise." "As he wasn't accompanied by any person, he failed to understand why the policeman asked him to go," Meena added.
Probe initiated; railway staff to face action if guilty: Meena
Meena also told TOI that a probe would be conducted adding, "If any railway staff is found guilty, they may face strict action." Further, Chief public relation officer (CPRO) NCR Ajit Kumar Singh said that there's a need to sensitize railways staff towards elderly passengers.