Rs. 390cr Bihar dam breaks a day before inauguration
Rs. 390cr Bihar dam breaks a day before inauguration
Sep 20, 2017, 12:06 pm
2 min read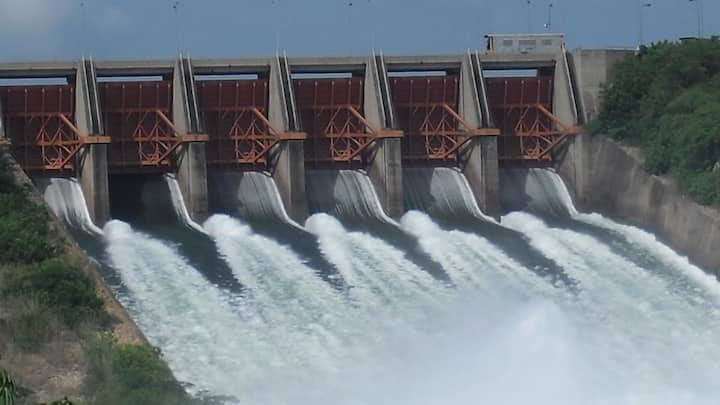 In a major embarrassment for the Bihar government, part of a Rs. 390cr dam broke just a day before inauguration, flooding parts of Bhagalpur. According to Water Resources Minister Lallan Singh, the Gateshwar Panth Canal Project broke "due to release of water in full capacity". However, there's no damage to newly-constructed portions, Singh said. The scheduled launch by CM Nitish Kumar has been cancelled.
The Gateshwar Project was a part of the government's irrigation scheme; it would have made irrigation available in 18,620 hectares of land in Bhagalpur and 22,658 hectares in Godda, Jharkhand. The main aim was to collect water in the canal for the benefit of farmers.
Nearby areas flooded after dam collapses
After dam collapsed, water flooded homes
After part of the dam collapsed, there is waterlogging in several low-lying areas of the city. Many homes have been inundated and several people affected. Arun Kumar Singh, principal secretary of the Bihar Water Resources Department, said the administration is supervising efforts to check the flooding. "Sandbags are being used to check the flow of water," he said.
RJD alleges collapse due to corruption
After the collapse, the opposition RJD launched protests against the ruling JD(U), alleging corruption. Former Deputy Chief Minister Tejaswi Yadav tweeted, "Rs 389.31 crore dam collapses ahead of inauguration. The CM was to inaugurate the dam with much fan fare. Yet another dam collapses due of corruption." Incidentally, the JD(U) had left its alliance with RJD citing 'corrupt' leaders in the party.