#CAAProtests: Agitation turns violent in Delhi; minors, Chandrashekhar Azad detained
#CAAProtests: Agitation turns violent in Delhi; minors, Chandrashekhar Azad detained
Dec 21, 2019, 09:41 am
3 min read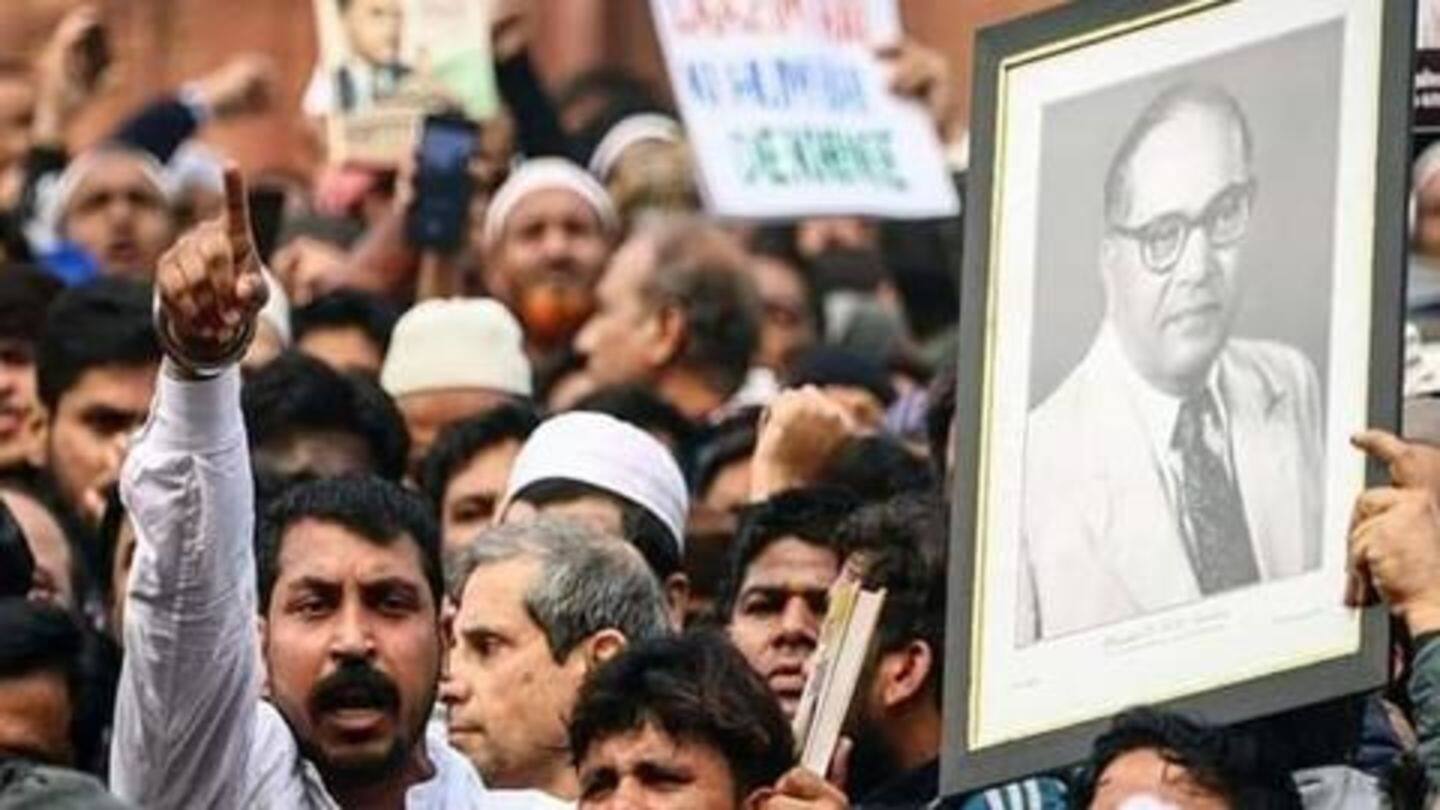 A day of peaceful protest against the contentious Citizenship Amendment Act (CAA) took a violent turn late Friday night in Delhi. Nearly 40 people, including eight minors, were detained at Daryaganj police station, prompting hundreds to gather outside Delhi Police Headquarters demanding their release. In fact, Bhim Army chief Chandrashekhar Azad was also detained, after escaping from police's clutches last afternoon. Here's more.
First, let's tell you why India is on edge
At the center of nationwide protests is CAA, a law which will expedite Indian citizenship for persecuted non-Muslims from Afghanistan, Bangladesh, and Pakistan. By leaving Muslims from the law's ambit, the Centre has garnered widespread criticism and people have literally taken to streets demanding its rollback. The repeated assurances that Indians don't have to worry about the law has done little to quell anger.
After car was set on fire, cops unleashed brutality
Yesterday, Delhi witnessed tensions again, after protesters allegedly went on a rampage in Daryaganj area of Old Delhi. As per the police's version, a car was set on fire and those agitating hurled stones. This prompted cops to resort to lathi-charge, use water canons, and detain protesters. The minors who were detained were aged between 14 and 15 years, said reports.
Apparently, detainees weren't allowed to talk to lawyers
To control the situation, police closed roads to Daryaganj and Chandni Mahal. Notably, dozens gathered outside the police station, asking cops to allow the detainees to talk to lawyers. But cops, apparently, didn't give permission, despite the fact that some protesters suffered grave injuries. They said minors will only be released after their parents come to collect them. Reportedly, all minors have been allowed to leave.
A child suffered a head injury
According to an NDTV report, four minors, whose hands were swollen, were sent to Lok Nayak Jai Prakash Narayan Hospital. One of them had suffered a head injury. Separately, 36 people, including eight police, were sent to Lok Nayak Hospital for treatment. Facing flak for using excessive force on children, Delhi police said nothing of that sort happened and they used "mild force".
Didn't lathi-charge protesters, cops have been injured: Delhi police
"We used mild force and water cannon, didn't lathi-charge protesters or lob tear-gas shells. Many of our personnel have been injured. Some people have been detained," Delhi Police PRO Mandeep Singh Randhawa said. He said an investigation is underway into the car burning incident.
And around 3 am today, cops caught hold of Azad
Meanwhile, around 3 am on Saturday, Azad was detained by Delhi police from Jama Masjid. To recall, he was denied permission to hold a march from the historic mosque to Jantar Mantar yesterday. He made an appearance at the mosque again and said the fight to save the country can't be fought from home. Azad will be taken to Crime Branch, said Indian Express.
According to Azad, Muslims are protesting against the undemocratic move
"Muslims are patriots. They did not protest when the government abrogated Article 370. When the verdict in the Babri Masjid demolition case was pronounced, they did not protest. But now, we will protest the undemocratic move of this government," Azad said.