Why are Railways' bio-toilets laden with problems?
Why are Railways' bio-toilets laden with problems?
Dec 21, 2017, 07:54 pm
3 min read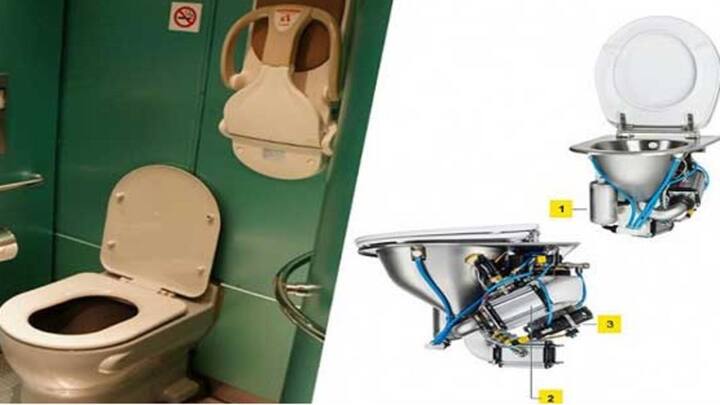 After a recent CAG report on bio-toilets was released, it might come as an epiphany to some. The problems enumerated remain the same. There are not enough toilets, funds allocated aren't completely utilized, installed toilets stink or get choked, supervisory staff is not equipped to handle the maintenance and passengers are unaware about the dos and don'ts. Why do these problems continue? Read on!
Indian Railways is the "world's biggest toilet," releasing 497 truck-loads of excreta onto tracks every day. Conventionally, railways used the "flush-type" toilet, which led to untreated waste being discharged on tracks. This polluted trains and also involved manual scavenging. Now, in bio-toilets, bacteria reduce solid human waste to methane and water before discharging it. Thus, they end open defecation in Railways.
Why do the toilets get choked so often?
But, why do these toilets get choked? One of the main reasons is because passengers push all sorts of things like cigarette butts, bottles, sanitary napkins etc. into these bio-toilets. This might be due to passengers' lack of awareness or just careless attitude. What's more, Railways have provided stainless steel dustbins for disposing non-bio-degradable waste. But, one in four such dustbins are reportedly stolen!
Where do the dustbins and mugs go?
Sealdah, Bilaspur and Porbander coaching depots reported the maximum theft of these dustbins. Though Bilaspur has about 800 bio-toilets, it has 3,600 missing dustbin complaints. Do passengers like these dustbins? UP's Gorakhpur holds the dubious record of the maximum missing mugs. For its 2,200 toilets, there are 16,000 complaints of missing mugs. Now, government is making efforts to fit anti-theft devices and sensitizing passengers.
Is the quality of bio-toilets also not good?
Because there was a lag in fitting bio-toilets in passenger coaches for 2015-16, Railways decided to bulk order bio-toilets. They placed an order of supplying and installing 80,000 bio-toilets. After floating a tender, Railways awarded the contract to nine different firms. Of the nine firms, seven had pending complaints of quantity and quality for material supplied to Zonal Railways.
Is the supervisory staff trained in maintaining the toilets?
It seems Railways has also not invested enough in training its staff in maintaining toilets. CAG found that only one in three supervisors and one in four workers responsible for the bio-toilets were trained in maintaining them.
Despite these issues, government remains ambitious!
Despite problems, government remains committed to installing bio-toilets in all coaches by 2019. In 2017-18, the target is 40,000 bio-toilets. Theoretically, bio-toilets adhere to PM Modi's Swachh Bharat dream. However, in practice, apart from lack of public awareness, Railways has to deal with working features like ball-valve failure. CAG's findings suggest that Railways has a long way to go in making bio-toilets a success!