'Protect children from gays': Schoolgirls made to join homophobic campaign
'Protect children from gays': Schoolgirls made to join homophobic campaign
Written by
Siddhant Pandey
Aug 31, 2019, 05:51 pm
3 min read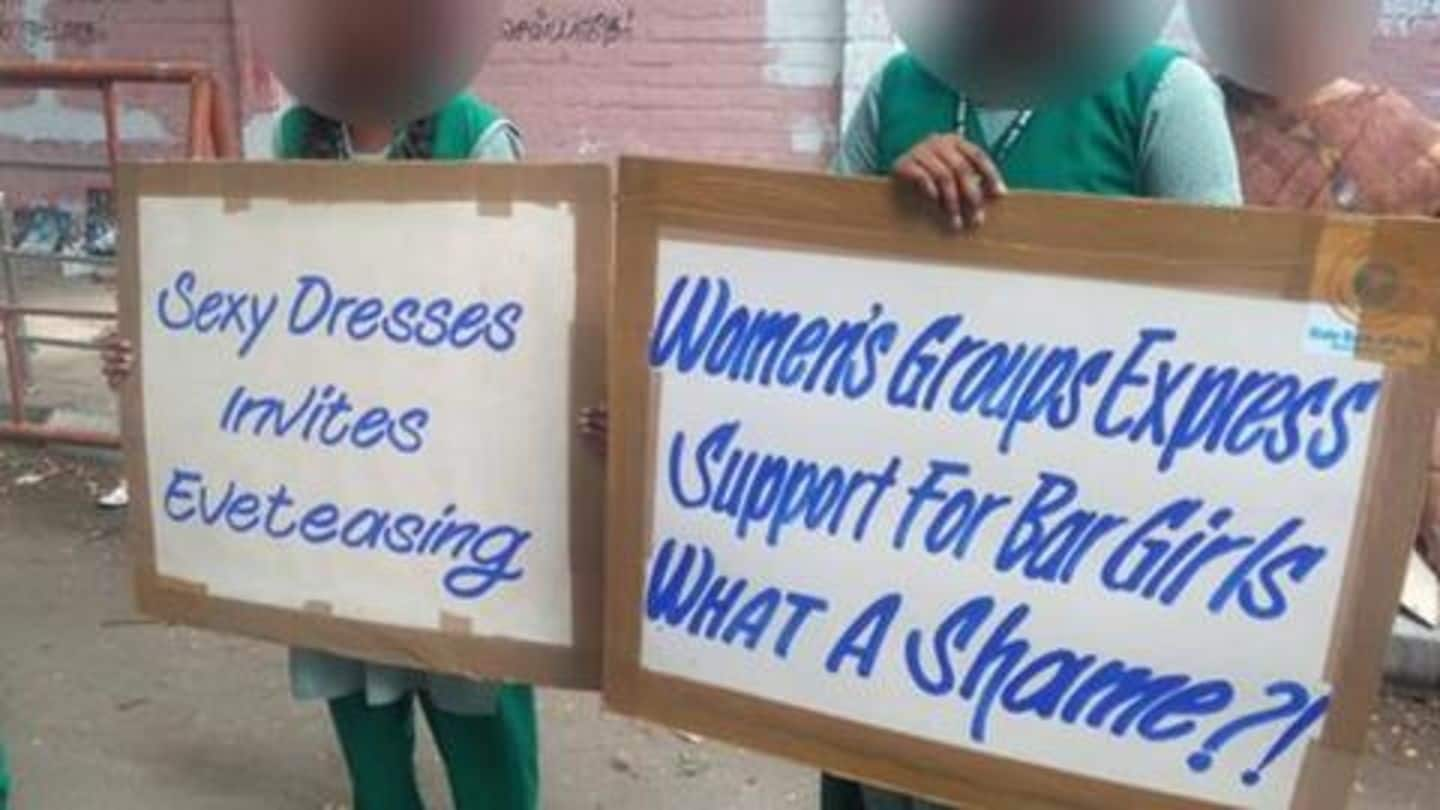 Yesterday, a group of 50-odd female students of the Avvai Home Higher Secondary School, Chennai, paraded with placards carrying messages apparently intended towards women's safety. However, most of them were Tamil-medium students, and were reportedly unaware of the English slogans on the placards, which were sexist and homophobic. The incident has raised concerns about the brainwashing of young girls into facilitating their own oppression.
One placard reads 'Parents protect yourself, your children from Gays-Homos-Lesbians'
According to The News Minute, the campaign was spotted by a 26-year-old passer-by named Keerthana at the Karpagam Gardens in Adyar, south Chennai. Keerthana was shocked to see young girls, dressed in their green and white school uniforms, holding the placards that contained messages like: 'Sexy dresses invite eve-teasing', 'Parents protect yourself & your children from Gays-Homos-Lesbians,' along with other victim-blaming sentiments.
Campaign run by retired SBI professionals for 17 years
Reportedly, the placards were issued by a group of retired State Bank of India professionals calling themselves the State Bank Retired and Serving Employees Forum (SBRSEF), The Times of India reported. The group has been running such awareness campaigns in Chennai for the past 17 years. SBRSEF Secretary R Mohanakrishnan (67) was present during the campaign along with 6-7 school staffers, Keerthana told TNM.
"Exposing breasts, transparent clothing lead to sexual crimes"
Defending the placards, Mohanakrishnan told TNM, "If a person wears clothes exposing their breasts or if it's transparent, this naturally...It's a spur of moment action (sexual harassment/rape). The person is just...He searches for an opportunity. And if he gets the opportunity, he does it."
Men's biological urges a response to exposing in public: Mohanakrishnan
Notably, Mohanakrishnan said having "the right to expose in public places and to kiss in public places" is Western culture, not Tamil culture. "This will lead to sexual harassment. The biological urge is a spur of the moment. Not just young boys, even old people aren't exceptions," he said, branding men of all ages sexual predators, before warning children against "unwanted advances" of homosexuals.
School claimed they hadn't read the placards
Meanwhile, when asked about the placards, the school claimed to be just as unaware as the schoolgirls used as props in SBRSEF's sexist agenda. "Our staff went with the girls for their safety but we hadn't seen what the posters said," an assistant headmaster told TNM, without revealing her name. She added she was told it was a women's safety campaign.
Take positive message from campaign; men filled with lust: Teacher
A senior teacher at the school told TNM, "We (women) have to take the message positively. We have to take steps for safety when incidents like this happen. Gents are filled with lust." The teacher, conditioned to believe the lie that men's urges can't be tamed, will impart the same to young girls, grooming them into being the next generation of victims.