Hostels shut, offices struggling: Water crisis cripples life in Chennai
Hostels shut, offices struggling: Water crisis cripples life in Chennai
Written by
Siddhant Pandey
Jun 19, 2019, 02:03 pm
4 min read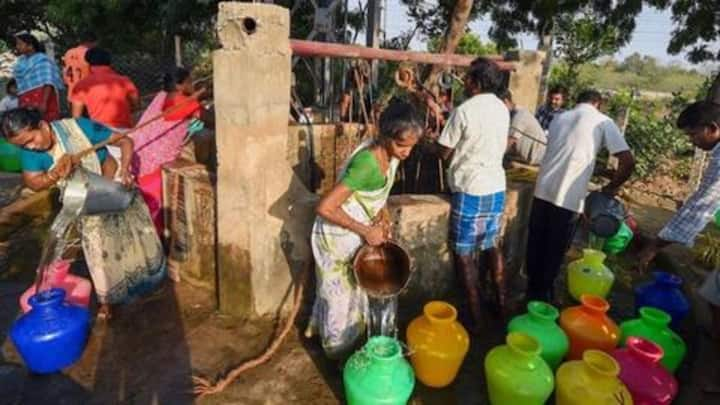 In the wake of delayed monsoons and grueling heat, a severe water crisis has plagued Chennai. All four reservoirs that supply the city with water- including the Chembarambakkam lake, Chennai's largest source of drinking water- have turned dry. Furthermore, groundwater has also depleted, leaving residents heavily reliant on private water tankers, that are reportedly increasing prices to profit off the drought. Here are the ground realities.
Private water tankers double prices amid crisis
Reportedly, even though the city's requirement is 800 million liters of water a day, Chennai Metro Water only supplies 525 million liters. After facing one of the worst summers this year, taps have gone dry in Chennai, and other regions of Tamil Nadu. Residents are forced to stand in queues to fetch water when the tankers arrive, that have reportedly doubled their prices.
IT companies make employees work from home; some restaurants shut
With no piped water, reports state residents are restraining themselves from bathing and washing clothes, leading to fears of illnesses. Additionally, many IT companies have offered work from home to employees due to the water crisis, which has also hit the hospitality industry severely. With no water to cook or clean utensils, many hotels/restaurants are bordering shutdown. Other establishments warn customers against wasting water.
Hostels in busy neighborhoods making inmates evacuate
Further, 100+ hostels in Chennai's busiest neighborhoods have stopped operations, asking inmates to evacuate, The Indian Express reported. KS Manoharan, Chennai Hostel Owners' Welfare Association secretary, told TIE that IT companies making employees work from home are adding to hostels' water consumption. Association president Shobana Madhavan added they have to wait 20 days for tankers, that hiked prices from Rs 1,500 to Rs. 3,500-4,000.
'We collect water from the Valluvar Square tank at 1-2am'
"I have an office-going son and a daughter at home after college. I work," a Chennai resident told NDTV, adding, "We don't get water even to bathe." Another said tankers now take four days to arrive. Speaking to NDTV, a mother of two asks, "We collect water from the Valluvar Square tank at 1-2 am. Boys can do that. What would girls do?"
Government didn't take adequate steps: Madras HC
Meanwhile, the Madras High Court sought a comprehensive report on the number of lakes and reservoirs in Tamil Nadu, steps taken for desilting, the amount sanctioned, and status of those works. The HC observed that the government didn't take adequate steps to tackle the situation, even as the water crisis was precedented. The court was hearing a petition on groundwater exploitation for commercial purposes.
CM downplays water crisis; blames media for creating 'illusion'
However, Chief Minister E Palaniswami said his government has taken the necessary steps to solve the water crisis (Tamil Nadu allotted Rs. 212 crore for digging deep bores). Palaniswami also said that the media has created an "illusion" of water scarcity, downplaying the crisis. "The media should not create an illusion of water scarcity using some stray incidents," he said.
All steps are being taken to supply water, said CM
Maintaining that the situation isn't as dire, Palaniswami said, "All steps are being taken to supply water. The severe drought and deficient monsoon (in the previous years) has led to depletion in groundwater levels," adding that tankers are supplying drinking water. "The (northeast) monsoon will arrive only by October-November. Till then we have to meet the requirements only from groundwater sources," he said.
Mettur Dam to release water to alleviate water scarcity
Palaniswami said that water is being released from the Mettur Dam to replenish the Veeranam lake, which would supply drinking water to Chennai. Normally, Chennai's groundwater resources are replenished by five lakes within 60km of the city- Puzhal, Sholavaram, Kaliveli, Pulicat, and Maduranthakam.
Chembarambakkam lake down to mere 1mcft water
Now, according to Chennai Metro Water, the Chembarambakkam lake is at 1 mcft (million cubic feet) at the moment. The lake has 3,645 mcft of water at full capacity. Similarly, the Poondi reservoir currently has a water level of 24 mcft while its full capacity is 3,231 mcft. The Cholavaram (full capacity 1,081 mcft) and Redhills (full capacity 3,300 mcft) are also running dry.
'Same reason that caused 2015 floods is causing drought'
Speaking to NDTV about the water crisis, Manohar Khushalani, former director of the National Water Academy, said, "In 2015, Chennai had the floods. The same reason that caused the floods is causing the drought. Reservoirs and canals have to be restored and encroachment should stop."