Sitharaman fifth tranche announcements: All sectors open to private firms
Sitharaman fifth tranche announcements: All sectors open to private firms
Written by
Siddhant Pandey
May 17, 2020, 01:43 pm
5 min read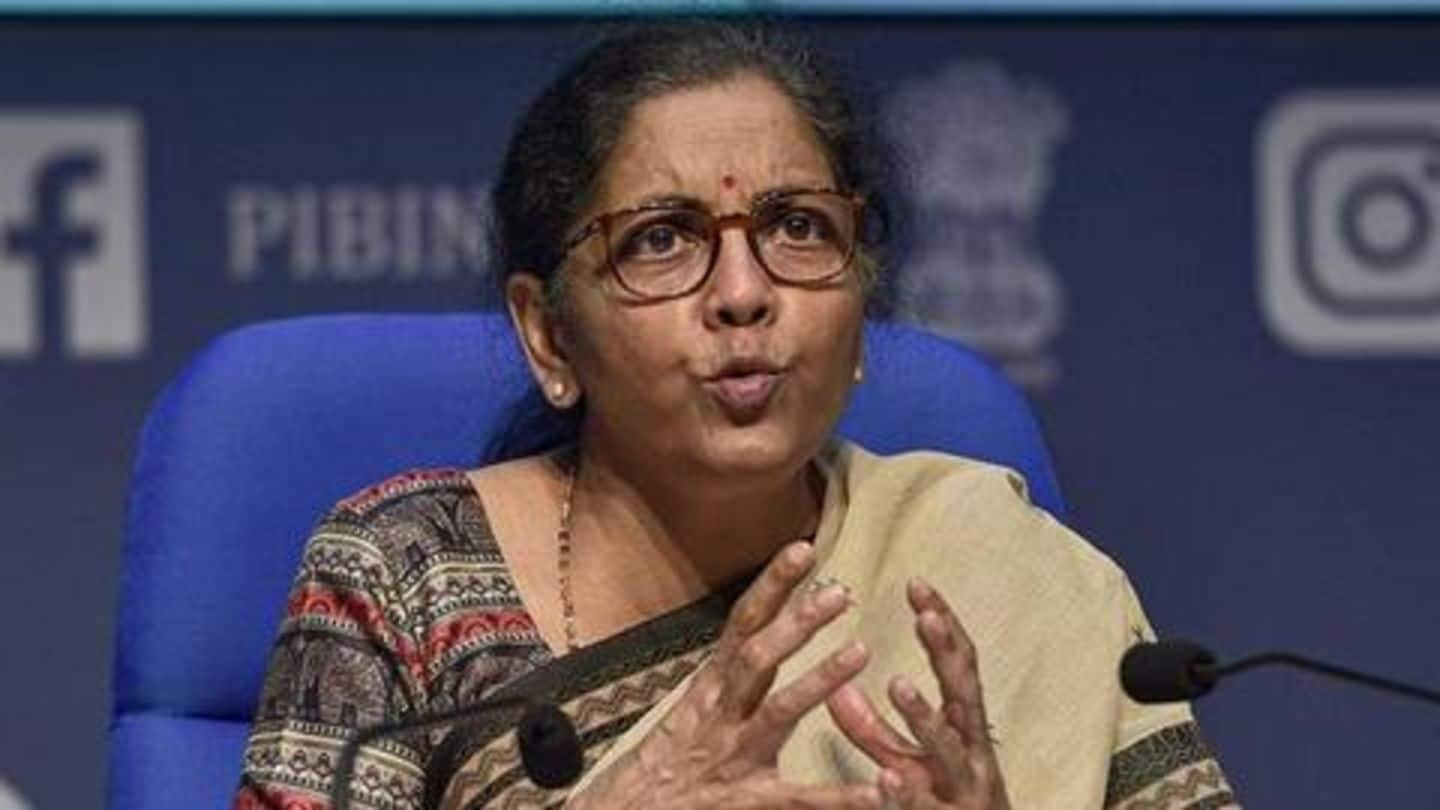 Union Finance Minister Nirmala Sitharaman on Sunday announced the fifth and last tranche of the Rs. 20 lakh crore economic package announced by the government to revive the economy amid the coronavirus outbreak. She said, "The last four days of announcements, particularly the last two days, have had several reforms, addressing land, labor, liquidity, and laws. Today we will continue in that series."
Seven steps to be announced today
Addressing the media, FM Sitharaman said that Sunday's announcements will focus on seven steps to ensure that the environment is right for businesses to resume. The seven steps will focus on MNREGA, health (rural and urban), businesses and COVID-19, decriminalization of the Companies Act, ease of doing business and related matters, public sector enterprises (PSEs) and the policy thereof, state governments and related resources.
MNREGA: Government to allocate additional budget of Rs. 40,000 crore
Sitharaman said an additional budget of Rs. 40,000 crore will be allocated for the MNREGA scheme besides the existing Rs. 61,000 crore. The government aims to address the need for more employment for migrant workers in the monsoon season. It will help generate 300 crore person-days in total. It also aims to boost the rural economy and create more durable and livelihood assets.
'All districts will have Infectious Disease Hospital Blocks'
Sitharaman said public expenditure on health will be increased adding that investments in grassroots health institutions will be ramped up for health and wellness centers in rural and urban areas. "All districts will have an Infectious Disease Block in hospitals," she said. She added, "Lab networks in rural areas are not adequate. So, public health labs will be set up at all block levels."
'ICMR to set up National Institutional Platform for One Health'
The government also plans to encourage research by setting up a National Institutional Platform for One Health through the Indian Council of Medical Research (ICMR). It also aims to implement a National Digital Health Blueprint.
Provisions for technology-driven education
Sitharaman announced the PM eVIDYA program for multi-mode access to digital/online education. It includes provisions for a digital DIKSHA platform for textbooks, special e-content for visually/hearing impaired, and one earmarked TV channel per class from I-XII. The government will make extensive use of radio, community radio, and podcasts. Top 100 universities will be allowed to automatically start online courses by May 30.
Other announcements for education sector
Further, Sitharaman announced the Manodarpan initiative for psychosocial support for students, teachers, and families. A new national curriculum and pedagogical framework for school, early childhood, and teachers will be launched along with a National Foundational Literacy and Numeracy Mission.
Enhancement of Ease of Doing Business measures
Speaking on the Insolvency and Bankruptcy Code (IBC), Sitharaman said, "Debts related to COVID-19 shall be excluded from default under the IBC. No fresh insolvency proceedings will be made for a year. She added. "For MSMEs, a special insolvency framework will be notified under Section 240A of IBC, the minimum threshold has increased from Rs. 1 lakh to Rs. 1 crore."
Ease of Doing Business for corporates
Sitharaman also announced measures for Ease of Doing Business for corporates. These will help Indian public companies to directly list their securities in foreign jurisdiction. Further, private companies that list non-convertible debentures (NCDs) on stock exchange will not be regarded as listed companies.
Amendments under Companies Act announced
Sitharaman also announced amendments in the Companies Act to decriminalize violations involving minor technical and procedural violations. These will help de-clog criminal courts and the National Company Law Tribunal (NCLT), she said. A majority of the compoundable offenses sections will be shifted to an internal adjudication mechanism. Seven compoundable offenses will be dropped and five will be dealt with under an alternative framework.
New PSE policy: All sectors open to private sector
Sitharaman said all sectors will now be open to the private sector. She said public sector enterprises will continue to play an important role in defined areas. The government will announce a new policy notifying strategic sectors for private sector participation. In strategic sectors, at least one enterprise will remain in the public sector. In other sectors, PSEs will be privatized.
Number of enterprises in strategic sectors will be between 1-4
To minimize wasteful administrative costs, the number of enterprises in strategic sectors will ordinarily be only one to four, the government announced. Other sectors will be privatized, merged, or bought under holding companies.
Borrowing capacity of states raised from 3% GDSP to 5%
The net borrowing for states was Rs. 6.41 lakh crore for 2020-21, based on 3% of the Gross State Domestic Product (GDSP). The Centre has allowed the states to borrow up to 5% of GSDP, which will make available an additional amount of Rs. 4.28 lakh crore. Thus far, states have only borrowed 14% of the limit authorized to them, while 86% remains unutilized.
However, borrowing is linked to specific reforms, Sitharaman said
Sitharaman said, "Part of the borrowing will be linked to specific reforms. From 0-3%, it'll be unconditional. Up to 4.5% will be released in four tranches. The last 0.5% will be given as soon as milestones are reached in at least three of the conditions."
Here's a breakup of the Rs. 20 lakh crore package