'Golden future for Assam': Government signs Bodo peace accord
'Golden future for Assam': Government signs Bodo peace accord
Written by
Siddhant Pandey
Jan 27, 2020, 09:53 pm
3 min read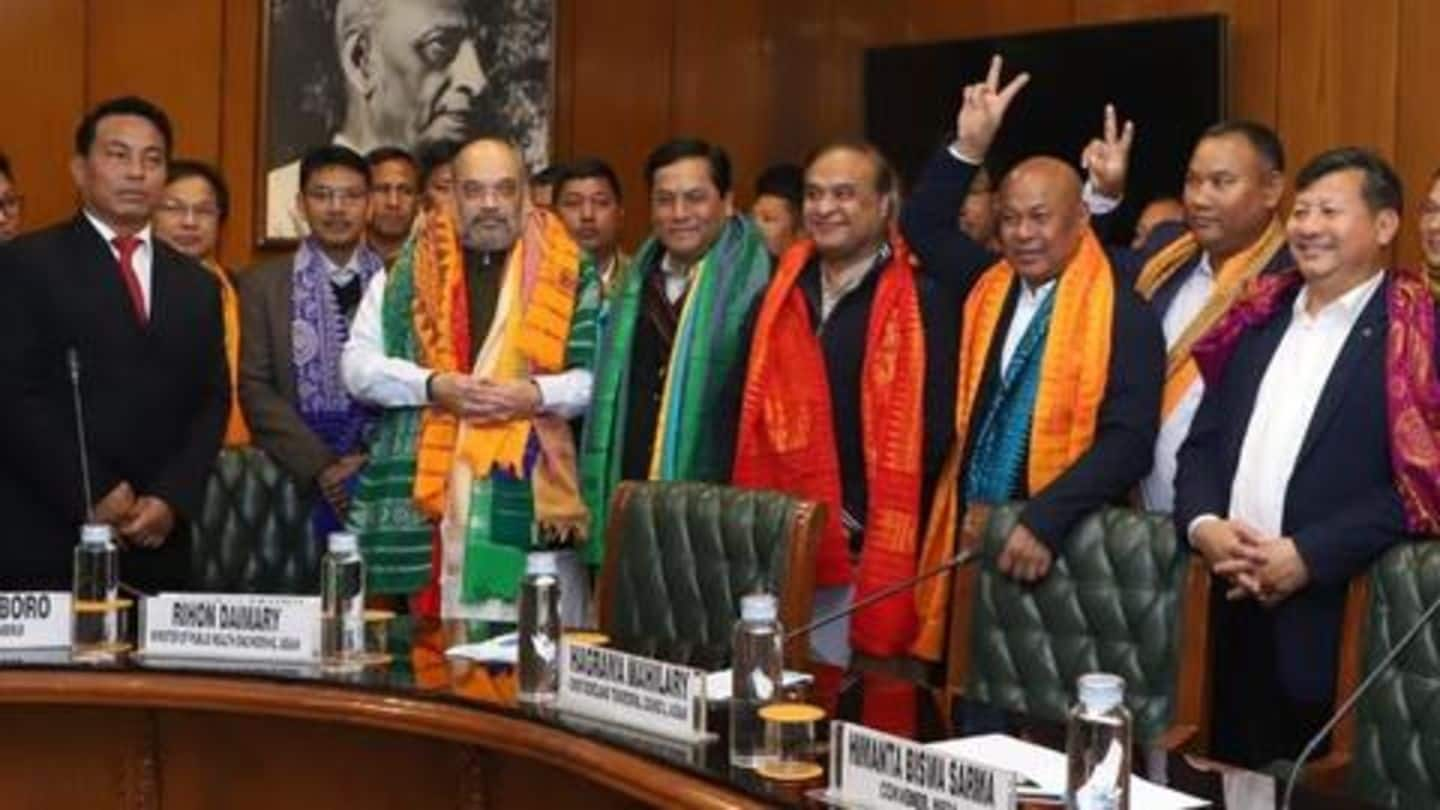 The Centre on Monday signed a key accord with the government of Assam and the banned Assam-based insurgent group National Democratic Front of Bodoland (NDFB). The peace accord provides political and economic benefits to the Bodo people, barring a separate state or Union Territory. Notably, earlier in the day, non-Bodo groups called a 12-hour bandh to protest against the peace accord.
Four NDFB factions signed peace accord
The tripartite agreement was signed in the presence of Home Minister Amit Shah. It was signed by Assam Chief Minister Sarbananda Sonowal, Joint Secretary in the Home Ministry Satyendra Garg and Assam Chief Secretary Kumar Sanjay Krishna. Four NDFB factions led by Ranjan Daimari, Govinda Basumatary, Dhiren Boro and B Saoraigra also signed the peace accord along with the All Bodo Students' Union (ABSU).
Agreement will ensure golden future for Assam, Bodo people: Shah
Speaking at the signing, Shah said, "Today the Centre, Assam government and Bodo representatives have signed an important agreement. This agreement will ensure a golden future for Assam and for the Bodo people." He added, "1,550 cadres along with 130 weapons will surrender on January 30...I want to assure all representatives that all promises will be fulfilled in a time-bound manner."
Centre sanctions Rs. 1,500cr package for development of Bodo areas
Around 1500 cadres of NDFB(P), NDFB(RD) NDFB(S) will be rehabilitated by GOI and Assam Govt.

A Special Development Package Rs. 1500 Crore will be given by the Union Government to undertake specific projects for the development of Bodo areas. pic.twitter.com/1d0cc0AtBN

— Amit Shah (@AmitShah) January 27, 2020
Bodoland Territorial Area District renamed Bodoland Territorial Region
According to NorthEastNow, under the accord, the area called Bodoland Territorial Area District (BTAD)—which includes Chirang, Baksa, Kokrajhar, and Udalguri districts—will now be renamed Bodoland Territorial Region (BTR) and have more administrative power. The government will also establish a central university in the name of late Bodo activist Upendra Nath Brahma and a national sports university, while also promoting industrial development, among other benefits.
Militants with clean records to be inducted into paramilitary forces
Taking a sympathetic stance towards Bodo militants—who will surrender on January 30—Shah referred to them as "brothers." He said militants with clean records will be inducted into paramilitary forces. The family of those killed in the Bodo crisis will be given Rs. 5 lakh compensation.
The Bodos—an ethnic and linguistic group—are the earliest settlers of Assam. Since the 1960s, the Bodos have demanded a separate state amid rising illegal immigration. In the 1980s, calls for a separate state—Bodoland—turned into militancy with the rise of NDFB and Bodoland Liberation Tigers. Waves of ethnic riots followed over the next decades which left thousands dead and displaced many more from their homes.
Two Bodo accords signed in the past
The latest peace accord is the third one to be signed in the past 27 years. The first accord was signed with ABSU back in 1993 and led to the formation of the Bodoland Autonomous Council (BAC). The second deal was signed in 2003 with BLT and led to the formation of the Bodoland Territorial Council (BTC) called BTAD.
Non-Bodo groups called 12-hour bandh earlier today
Earlier Monday, non-Bodo groups had called for a 12-hour bandh in the four districts under BTC. While protestors burnt effigies of Prime Minister Narendra Modi, vehicles remained off the roads. Shops and other establishments also remained shut. The bandh had been called by many groups including the AKRSU, ABMSU, etc., which demanded that non-Bodo stakeholders living in BTAD be included in peace talks.