This Hyderabad groom wants 'Vote for Modi' as his gift
This Hyderabad groom wants 'Vote for Modi' as his gift
Feb 12, 2019, 07:46 pm
2 min read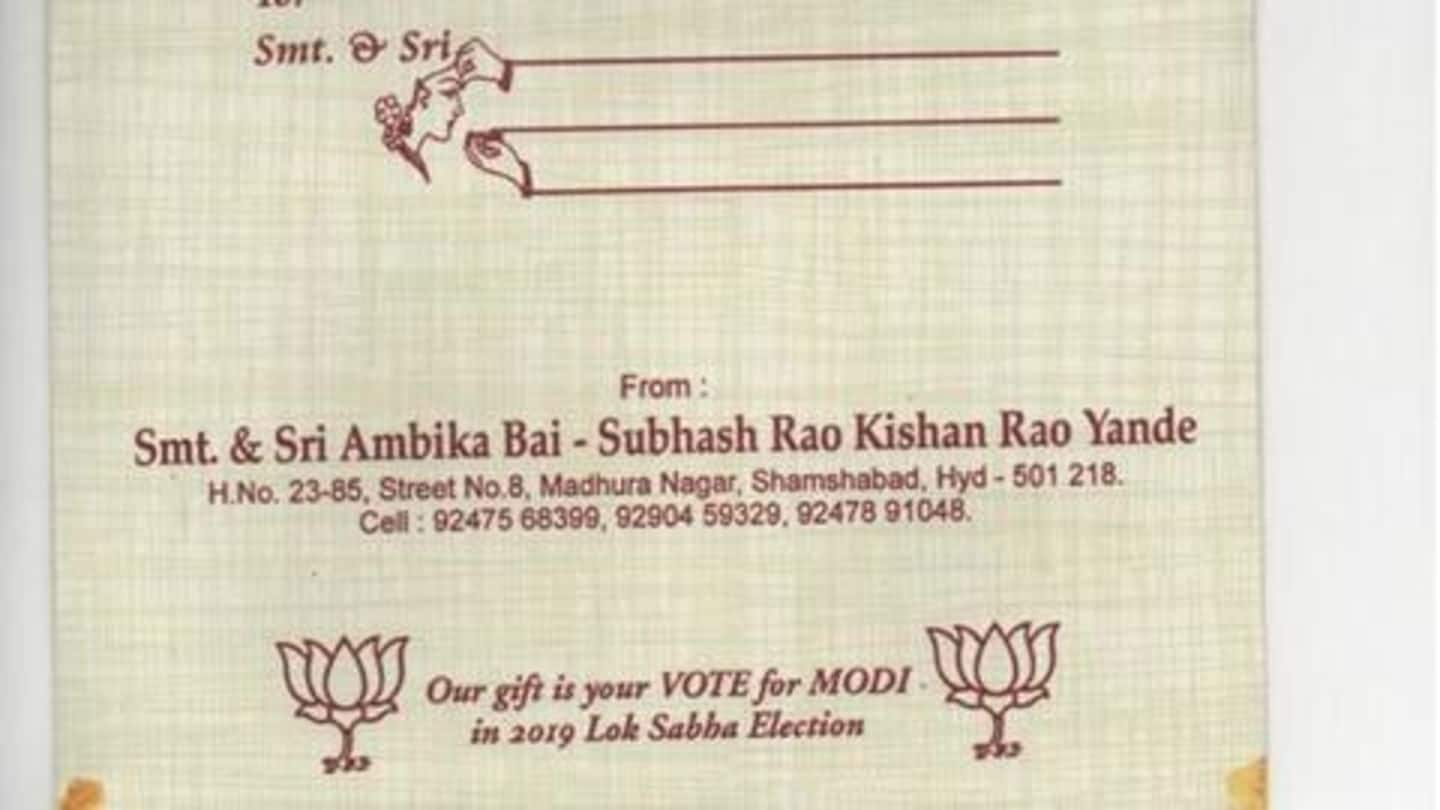 Last month, we reported how a Gujarati family asked guests invited to their son's wedding to vote for Prime Minister Narendra Modi in the upcoming elections through the wedding invitation. Now, a similar wedding card has emerged, this time from Hyderabad. Yande Mukesh Rao, 27, via his wedding invitation, has asked guests not to bring him any gifts but to vote for Modi.
Rao prints request on wedding card decorated with BJP's lotuses
Shamshabad-based Rao works as an Assistant Engineer in Telangana state power generation corporation (TS Genco) and will be tying the knot on February 21. He got the unusual request printed on his wedding invitation cover, which reads, "Our gift is your vote for Modi in 2019 Lok Sabha elections." The above line was adorned with lotuses (BJP symbol) on its sides.
The least we can do is to support Modi: Rao
Also, Rao told the media that he has no issues with people calling him Modi Bhakt. "We are all so busy in our day-to-day affairs..to do something for the nation. The least we can do is to support Modi...Hence, I decided that come what may, I will keep the request for a vote for Modi on the wedding invitation," he said.
Rao admits that people didn't like his idea of request
Rao also admitted that he knew that his idea of printing the request to vote for Modi was not appealing to many, but that didn't change his beliefs. "I know there are a number of people who oppose Modi. But I support his initiatives like Swachh Bharat by participating in the programs in my office for three hours every Saturday," he said.
Even Rao's family members didn't support his idea of request
Further, Rao revealed that even his family members were not agreeing to his idea, but he didn't budge. "I convinced them. It is my way of showing endorsement for Narendra Modi's work and asking support for his re-election," he said.
Rao supports TRS in state, Modi at Center
On an interesting note, Rao revealed that in the recent assembly elections in the state, he extended his support to the Telangana Rashtra Samithi (TRS) and not to the BJP. "But at the Center, I strongly wish Modi should return to power for a second term. I believe the country is safe and secure under the Modi regime," he explained.