Karnataka High Court adjourns hijab row hearing until tomorrow
Karnataka High Court adjourns hijab row hearing until tomorrow
Feb 16, 2022, 05:57 pm
3 min read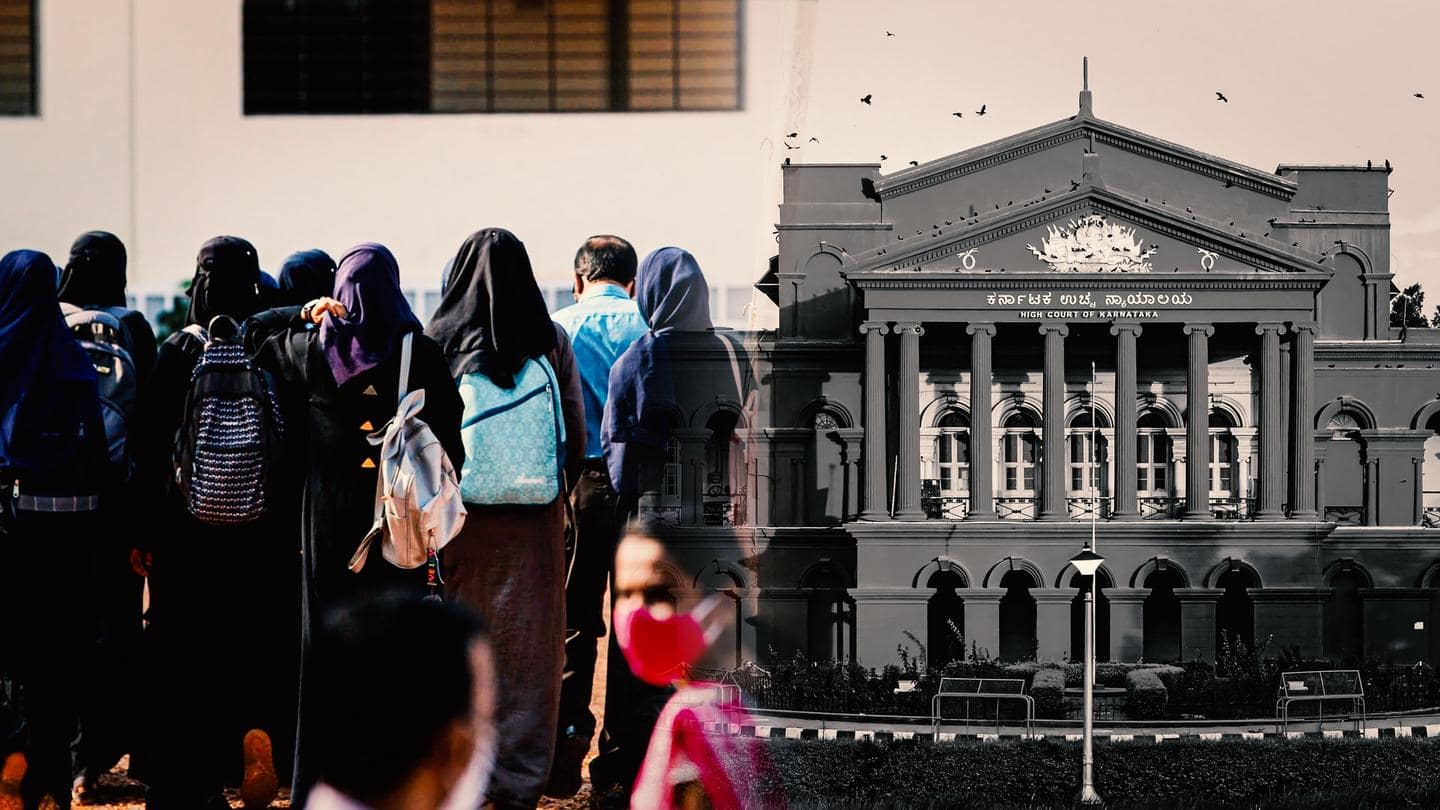 The Karnataka High Court on Wednesday adjourned the hearing on petitions against a ban on hijabs (headscarves) in schools and colleges until the next day. The bench will resume the hearing at 2:30 pm on Thursday. Earlier in the day, tensions had erupted at several colleges in Karnataka as Muslim students wearing hijabs and burqas were not allowed to enter classrooms.
Why does this story matter?
The high court is hearing petitions filed by Muslim students against the state government's ban on religious clothing in educational institutions.
Protests over wearing hijab have gripped the state for the past several weeks.
The issue had emerged last month after six Muslim students were barred from attending classes for wearing hijabs at a government college in Udupi.
'Why is government picking on hijab alone?'
Appearing for the petitioners, senior advocate Ravi Varma Kumar asked why the government is targeting hijabs alone, adding that hundreds of religious symbols exist in different sections of the society. "Why is the government picking on hijab alone and making this hostile discrimination?" he asked. He also described the Karnataka government's ban on headscarves as "draconian."
'Notice should be issued one year in advance'
"Rule says when an educational institution intends to change the uniform, it has to issue a notice one year in advance to parents. If there is a ban on hijab, it should inform one year in advance," Kumar told the court.
Students asked to choose between faith, education: Lawyer
Meanwhile, senior advocate Yusuf Muchhala contended the government order on hijab was unfair and introduced without any consultations or notice. He added that students are being asked to choose between faith and education. "This violates fundamental rights," he said. "The purpose of the Education Act is to promote harmony and not to create dissent among students," the lawyer stated.
Muslim students stopped at college gates
Earlier on Wednesday, the Government PU college in Vijayapura in northern Karnataka had disallowed students wearing hijabs and burqas from entering classrooms. Even as students protested the move, college authorities argued they were only following the Karnataka High Court's interim order. Later on, students were allotted a separate space on the campus to take off their hijabs and burqas.
Will take action against violators: Minister
"The overall situation (in the state) is peaceful," Karnataka Home Minister Araga Jnanendra said, according to news agency ANI. He added the government will take legal action against those who violate the high court's interim order. Last week, the high court had temporarily banned hijabs or any other religious attires inside classrooms, saying the rule would be in force until the matter is resolved.