Despite rare medical condition, 28-year-old fulfils dream of becoming lawyer
Despite rare medical condition, 28-year-old fulfils dream of becoming lawyer
Written by
Siddhant Pandey
Jun 25, 2019, 03:25 pm
3 min read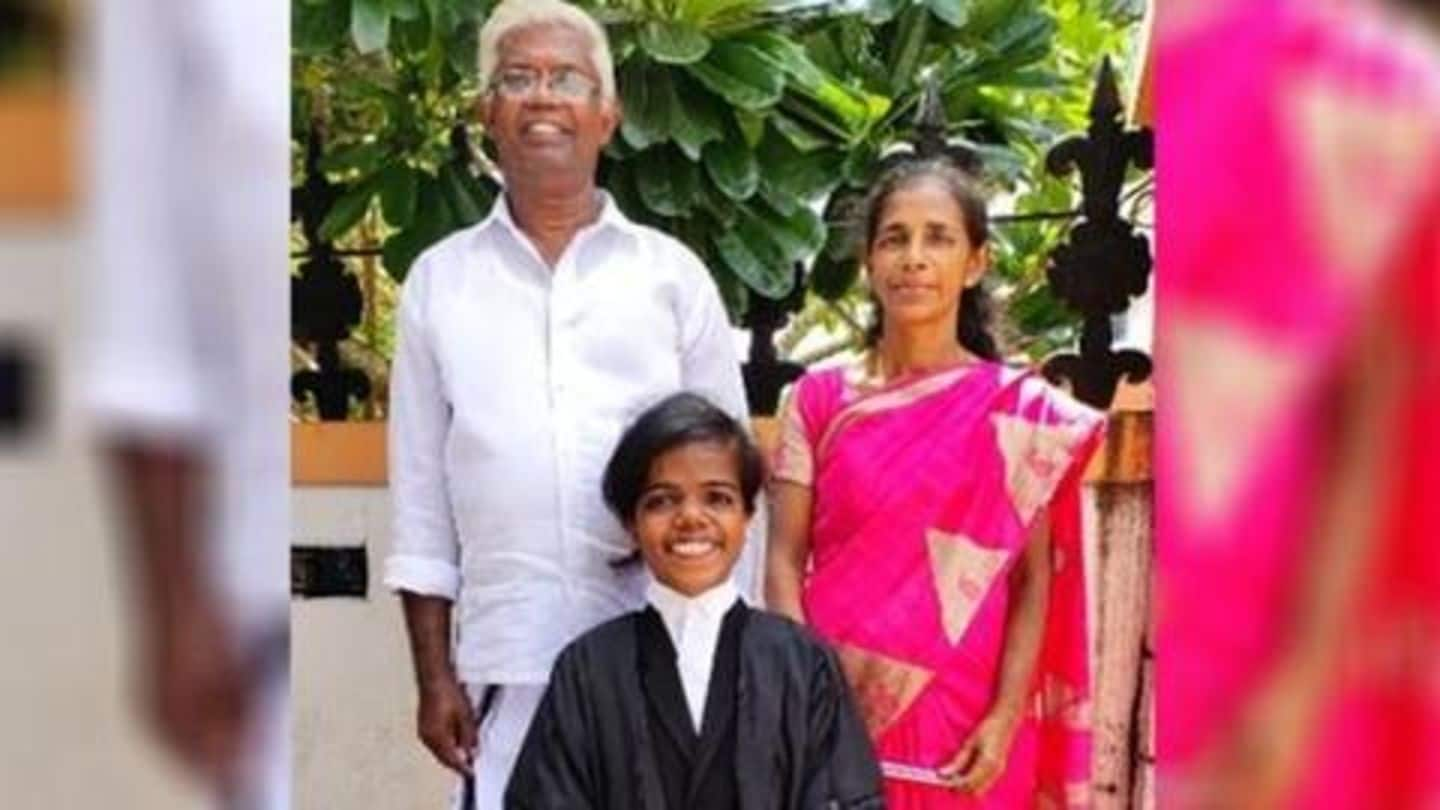 On June 16, hundreds enrolled as advocates in the Kerala High Court, but 28-year-old Pramitha Augustine among them cuts a prominent figure. Augustine, a resident of Ernakulam, had a long winding journey to fulfill her dreams of becoming an advocate; fighting through a financial crisis, a congenital health condition that arrested her height at just 3.5 feet, and the Kerala floods.
Augustine was teased for her height; developed confidence issues
Speaking to The News Minute, Augustine, who hails from the small village of North Kuthiyathode, recalls being harassed for her short stature- an outcome of her health condition which makes her bones weak. She struggled with building confidence. She studied at two schools until class seven and later moved to a convent in Thrikkakara (Kochi) where her aunt was a nun to finish schooling.
Augustine also struggles to write exams, due to her condition
"It's not possible for me to write exams at a pace that other students normally do because of this condition. This was one of the challenges I faced even while preparing for Law," Pramitha told TNM. She can't do long walks or any strenuous activities.
The family was in debt over a 20-year legal battle
According to The Times of India, Augustine's father failed to repay Rs. 1 lakh loan in 1996. In 2001, a court directed them to pay Rs. 22 lakh. However, their counsel failed to inform the family about the order and they only became aware in 2005, when debt recovery officials paid them a visit. This legal battle inspired her to pursue law.
She pursued law from Government Law College in Ernakulam
"The lawyers had their part in dragging this case on for nearly 20 years, as we were not aware of the legalities involved," she told TNM. As their case moved to a debt recovery tribunal, Augustine pursued Law from Government Law College in Ernakulam after attaining a graduate degree in Economics from St Xavier's College for Women in Aluva.
Augustine's parents also suffer from health conditions
On top of Augustine's rare medical condition, her father developed a heart disease over the years and her mother suffered from kidney ailments; a load too heavy to bear for the agricultural family. But, they never held their daughter back from pursuing an education.
2018 Kerala floods destroyed their only home
Adding on to their troubles, during last year's devastating floods in Kerala, the family of six lost their only house. Recalling the incident, she said, "Water was all over, with the water level up to my height. My parents found it difficult to even shift me outside the house. We took shelter in about three relief camps."
The family of six now lives in a makeshift room
According to TNM, the family of six now lives in a makeshift room built by a local body on the land of their erstwhile home. Through relief aid, the family built the foundation for a new home, Augustine is determined to help build it further.
'Never go down, look ahead and fight it out'
Augustine started her practice on Monday, TOI reported, but for her, the fight hasn't ended. She told TNM, "Life hasn't taken shape as how I wanted it. But being an advocate is the one thing that happened as I wanted." She added, "There will be obstacles; there will be challenges to knock you down. But never go down, look ahead and fight it out."