Mumbai: Protestors shifted to Azad Maidan; 'Occupy Gateway' protest called-off
Mumbai: Protestors shifted to Azad Maidan; 'Occupy Gateway' protest called-off
Written by
Siddhant Pandey
Jan 07, 2020, 01:27 pm
2 min read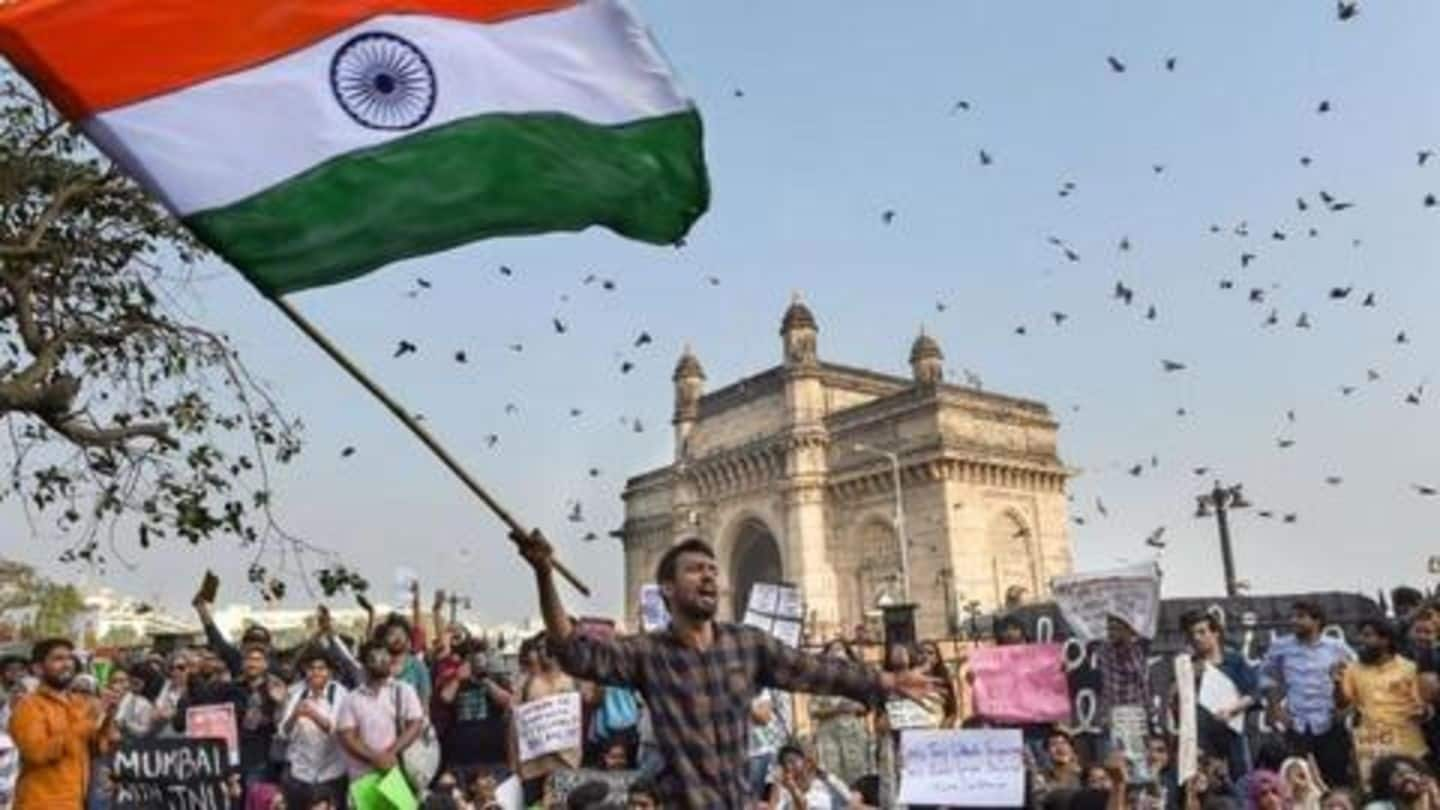 The 'Occupy Gateway of India' protest has been called off after the Mumbai Police evicted protestors from the monument to Azad Maidan. The protestors had assembled to condemn the attack on the Jawaharlal Nehru University on Sunday. They had also demanded the resignation of Prime Minister Narendra Modi and Union Home Minister Amit Shah. Here are more details.
What was the 'Occupy Gateway of India' protest?
Hundreds of people had assembled at the Gateway of India on Sunday night following the violence at JNU. They also protested against the Citizenship Amendment Act (CAA), National Register of Citizens (NRC), National Population Register (NPR) and the Transgender Persons (Protection of Rights) Act. Among the protestors were students from the Indian Institute of Technology-Bombay, Tata Institute of Social Sciences (TISS), etc.
Protestors raised slogans, sang songs
Slogans such as 'Kagaz nahi dikhayenge' (we won't show the documents) and 'Tum kaun ho be' (Who are you?) were raised and the protestors also sang songs like 'Hum dekhenge', 'Hum honge kamyab' and 'Sarfaroshi ki Tamanna'.
Protestors evicted due to traffic problems, says police
Notably, Deputy Commissioner of Police (Zone 1) Sangramsingh Nishandar told PTI that the demonstration at the Gateway of India was posing problems for tourists and traffic movement. The DCP said that they didn't have any other issues with the protest. He said when the protestors didn't listen to their requests, they were shifted by the police to Azad Maidan, where they had "all facilities."
Protest called-off; protestors say they were 'forcibly removed'
While the police said they had peacefully "relocated" the protestors to Azad Maidan, the protestors claimed they were forcibly removed. Protestor Anjana Natarajan claimed on social media that she was stripped by the police while being removed from Gateway of India. Another protestor Kapil Agarwal on Sunday said that the 'Occupy Gateway of India' protest has been called off, however, their "resistance will continue."
What happened at Jawaharlal Nehru University?
On Sunday evening, a group of masked goons entered JNU, thrashed students and vandalized the campus. Over 20 students and teachers were injured, including three who sustained critical injuries. JNUSU President Aishe Ghosh received 16 stitches at AIIMS. Both activists of ABVP and the Left have accused each other of orchestrating the violence. Meanwhile, the Hindu Raksha Dal claimed responsibility for the attack.