Jamia violence: Entered university to protect 'innocent students', says police
Jamia violence: Entered university to protect 'innocent students', says police
Mar 16, 2020, 05:49 pm
3 min read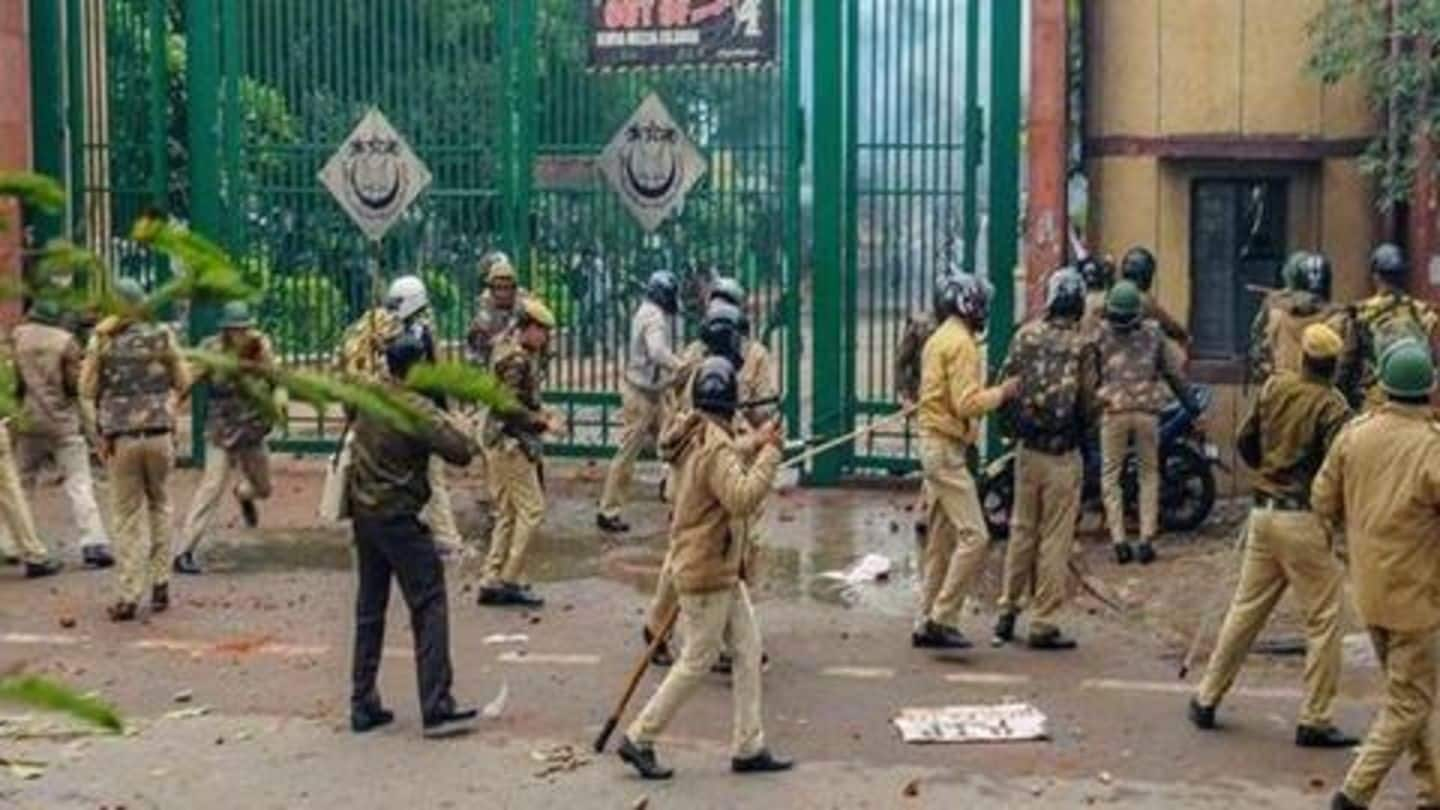 Three months after violence rocked Delhi's Jamia Millia Islamia University and brought disrepute for the Delhi Police, cops told a court on Monday that they entered the campus to protect "innocent students". The claims were made in an action taken report (ATR) which was filed in a Delhi court, regarding the police excesses on December 15. Jamia's authorities demanded FIR against "accused".
Protest against CAA took violent turn, students were beaten up
Days after the contentious Citizenship Amendment Act (CAA) was passed in the Parliament, students of Jamia took out a peaceful march against it. The protest, however, turned violent with public property being damaged and buses being torched. Soon, cops barged into the campus, fired tear-gas, allegedly lathi-charged students, and detained dozens of them. The students were released after immense outrage across the nation.
Jamia wanted action against police excesses, approached court
Standing by the students, the varsity's administration filed a plea in Delhi court seeking action against the cops' unauthorized entry into the campus. On January 22, the court asked Jamia Nagar police to submit an ATR and tell it before March 16 whether the varsity sent any complaint or not. If the university had indeed reached out to cops, the court demanded more details.
Court had a couple of questions
"Whether any investigation or inquiry has been conducted in this regard (the alleged complaint filed by Jamia), and if yes, what is the status? If any cognizable offense is made out, whether any FIR has been registered or not," the court asked earlier.
According to police, necessary action was taken
In the ATR filed before Metropolitan Magistrate Rajat Goyal, Delhi Police defended its actions. "It is submitted that the said action was required to be taken in light of the ongoing violence from within the university campus and to rescue the innocent students trapped inside and to ensure normalcy," police said, adding that several cops were injured. An FIR has been registered, said police.
Rioters entered campus, police apparently followed them
Apparently, police failed to differentiate between rioters, who carried petrol bombs, and innocent students. Therefore, it became necessary to evacuate the campus and everyone was paraded with their "hands up", said Delhi Police. The ATR said rioters were using the campus as cover, pelted stones in the dark while mouthing extremely provocative slogans. Delhi Police said "moderate force" was used to disperse the crowd.
The pleas fell on deaf ears, said police
"The police tried to control violent mob by using a loudspeaker and requested them not to take law in their hands but they did not pay any heed to the warning and lawful directions of police and kept on damaging the public property," cops contended.
Jamia suffered losses of over Rs. 2 crore
Notably, the matter has been listed for April 7. Last month, Jamia claimed it suffered damages worth over Rs. 2 crore. The university wants registration of FIR under relevant sections of IPC, Prevention of Damage to Public Property Act, etc. Earlier, CCTV footage from December 15 showed that police thrashed students inside the library. But some said cops beat rioters who acted as students.