Rajdhani Express turns 50, passengers treated with delicacies, new linens
Rajdhani Express turns 50, passengers treated with delicacies, new linens
Mar 04, 2019, 04:38 pm
3 min read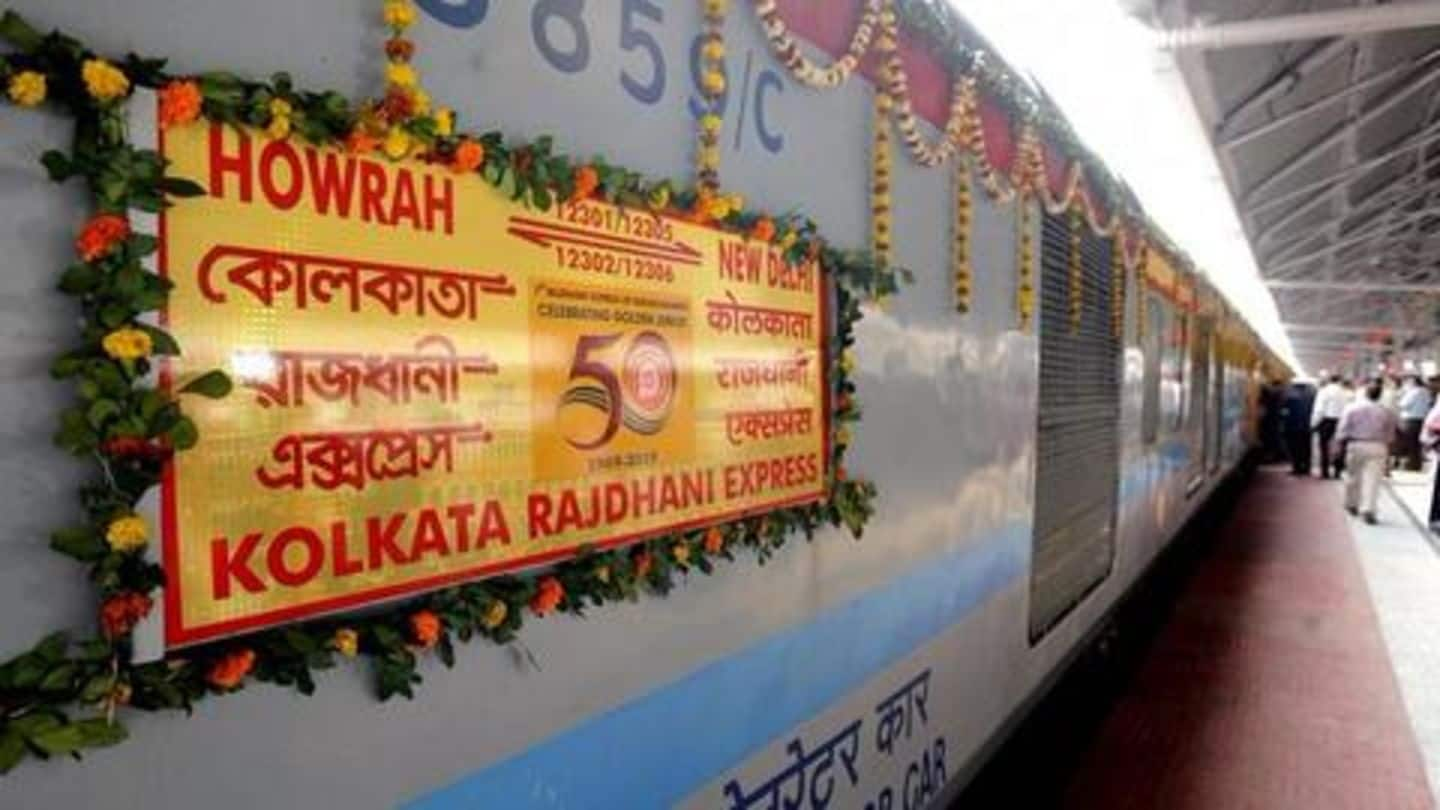 Passengers traveling in the Howrah-New Delhi Rajdhani Express on Sunday received a special treat as the train turned 50 yesterday. The train, which transformed the Indian Railways in the 1960s in terms of speed and luxury, was decorated with marigold flowers, as it left the Howrah station on its golden jubilee run. The train made its first journey on March 3, 1969, from Howrah.
Train was flagged-off after ceremonial cake-cutting, release of greeting stamps
On the occasion, there was a ceremonial cake-cutting and release of greeting stamps yesterday. The train from Howrah was then flagged off by three of Rajdhani Express' former staffers from platform number 9, the train's berthing place since it first began in 1969.
Passengers were greeted with vegetable cutlets, fish fry, brand-new linens
IRCTC (East) General Manager, Debasish Chandra, told media that the train treated its passengers with its old delicacies such as vegetable cutlets, fish-fry, and roshogollas along with ice cream and dessert. Further, disposable napkins and brand new linens with '50 Years of Rajdhani Express' written on them were distributed among passengers. Notably, Rajdhani Express was India's first train with meals included in the fares.
Passengers were given brochure of new changes in Rajdhani Express
Passengers were also given a brochure of the changes Rajdhani Express went through over the last 50 years. Further, the railway staff serving on Sunday wore a commemoration badge. Eastern Railway General Manager, Harinder Rao, said, "This is a special day and passengers are being treated accordingly...We could have had a large celebration but decided to keep it a lowkey affair."
Rajdhani was India's first fully-airconditioned train covering 1,450kms in 17hrs
When the Rajdhani Express was flagged off for the first time, it became India's first fully-air conditioned, high-speed train that had traveled 1,450 km in 17 hours and 20 minutes. At that time, the train had nine vacuum braked coaches built at Perambur-based Integral Coach Factory (ICF), five AC chair cars, two power cars, one AC first class coach, and one AC dining car.
With time, chair cars got replaced with AC-2, 3 tiers
Over the years, AC-2 tier and AC-3 tier coaches replaced the chair cars. While the AC dining car was removed, the number of AC first class coaches jumped. In 2017, the train received an elegant makeover of the 20 LHB (Linke Hofmann Busch) coaches, which comprises 10 AC 3-tier with one pantry car, five AC 2-tier, two AC first-class, and two power cars-cum-luggage vans.
All trains are getting LHB coaches with bio-toilets: Rao
The train will undergo further changes. "We're now changing over to bio-toilets. All trains are getting LHB coaches and these are filled with bio-toilets. There will no longer be any smell that used to exist earlier," said Rao. He added, "We're also getting two new laundries at Chitpur and Tikiapara. After this, we no longer have to depend on external agencies to clean linen."