Planning to get Patanjali's 'swadeshi' SIM-cards? Don't bother, it's fake-news
Planning to get Patanjali's 'swadeshi' SIM-cards? Don't bother, it's fake-news
May 29, 2018, 02:52 pm
3 min read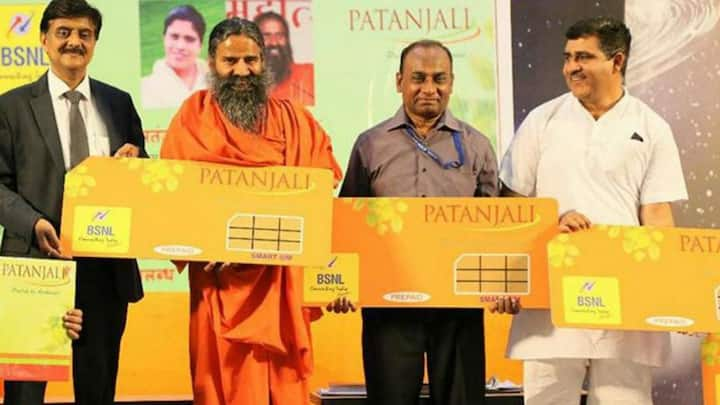 Yesterday, reputed media houses announced Patanjali's newest product- 'swadeshi' SIM cards- marking Baba Ramdev's foray into the telecom sector. They claimed it will come with several privileges: a tie-up with BSNL, discount on Patanjali products, and even health and life insurances! Turns out, it's all false. Patanjali has clarified it is launching the cards only for its employees, and is far from entering telecom.
Reputed media houses fell for the report
Big names like Economic Times, Money Control and even the international Business Insider covered the story of how the yoga guru is diversifying his interests. "There are 5L BSNL counters and people can soon get Patanjali Swadeshi-Samradhi card from there," ET quoted Ramdev as saying. Reports said it even came with conditional medical and life insurance covers of Rs. 2.5L and Rs. 5L.
'Patanjali's entry might hit India's telecom sector,' some concluded
Patanjali was offering unlimited calling at just Rs. 144, less or equal to what other companies are offering, reports said. Business Insider went on to comment on the potential impact of Patanjali's move on India's struggling telecom sector!
This is what is actually happening
Here're the facts: no, Patanjali isn't entering telecom. SIM cards are being launched, but only for employees of the company and its associated firms, said IE. The Rs. 144 plan, which does come with unlimited calling, free roaming, 2GB data and 100 SMS daily, will be launched, but again, only for employees. All employees will be getting these SIM cards, the company said.
The tie-up with 'swadeshi' BSNL is real
A tie-up is actually happening for Patanjali and BSNL for these SIM cards, the firm confirmed. It had chosen this particular operator because it is a 'swadeshi' brand, and it will boost its own 'swadeshi' campaign, it said in a statement.
Here's what Patanjali does sell
Patanjali does sell a variety of products. It started with healthcare, but has now diversified into other sectors including education, food and energy (it was working on generating electricity using bulls). Plans are afoot to launch a 'swadeshi' line of clothes, diapers and sanitary napkins. In private security, it has launched Parakrami Suraksha Private Ltd with the help of retired army and BSF officers.
Twitter was abuzz with the choices of reactions
The fake news did give us some moments of comic relief, thanks to social media. "Calls to Customer Care will be like: *Do Navasana for English*," posted @HaramiParindey. "You anyway end up doing 14 different yoga-asanas trying to get a bar of signal on a BSNL sim card," said @AksharPathak. "You don't get booty calls on Patanjali sims, you get jaddibooty calls," tweeted @niquotein.