#NewsBytesExclusive: How Amit Bansal's WizKlub is accelerating skill-based learning
#NewsBytesExclusive: How Amit Bansal's WizKlub is accelerating skill-based learning
Written by
Chandraveer Mathur
Oct 12, 2021, 05:02 pm
4 min read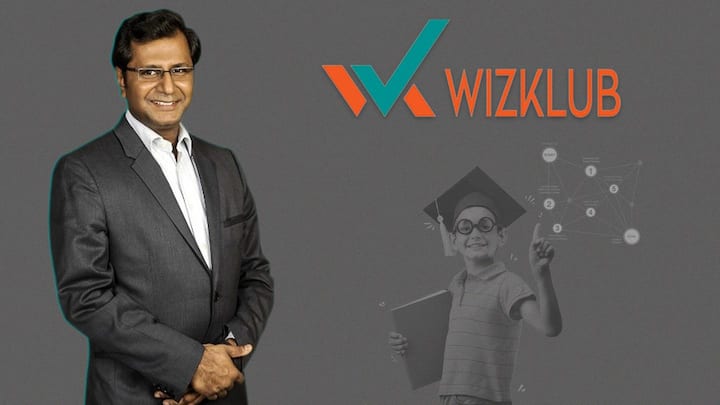 When seven out of every 10 children would do jobs that don't exist yet, what should children learn today to succeed tomorrow? Amit Bansal's ed-tech start-up WizKlub, perhaps, has the answers! In our interaction with Bansal, he walked us through how WizKlub came to be, where it is headed in the immediate and distant future, and what this means for the children it helps.
From early on, Bansal longed to create value by himself
Bansal is a gold-medalist Electronics and Communications engineer from Punjab Engineering College with an MBA from XLRI Jamshedpur that he completed in 1997. After a short stint with Asian Paints, Bansal joined Seattle-based Talisma where, during a phase of uncertainty for the company, he mustered the courage to take entrepreneurship seriously. "Ups and downs aren't the end of the world," he said.
Bansal's initial ventures focused on assisting college-goers improve job readiness
Bansal's first two ed-tech start-ups named PurpleLeap (a Pearson company) and Think A+ focused on improving the job worthiness of students in tier-2 and tier-3 engineering colleges. PurpleLeap successfully trained over 50,000 students. Bansal founded WizKlub in Bengaluru in February 2018 with the support of senior management from his previous ventures. This time, his efforts were focused on six to 16-year-olds.
WizKlub's offerings are affordably priced, require low commitment from children
Bansal said that if the schoolchildren spend just 15 minutes each day for six months every year engaging with WizKlub's mental workouts, they would notice a significant improvement in their higher-order thinking skills (HOTS), including complex problem solving and algorithmic thinking. Priced at Rs. 1,000-1,500 per month for eight sessions of one-hour duration, WizKlub offers a HOTS Program and a SmartTech Program, too.
We don't teach about swimming, we teach swimming skills: Bansal
WizKlub offers an app-based personalized learning experience to students. It begins with a level mapping test that assesses 36 skills indicative of the child's development. The charted learning path improves one skill at a time through mental workouts. "We don't teach children about swimming, we teach them the skill of swimming," Bansal added in a matter-of-fact manner and we couldn't agree more.
WizKlub's courses are completely extracurricular but have visible benefits
Bansal clarified that WizKlub's courses don't include material from the academic curriculum of schoolchildren. However, the course teaches how to read between the lines, avoid rote learning, and improve contextual understanding, thereby helping with schoolwork as well. He debunked another myth, saying that children are certified when they complete levels on WizKlub's courses but that shouldn't be the motivator. The real-world benefits outweigh certifications.
WizKlub's pedagogy, framework's efficacy benchmarked against international scales
Bansal emphasized that WizKlub's content is based on a proprietary framework created in conjunction with subject matter experts and backed by years of data. He said that the instructors merely guide children through mental workouts. Additionally, the stellar 80-85% efficacy of WizKlub's courses has been recorded by internal tools and corroborated by the internationally acclaimed Wechsler Intelligence Scale for Children (WHISC), Bansal added.
Systemic transition, change in teacher's role need of the hour
WizKlub instructors guide only six to eight students per session. This is because skill-based learning can only be imparted in a conducive, non-chaotic environment for discussion. Bansal pointed out that although skill-based curriculum changes are a step in the right direction, a systemic transition from the one-to-many learning arrangement would accelerate the facilitation of discussion-oriented learning, consequently disturbing monetary aspects of the education industry.
Aspiring entrepreneurs should start with problems that needs solving: Bansal
Bansal said he was glad he had the core team in place for WizKlub from the get-go. However, he didn't mince words when he said getting the product-market fit (PMF) dialed in was a struggle. Advising aspiring ed-tech entrepreneurs, Bansal said one must start with identifying the problem statement instead of barging ahead with a solution leveraging technology that remains headless, and without cause.
WizKlub has raised early-stage capital, plans to scale operations
Between 2019 and 2020, WizKlub successfully raised a total of around $2 million in capital from Incubate, a Japanese early-stage fund, and Singapore-based early-stage investor, Insitor. Bansal enthusiastically said that WizKlub aspires to grow at a 100x scale from 10,000 students to 10 lakh students. He mentioned that the company would raise more growth capital to achieve its lofty goal.