Rahul Gandhi in Singapore: Congress has a clean slate now
Rahul Gandhi in Singapore: Congress has a clean slate now
Mar 08, 2018, 03:37 pm
2 min read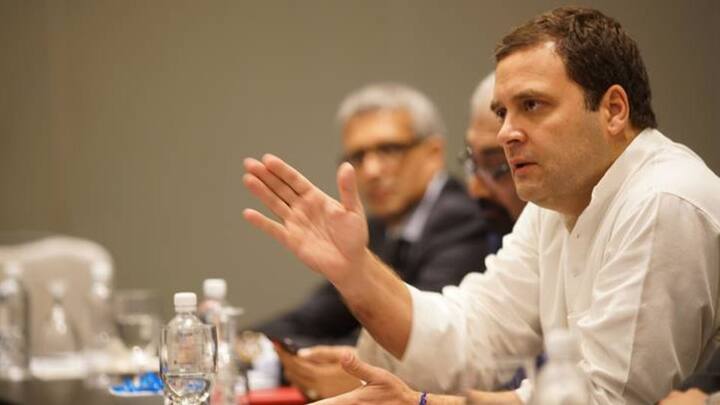 Congress President Rahul Gandhi yesterday began a five-day trip to Singapore and Malaysia. He plans to reach out to the Indian diaspora and will also meet the PMs of the two countries. In his first event, he met Indian-origin CEOs of companies in Singapore. He claimed that, "During 2012-2014, the system was destabilized and we saw the consequences. We have a clean slate now."
Rahul added, "We will present you with a new Congress party that envisions the values you were born with." He said Congress views "society as a system that has to be kept in balance." Conversely, BJP polarizes society which leads to serious dangers. He also discussed issues like employment, investments and the prevalent economic condition. He underlined that Congress wants to see "inclusive" development.
What are his other plans in Singapore-Malaysia?
Rahul will also address Lee Kuan Yew School of Public Policy. He will probably meet Singapore Prime Minister Lee Hsien Loong on March 9 and Malaysian Prime Minister Najib Razak on March 10. He will also meet Singapore Foreign Affairs Minister Vivian Balakrishnan tomorrow. Further, he will address members of the overseas Congress, meet Indian community representatives, Indian entrepreneurs and business delegates.
Incidentally, the AICC overseas cell organizes these foreign trips
This trip is organized by AICC Overseas cell headed by technocrat Sam Pitroda. Earlier, he had organized US and West Asia visits. This year, Rahul will probably travel to Dubai and Canada. These overseas trips to meet the Indian diaspora are thought to be parallel to PM Narendra Modi's foreign engagements. However, he was recently criticized for his Italy vacation during three north-east states' elections.
Meanwhile, at home, Rahul faces opposition for first big plan
Separately, another storm is brewing back home. Soon after he took on as Congress President, Rahul intended to hold elections for the 12 positions in the party's highest decision-making body, the Congress Working Committee or CWC. This is as per the rule-book. However, senior leaders are opposed to this. They want the system of nominations started by predecessor and mother Sonia Gandhi to continue.