Vijay Rupani sworn in as Gujarat CM once again
Vijay Rupani sworn in as Gujarat CM once again
Dec 26, 2017, 11:39 am
3 min read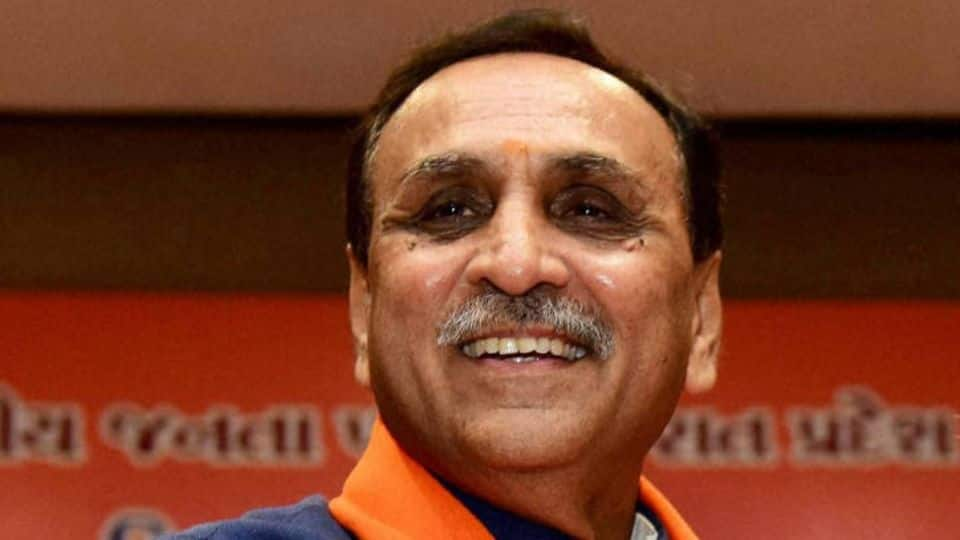 Vijay Rupani has taken oath as the new Gujarat chief minister in the presence of PM Narendra Modi. His deputy Nitin Patel, along with 18-20 ministers, were also sworn in. Along with top BJP brass including Amit Shah, Rajnath Singh and LK Advani, CMs of several BJP-ruled states like Yogi Adityanath and Devendra Fadnavis were present. Here's a look at Rupani's journey till now.
Beginning early, Rupani joined RSS as a school boy
Rupani was born in Yangon (Rangoon), Myanmar to a Jain Bania family in 1956. The family later shifted to Rajkot. As a schoolboy, Rupani joined the RSS. His rise there was organic. Academically, he completed his BA and also pursued LLB. While in college, he joined ABVP. When Jayprakash Narayan gave the call for the Navnirman Andolan, Rupani jumped into the students' agitation.
Rupani's political career began in the Rajkot Corporation
The natural move for Rupani from ABVP/RSS was to the Bharatiya Jan Sangh and then BJP. He was also one of the few BJP leaders from Gujarat to be jailed during emergency. He, however, got his big break as Rajkot Municipal Corporation's corporator in 1987. From 1988-1997, he served Rajkot in various capacities. He is credited to have developed Rajkot into a tourism and industrial centre.
Years as an RS MP and in Modi's government
As Gujarat Tourism Development Corporation's Chairman, Rupani ran the successful 2006 advertisement campaign "Khushboo Gujarat Ki." This featured megastar Amitabh Bachchan and launched Gujarat as a tourism hotspot. During 2006-12, he was an RS member; he served on various parliamentary committees of water resources, food, public distribution, public undertaking, etc. During Modi's CM-stint, Rupani served as the Gujarat Municipal Finance Board's chairman in 2013.
How did he become CM for the first time?
In 2014, when Rajkot seat fell vacant, Rupani won the by-poll. He is considered as Amit Shah's man. So, when Shah's alleged in-party rival, Anandiben Patel became CM, Rupani was made state BJP president to balance power equations. He also served as her transport minister. After Patel was forced to resign for failing to handle Patidar-Dalit agitations, Rupani trumped other contenders to succeed her.
As CM, what is Rupani credited for?
Apparently, what worked in Rupani's favor was his proximity to Shah. Further, his Jain identity (i.e. non-OBC) made him a neutral candidate. So, how did he do in his short first stint? Rupani's flagship programmes, such as Seva Setu/fairs to provide one-stop solution to citizens' administrative problems, were lauded. He also managed to contain farmer distress and economic discontent due to demonetization and GST.
So, now what are expectations from Rupani?
Rupani's accessible and low-profile governance is in complete contrast to Modi's and Patel's CM-stint. His affable personality endears him within and outside the party, giving Gujarat the much-needed stability after Patel's controversial two-year tenure. However, with BJP losing ground in this year's election, they might need someone aggressive to recover their support base before 2019 LS elections. Will Rupani stand up to the challenge?
Rupani visits Panchdev Mahadev Temple in Gandhinagar ahead of swearing-in