Wear hijab at home, not outside: BJP MP Pragya Thakur
Wear hijab at home, not outside: BJP MP Pragya Thakur
Written by
Pratyush Deep Kotoky
Feb 17, 2022, 02:01 pm
3 min read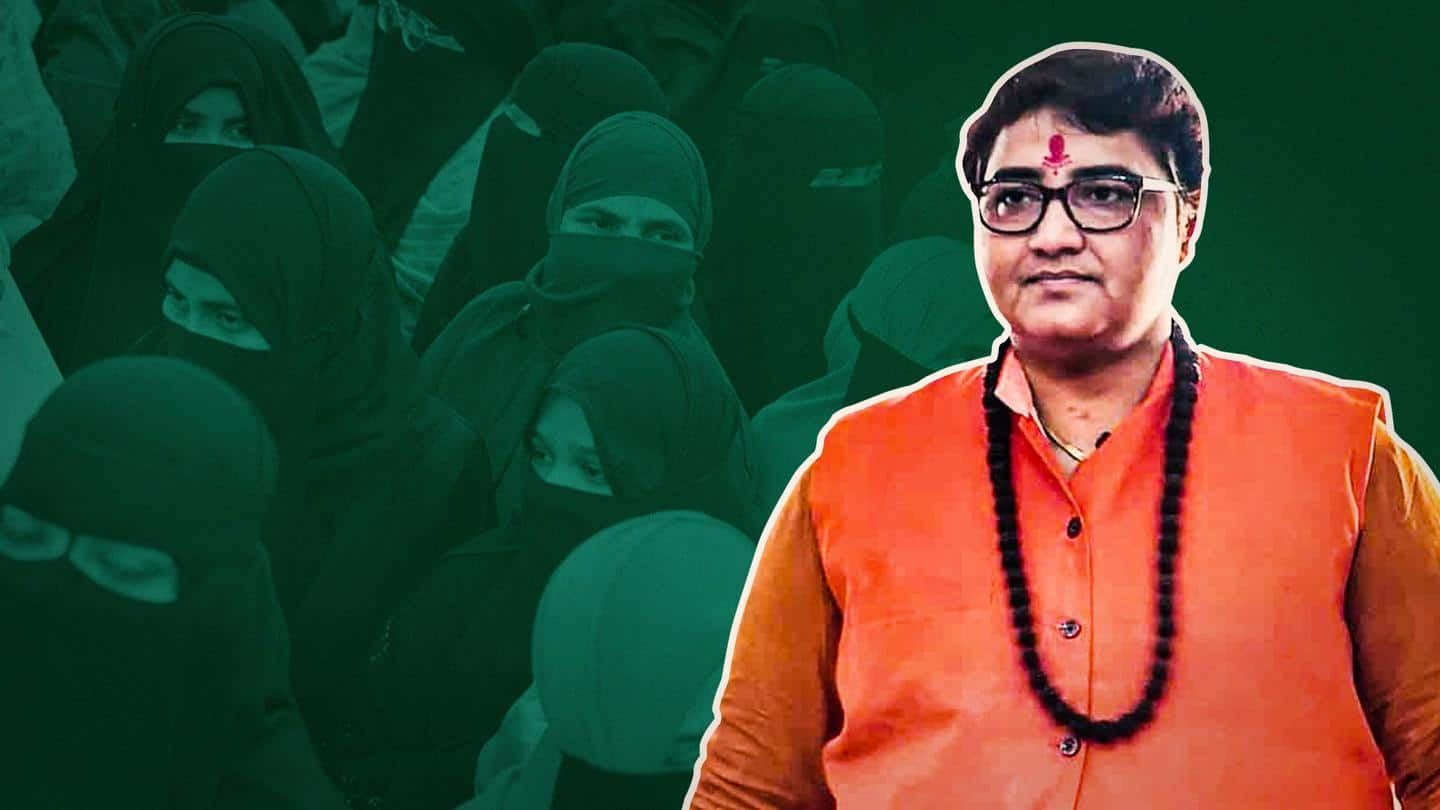 Amid the ongoing row over hijab, BJP MP Pragya Singh Thakur said headscarves should be worn when people feel unsafe at homes and not outside, where there is "Hindu Samaj." "Hijab is a purdah. Purdah should be (used) against those who see you with evil eyes. But it is certain that Hindus don't see them with evil eyes as they worship women," she added.
Why does this story matter?
Thakur made the comments during an event at a temple in Bhopal's Barkheda Pathani area.
Notably, Karnataka has been witnessing protests over headscarves for the past several weeks.
It started after six women students at a government college in the southern state's Udupi were barred from attending classes for wearing hijabs.
The protests—both for and against wearing hijab—have since spread to other states.
High respect for women in Sanatan Dharma: Thakur
Chanting a shloka (verse), Thakur said the place where women are not revered is like a graveyard. She further said Hindus are very cultured and have high values so, nobody needs to wear hijab. "Hijab should be worn by those whose chastity and respect are at risk at home...Thus, they should wear it at home," she added, citing the marriage customs among Muslims.
'Distortion of knowledge, discipline of schools won't be tolerated'
Thakur said disciples of gurukuls (traditional Hindu educational institutions) wear saffron attire. But when such students go to other schools, they wear the school uniform and follow the discipline of schools, she added. "But if you distort the knowledge and discipline of schools and colleges in the country and start wearing hijab and applying Khijab then it will not be tolerated," she continued.
Meanwhile, the Karnataka High Court has been hearing a bunch of petitions in connection with the hijab row for the past few days. It has also restrained students from wearing any religious attire to educational institutions till the matter is pending in the court.
The Karnataka government reopened schools and colleges in the state this week after temporarily shutting them last week. With the reopening of schools, videos emerged where students were not allowed to enter the premises for wearing hijabs in line with the court's order. Education institutes in Karnataka had been ordered to shut down after the state witnessed intense protests against hijab by some groups.
Pragya Thakur is a member of Lok Sabha from Madhya Pradesh's Bhopal constituency. She often makes headlines for her far right comments and activities. Thakur is also facing terror charges in the 2008 Malegaon bombings case. Notably, six people were killed and over 100 injured in the Malegaon bomb blasts. She has been on bail since 2017 on health grounds.