Gujarat: Hardik Patel gets married to childhood friend Kinjal Parikh
Gujarat: Hardik Patel gets married to childhood friend Kinjal Parikh
Jan 27, 2019, 03:44 pm
2 min read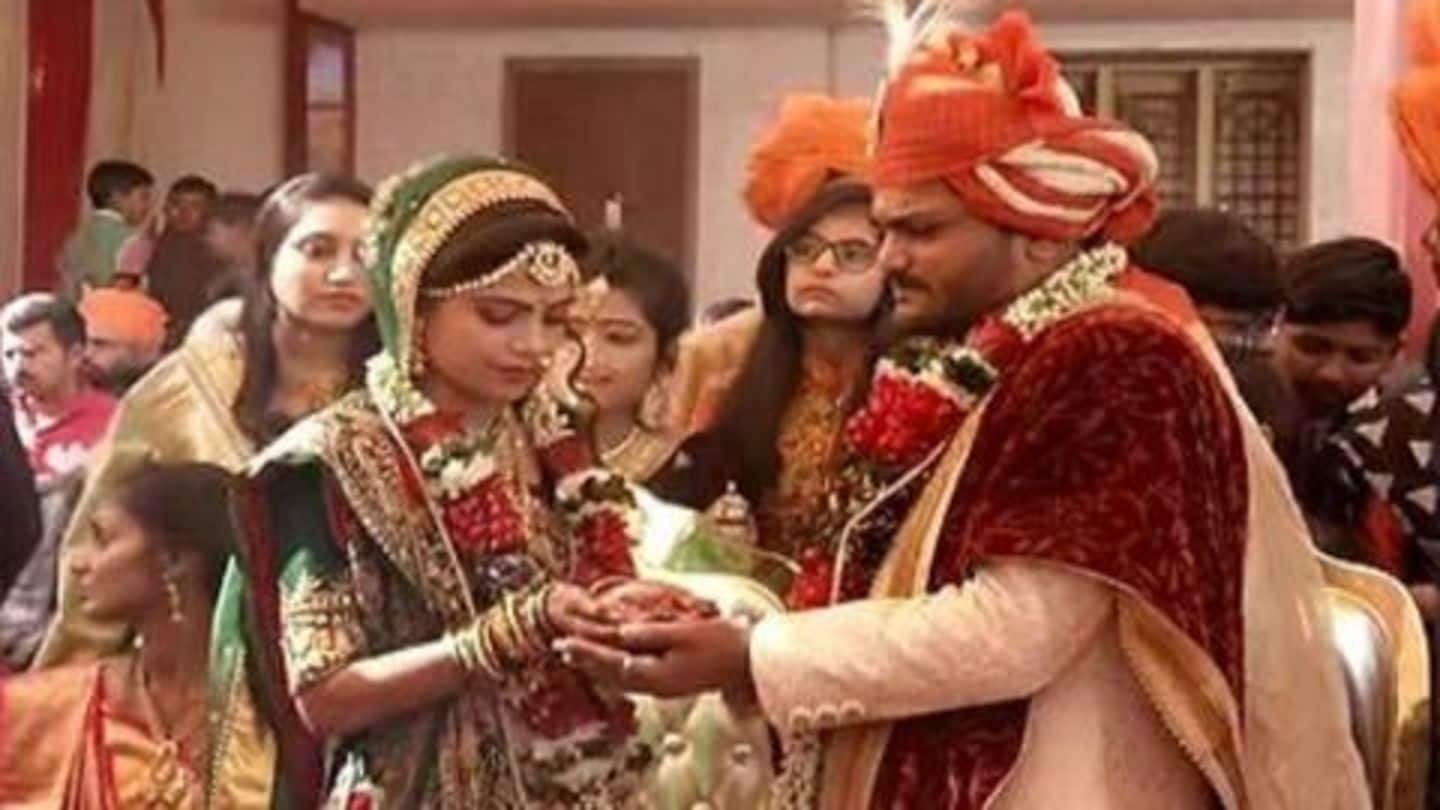 Hardik Patel, the Patidar leader from Gujarat, tied the knot with his childhood friend Kinjal Parikh on Sunday, January 27. The couple got married at Digsar village which is in Surendranagar district of the state. The marriage was solemnized in an intimate ceremony attended by nearly 100 guests. Most of the guests were the family members of the couple. Here's more.
Family wanted Hardik to get married at Umiya Dham
A few days ago, Hardik's father Bharat confirmed his wedding date. The family wanted Hardik to get married at Umiya Dham in Unjha. It is the main temple of Goddess Umiya, the deity of Kadva Patidars. "However, it isn't possible since Hardik has been banned from entering Unjha by the court," Bharat revealed. They got hitched at Bahuchar and Meldi Mata temple.
Taking a look at the couple's love story
Notably, Hardik and Kinjal have been engaged for some time now. After the wedding, the couple will visit Hardik's native village Chandan Nagari, which is in Viramgam town of Ahmedabad district. Kinjal belongs to the Parikh-Patel community and is currently pursuing a law course, Hardik's father revealed. Reportedly, Kinjal is close to Hardik's sister Monica and frequently visited their house.
Notably, Kinjal supports Hardik's Patidar movement
About Kinjal, Hardik's parents reportedly said she is the kind of girl they wanted their son to marry. Since she is close to Monica, the family knows her well. Further, Kinjal, whose father is a government servant, also supports Hardik's Patidar movement.
In 2015, Hardik became a strong force in Gujarat politics
Hardik emerged in the national political scene after he led Patidar agitation in 2015. He has been fiercely demanding reservation for his community. In July last year, a Gujarat court sentenced Hardik to two years in prison for rioting outside the residence of BJP MLA Rushikesh Patel in Visnagar. He was granted bail later. He claims the Narendra Modi government is targeting him.
Recently, Hardik joined Mamata Banerjee's mega opposition rally
Over the years, Hardik has grown close to several political stalwarts in the country. Last week, he attended the United India rally in West Bengal which was organized by Mamata Banerjee, the TMC supremo. Asking people to vote against BJP in the upcoming elections, the 25-year-old said the nation was fighting against thieves. He added the attendance at rally showed BJP will be ousted.