#IndiaDecidesOn18th: BJP wins in Himachal but Dhumal loses Sujanpur
#IndiaDecidesOn18th: BJP wins in Himachal but Dhumal loses Sujanpur
Dec 18, 2017, 04:52 pm
2 min read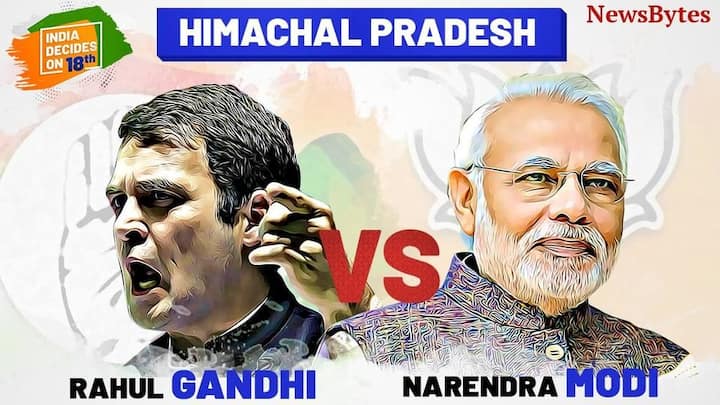 Counting of votes began at 8am today for the Himachal Pradesh elections. BJP is all set to form government in the hill state with a lead in 44 seats (as of 4:50 pm). Congress was leading in 21 and Others in three. However, BJP's main face, CM candidate PK Dhumal, lost to Rajinder Rana by around 3,000 votes in Sujanpur. Details here.
Key wins and losses in the 2017 elections
CM Virbhadra Singh's son Vikramaditya (Congress), who debuted from his father's previous constituency Shimla Rural, won. Meanwhile, Virbhadra Singh is leading in Akri. Jubbal-Kotkhai, jolted by the July'17 gangrape-murder of a teenager, saw BJP's Narender Bragta win. Himachal BJP president Satpal Singh Satti lost Una. Champa Thakur (Congress), daughter of Health Minister Kaul Singh Thakur, lost Mandi.
Narrow vote-share gap between Congress and BJP
Despite leading in more than half the seats, the vote percentage share shows a narrow margin between the Congress and BJP. According to EC data, BJP secured roughly 50% of the vote-share while Congress got 42%.
Other winners included Congress' Anirudh Singh (Kasumpati), Vinay Kumar (Renukaji), Pawan Kumar Kajal (Kangra) and Indrajitsinh Natvarsinh Parmar (Mahudha). From BJP, Suresh Bhardwaj (Shimla), Kishori Lal (Anni), Dr Ram Lal Markanda (Lahaul-Spiti), Sukh Ram (Paonta Sahib) and Paramjeet Singh (Doon) won. Apart from BJP and Congress, CPM's Rakesh Singha (Theog) and Independent Hoshiyar Singh (Dehra) defeated BJP-Congress heavyweights.
The 2017 Himachal Assembly polls in figures
Polling on November 9 saw a turnout of 74%, highest in four decades. 50.26L voters, including (for the first time) 50,000 Tibetans, were registered to cast ballots to choose from among 337 candidates for 68 seats. BJP and Congress contested all seats; BSP contested 42.
Exit polls predict a landslide victory for BJP
In Himachal, exit polls revealed a massive win for BJP with about 50 seats; the halfway mark in the 68-seat Himachal Assembly is 35. It's not surprising considering the state has returned alternate governments since years. According to Today's Chanakya, BJP is a clear winner vote-share wise too: 51% have voted for BJP, a paltry 38% for Congress and 11% for others.
In Himachal, the BJP lost the 2012 elections to the Congress; the former got just 26 seats with 38.47% of vote-share, while the latter won 36 seats with 42.81% vote-share. Other parties won six seats. Virbhadra Singh took oath as CM for the sixth time.