Jharkhand: BJP-worker washes MP's feet, then drinks same water
Jharkhand: BJP-worker washes MP's feet, then drinks same water
Sep 17, 2018, 02:17 pm
2 min read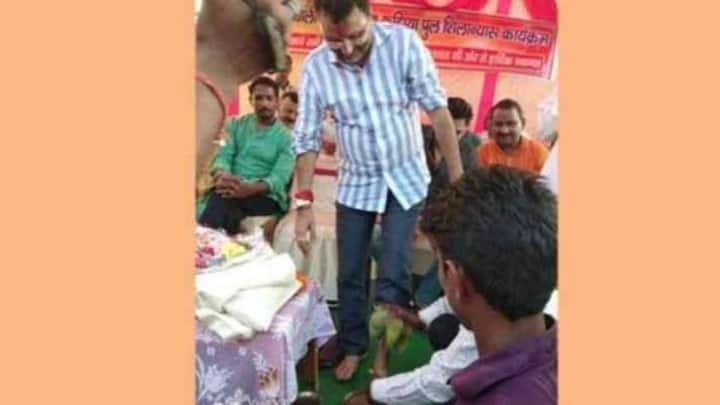 In a shocking incident, a Bharatiya Janata Party worker washed feet of MP Nishikant Dubey at a recent event in Jharkhand and then drank the same water. This act has put Dubey at the center of a controversy after the video went viral on Sunday. Dubey, a lawmaker from Godda, attended the function meant to announce a bridge connecting two villages.
BJP worker said he would wash Dubey's feet, keeps word
Dubey came to the village to lay the foundation stone of Kaziya Bridge. Amid the claps of the villagers, the BJP worker, identified as Pankaj Shah, announced that he would wash Dubey's feet. In his speech, Shah thanked Dubey for bridge and added, "I will wash your feet and drink that water." He stood by these words, and the minister had no qualms either.
As Shah washed Dubey's feet, onlookers recorded the video
Without protesting, Dubey happily placed his feet in the utensil. Shah then washed his feet, as onlookers recorded the incident. At one point in the one-minute long video, Shah can be seen asking people to not obstruct the camera. After washing the feet, he drank the water. Interestingly, Dubey shared the video on his Facebook page and wrote, "Lord Krishna washed feet of Sudama."
Here is the video of the disgusting incident
Amid furore, Dubey justifies action of BJP worker
After the video invited flak, Dubey justified the action and slammed those who gave it 'political color'. He said there was no superiority among loved ones, and a worker vowing to wash feet and keeping his word isn't a big deal. "If washing the feet of guests is wrong, ask your ancestors. Did Lord Krishna not wash feet in Mahabharata?," he insisted.