#HappyBirthdayPMModi: To the man we love, politician not so much
#HappyBirthdayPMModi: To the man we love, politician not so much
Written by
Shikha Chaudhry
Sep 17, 2018, 03:09 pm
3 min read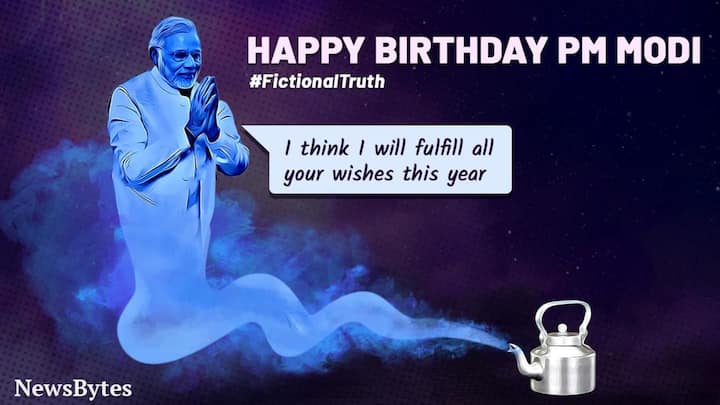 The word 'Modi' invokes a whole gamut of emotions - from the most revered man to perhaps the most hated politician, Narendra Damodardas Modi is many things. Everything - from his chest, his suit, to his sawa sau crore mitron- has been dissected to pieces by national and international media. As he turns 68 today, here's our tribute to the man we love, the politician not so much.
From chaiwala to PM: His journey proves dreams come true
The politician Modi has reminded us enough number of times that he was a chaiwala in his previous avatar, he has also milked several political benefits out of it. But, the fact remains he is still that chaiwala who is now a leader of a billion people. For somebody who has grown up reading the inspirational stories of Sam Walton, Lee Iacocca, and the likes, Modi represents the 'Great Indian Dream' to me. He shows me how to dream big, and achieve them.
He works hard, doesn't take his position for granted
If you ask me, Modi is not here to spread Hindutva, check your refrigerator, befriend 'Vikas' or make you do Yoga. He wants to leave a legacy, that's the only thing he cares about. Everything else is secondary. But, he works really hard to achieve it - whether that means flying non-stop, campaigning even for Panchayat Polls, or rehearsing his lines a million times before addressing the diaspora. He knows he is not entitled to anything, which makes him as middle class as you and me.
He doesn't care about protocols, questions the status-quo
Both the man and the politician Modi has no respect for rules, whatsoever. He breaks protocols and hugs diplomats; he doesn't care about his security and travels in sea-planes; he tries to mend relationships and makes 'intimate surprise' visits to Pakistan. This 'Dabangg-ness' of his could be annoying for some, and inspiring for others. I believe rules are boring, system needs to be shaken and status-quo should be questioned.
Like every other entrepreneur, he has a problem in delegating
You may hate Modi when he acts as the only power center, when every road goes through him, or when he has to give a green signal to every decision. But, at some level, I can relate to this trait. An entrepreneur always faces this dilemma wherein he just can't delegate, try as he may. Attribute this to love for his work, or his paranoia to fail. But, like a true entrepreneur, he should also accept the blame and embrace the failures.
I hope one day I respect the politician Modi, though
Everything said and done, I hope when I write a piece on his 69th birthday, next year (he would still be our PM, I would still be doing this) I respect the politician more, and not the man. I hope he gives me reasons for that. That's his dharma!